Taylor Swift Gives Gloomy U.S. Album Sales a Platinum Shine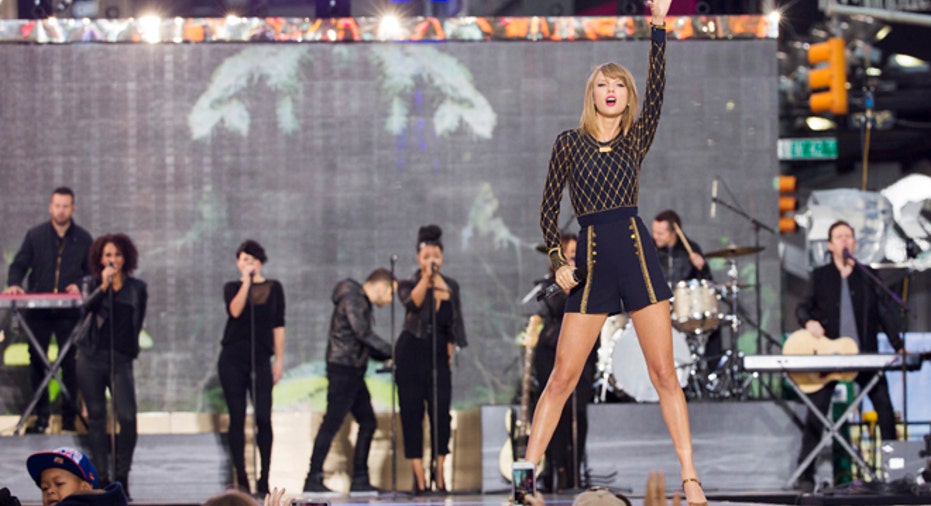 Taylor Swift's "1989," the strongest pop turn for the longtime country singer, roared to the top of the Billboard 200 album chart on Wednesday with the biggest opening week in a dozen years for the declining album sales industry.
Backed by No. 1 hit "Shake It Off" and weeks of TV appearances, "1989" sold 1.3 million copies, according to figures compiled by Nielsen SoundScan. "1989" not only goes platinum by selling over a million units but also becomes the top-selling album released this year.
But the best opening week since rapper Eminem's "The Eminem Show" in 2002 may not mean much to a recording industry grappling with consumers shifting from physical albums to streaming.
"It means less for the music industry than it does for Taylor Swift," said analyst Bill Werde, a former editor of Billboard. "What we've seen over the last few years is that Taylor seems to be the last human standing that can move these kinds of albums."
Album sales are so far down 13 percent compared to last year on top of an 8 percent decline in 2013, according to Billboard.
Swift outpaced the rest of the top five - which included the "Now 52" compilation at No. 2, country singer Sam Hunt's "Motevallo" at No. 3, crooner Barry Manilow's "My Dream Duets" at No. 4 and country's Jason Aldean's "Old Boots, New Dirt" - by about 1 million albums.
The 24-year-old Grammy winner has leveraged social media to push her fifth and most pop-oriented album to date, sharing photos of young fans posing with the album to her 46.2 million Twitter followers, for example.
SWIFT VS. SPOTIFY
But Swift has also thumbed her nose at the fast-growing and popular online music streaming service Spotify, pulling her entire catalog from the platform this week without comment, leaving some analysts puzzled by the move. [L1N0ST2FP]
"It shows there's still some real disconnects and real work to be done in the music industry," Werde said.
"Streaming is the one meaningful area in the recorded music business that is showing growth still," he added. "There are a lot a people who think this is the future."
Swift has appeared widely on television in past weeks, including serving as a mentor to contestants on NBC's popular TV singing contest "The Voice," one of the industry's most coveted promotional platforms.
The album has also received favorable reviews for the singer who appears to have shed her country roots for wider, global pop music appeal.
"What matters more and more these days is meaningful exposure of your music to fans that are going to buy your concert tickets and buy your merchandise and support you in all these other ways in whatever form that happens," Werde said.
Swift's world tour last year took in $131 million, according to trade publication Pollstar, grossing some $2.5 million per concert. She is set to head off on another in May.
(By Eric Kelsey; Editing by Mary Milliken and Cynthia Osterman)