Take Two's GTA V Starts Strong with $800M in First-Day Sales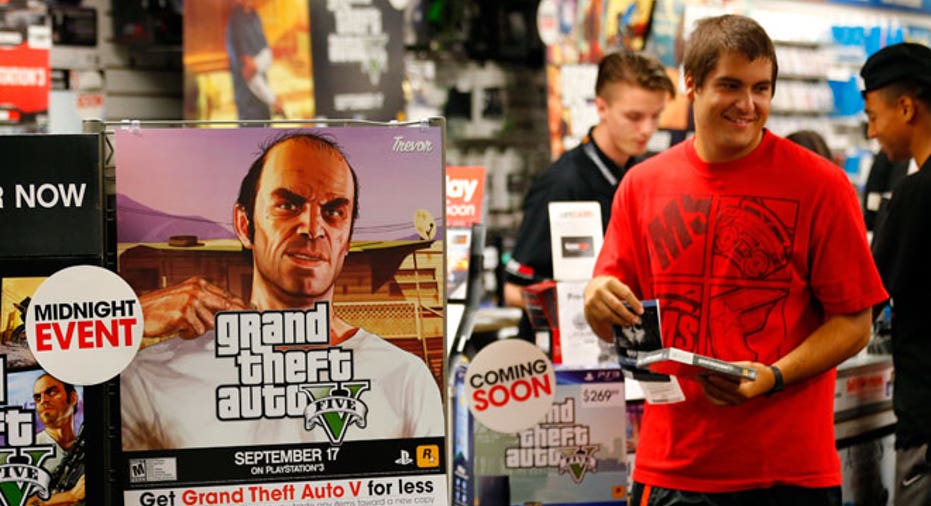 "Grand Theft Auto V," the fifth installment of the video game that became a focal point of debate about gratuitous violence and explicit content in the media, came out guns blasting with $800 million in global first-day sales.
Take-Two Interactive Software Inc's (NASDAQ:TTWO) most lucrative franchise went on sale at midnight on Tuesday.
The sales figure marked a first-day record for the Grand Theft Auto series in which players freely roam, mainly via automobiles, in a game world based on real-life locations such as Los Angeles.
Take-Two shares closed up 1.2 percent at $17.20. The stock has climbed 12 percent since July when the company raised its fiscal 2014 forecast and the buzz grew louder around the game's September release.
Retail revenues of $800 million would translate to sales of about 13 million to 14 million units of the game, analysts estimated.
"The last major Grand Theft Auto title sold just under 13 million in the course of the year. This did that in a day," said Daniel Ernst, an analyst at Hudson Square Research. The sales beat his expectations.
The 16-year-old Grand Theft Auto franchise has won numerous awards and become embedded in popular culture over the years. The criminal drama and action-adventure series has also stirred its share of controversy over the violent and adult nature of its content.
The game, which costs $60, has been given a "Mature" rating by the industry group that rates video game content in the U.S, meaning it can only be purchased by gamers older than 17.
"Grand Theft Auto IV" was released in 2008, and gamers had eagerly awaited the fifth installment. It took more than five years to be developed by Take-Two's Rockstar Games studio, at a cost of between $200 million and $250 million, according to some analysts' estimates.
The debut now ranks as among the industry's strongest. Last year, Activision Blizzard Inc's "Call Of Duty: Black Ops II" raked in $500 million on its first day.
Other blockbuster titles from top-selling franchises such as "Call of Duty" and Nintendo's "Mario" games sell more than 20 million copies in a year, Ernst said.
"We're looking for 23 million units of games sold by March 2014 and we won't change that, but $800 million in the first day is phenomenal," said Mike Hickey, an analyst at the Benchmark Company.
DOES IT HAVE LEGS?
Game fans flocked to retail stores around the world at midnight before the game's release on Tuesday. Analysts had estimated that more than 7 million units had been pre-ordered before the release.
"Grand Theft Auto V" is available on Xbox 360 and the PlayStation 3 consoles, owned by over 160 million gamers.
The video game industry, which has been struggling with flagging sales, is awaiting the November release of Microsoft Corp's Xbox One (NASDAQ:MSFT) and Sony Corp's PlayStation 4 (NYSE:SNE), in the hope that new hardware will boost sales.
Take-Two has yet to announce a version of "Grand Theft Auto V" for those next-generation consoles. The arrival of the new technology could create a "friction point" for continued sales, Benchmark's Hickey said.
"The focus should now be about the sustainability and whether the title has legs," Arvind Bhatia, a Sterne Agee analyst, said. "Indications are it probably does, as critics and consumers love it, retailers are supporting it in a big way and the installed base of current-generation consoles is very large. But we'll have to see in coming weeks."
(Reporting by Malathi Nayak; Editing by Gary Hill, Leslie Adler and Ken Wills)