SXSW: Vint Cerf on Connecting the Next Billion People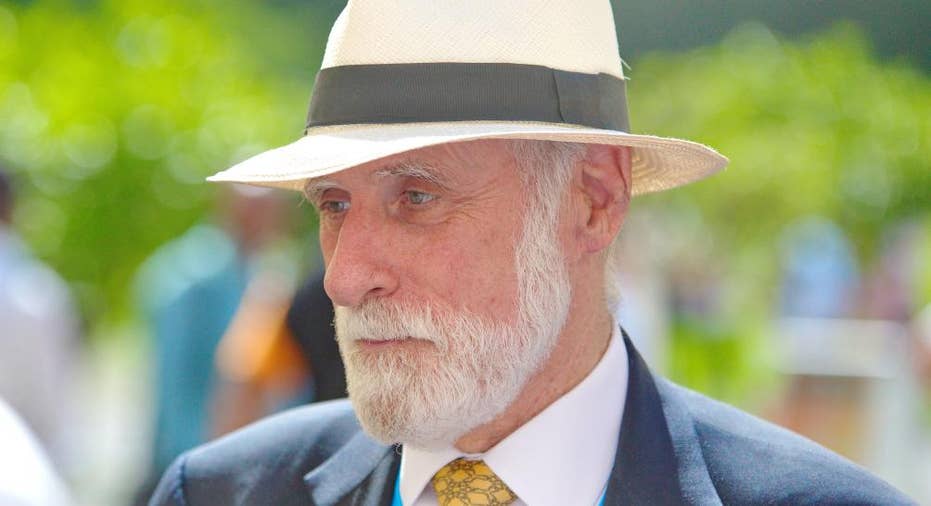 Vint Cerf is known for a lot of things. He is an IEEE Life Fellow, Chief Internet Evangelist at Google, and founder of the People-Centered Internet (PCI). He is also the winner of the national Medal of Technology, The Turing Award, and even The Presidential Medal of Freedom.
The title that is most enduring, however, is "Father of the Internet," a title he shares with fellow TCP/IP inventor Bob Kahn. In laymen's terms, TCP/IP is the communication protocol that runs the internet and everything connected to it.
This week, Cerf is in Austin, Texas, at SXSW where he is headlining IEEE's "Tech for Humanity Series." I got the chance to ask Cerf a few questions via email before the show started.
PCMag: You have a tremendous platform in Google, you have traveled all over the world advocating for people-centric technologies—why go to Austin for SXSW?
Cerf: SXSW has developed a reputation for attracting creative, out-of-the-box thinkers, and I want to engage with them on ways in which to make the internet more accessible, more useful, and more widely and affordably available.
What is the mission of People Centered Internet?
The People Centered Internet team is committed to assisting infrastructure funding agencies and organizations such as the World Bank to evaluate, organize, and execute internet infrastructure projects. PCI sees local utility, sustainability, and affordability as key attributes of useful internet deployment. The organization is seeking to partner with organizations such as IEEE and the World Bank, among others, to facilitate efforts that improve the utility of online access for ordinary users around the world.
Half of the world population has never been online. What do Americans need to understand about online access for the rest of the planet?
Perhaps the most important thing is to recognize that access to many of these places will be relatively slow and that applications will need to adapt to 2G and 3G data rates. Mobile phones with limited screen area and processing power will be the norm for some time. Adapting internet applications for these conditions is a challenge but can have very salient benefit for the users.
Companies like Google and Facebook are spending a lot of money to connect the next billion people to the Internet. What are the risks of having private businesses lead these efforts?
There is always the potential risk that users will not have access to all of the internet's services if the private sector initiatives limit user choice. Google's initiative in India, for example, opens 400 Indian railway stations to unconstrained internet access with that concern in mind.
One of the secondary effects of connected devices and services is an acceleration of automation and the elimination of a lot of jobs. Will technology enable new ones or do we need a new relationship to work?
We will see many new jobs created by the IoT [Internet of Things]. Installation, configuration, management, updates will all require skilled attention. The new platforms open up new programming opportunities. To be sure, some jobs will be replaced, and new skills may be needed to work in the new jobs created—hence the need for life-long learning to enable new and changing careers.
As you look to the future, what technological trends are you most worried about?
My major concerns are for reliability, safety, security, and privacy as well as operational fidelity even when the internet isn't accessible. We need an educated population that is network- and software-savvy.
Other than the internet itself, which you helped invent, what gadget, service, or tool do you use every day that inspires wonder?
Like everyone else, I am pretty reliant on my smartphone for navigation, communication and, occasionally, even entertainment (although for that, I prefer a much larger screen). Our house has HVAC monitoring (partly Nest and partly other meshed equipment), and I rely on that to keep the wine cellar cold and the rest of the house warm.
Is part of your visit to SXSW is to recruit new members? If so, what kind of help are you looking for and how can people sign up?
The People Centered Internet is interested in getting first-hand information about the state of internet access and utility around the world. Consider signing up for our newsletter and engaging in dialogue.
What panels, speakers, or parties are you looking forward to at the show?
My time is somewhat limited, but I am looking forward to opportunities to meet and engage with attendees who share the vision of the People Centered Internet team.
Are you going to stay for any of SXSW Music?
I think my schedule won't permit this.
For more interviews like this, subscribe to the Fast Forward with Dan Costa podcast. On iOS, download Apple's Podcasts app, search for "Fast Forward" and subscribe. On Android, download the Stitcher Radio for Podcasts app via Google Play.
This article originally appeared on PCMag.com.