Sweet Dreams: Rise of the $1,200 Pajamas
For Sacha Rose, what you wear to bed is just as important as what you wear to the office—if not more so. And shorts and a T-shirt aren't going to cut it.
"You should be as comfortable as possible, you spend all day dressing up for the environment we work in, so when you go home and take them off, you are making that psychological switch off and pajamas play a role in that."
As managing director of the third-generation London-based Derek-Rose, his company makes high-end pajamas offerings with an average price point of $260-$275, with some silk pajamas climbing into the $1,200-$1,400 mark. The company primarily targets men and the most expensive offering in its current    U.S. collection is a $4,500 cashmere dressing gown. "It's pretty spectacular, it's subtle, it's not too in your face wow -- it's classy."
When it comes to making good sleepwear, it's all about three things:  fabric, fit and make. "Those should be the priorities when choosing what to put on your body, but unfortunately, we live in a world where price and branding also have an impact," Rose says. "Branding is the big herring right now, the actual relationship between quality and price is way off with certain brands."  He also says a good pajama is boxy to give enough room to accommodate a night's worth of tussling.
Paying attention to a garment's details is also crucial—right down to the button holes. "On a proper pajama, the hole should be horizontal. On a shirt, it is vertical because you don't need to worry about restricting movement, but when you sleep, you lie down and roll around and having a horizontal hole provides an extra centimeter to a centimeter in a half of movement so a button doesn't pop."
As sleepwear creeps out of the bedroom, retailers are seeing more demand for more luxury offerings. "People want do more in their pajamas, it's not like they are going to garden in their PJs, but they do want to do a range of activities in their pajamas, some people even want to entertain, so they need to have options that make them look and feel good," says Lee, chief marketing officer for pajama company Julianna Rae.
Here's a look at some high-end pajama companies and what consumers can get for their money:
1. Elizabeth Cotton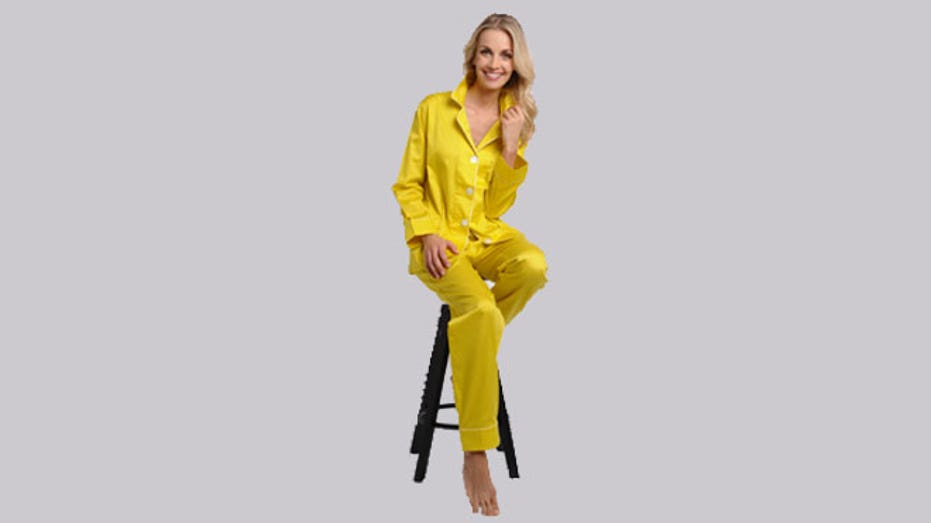 ---
Retail: $128-$198
When Elizabeth Cotton couldn't find a nice pair of pajamas to wear around her future mother-in-law's house for Christmas Day, she decided to take matters into her own hands.
"I came to realize there was a big difference between lingerie offerings and sleepwear. People were making high-quality bras and underwear, but when it came to more-conservative pajama wear, there was a huge drop off in quality."
To fill the void in the market she launched the namesake company Elizabeth Cotton that offers pajama sets that retail between $128-$198. All of the fabrics are made in European mills, some of which have been around for more than 250 years, according to Cotton. "Many mills have moved to Asia, but the ones we use have looms and technology that weaves things and offer finishes and washes that just hold up for years."
The company's most popular product is the Egyptian cotton pajama which sells for $220 and Cotton has Oprah to thank for the demand. "They were featured in Oprah Magazine and we immediately saw an increase in sales."
Since launching in 2005, the company has grown about 25% a year and is on track to have its most profitable year yet, if her best-selling season - Christmas - comes through.  "The holiday season is crucial for us, about 75% of our sales come in November and December so that is the wild card for us."
2. Julianna Rae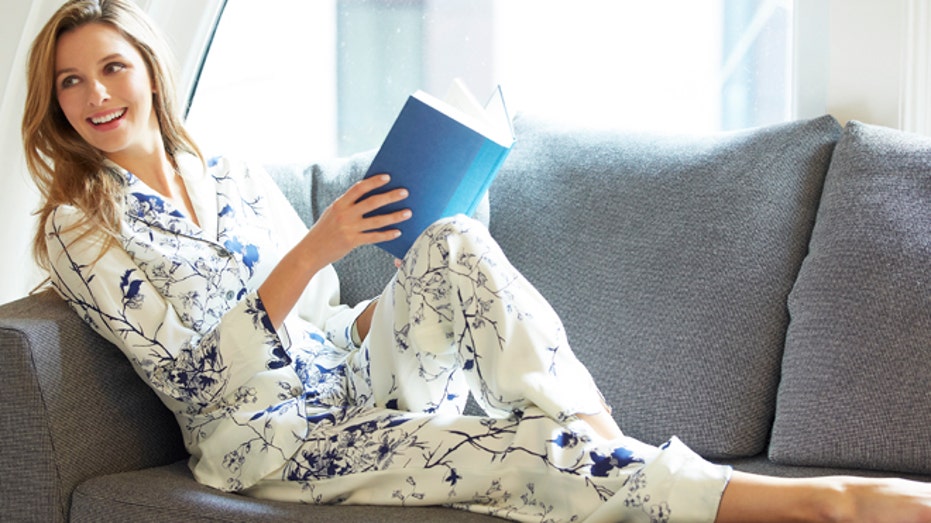 ---
Retail: $125-$200
Juli Lee started her luxury pajama company to give Victoria's Secret some competition. "I realized there was no one else out there beyond Victoria Secret that offered nice sleepwear for women who were older than 25 and not skinny as rail."
Since launching in 2005, Julianna Rae has experienced steady growth even during the recession. "We definitely panicked during those years thinking 'who needs luxury sleepwear during an economic crisis?' But we still grew 40-50% from 2008-2010."
The company has been picked up by some resorts, but is mostly an online venture offering pajama sets starting out at $125 and climbing to $225. "We start with great fabric, if you slack in that area, it doesn't matter how well you tailor it, it won't finish well and be comfortable."
The most popular pajama is the Natalya, the line's most expensive offering, which is made of silk with pipe lining and a modern collar that sells for $190 for a solid color. "The fit is really comfortable, but it looks tailored. It's relaxed, but still does a good job flattering the feminine figure."
Lee describes her target audience as 35-55-year-old busy women, but claims the ease and convenience of her website attracts male shoppers. "Most of the time, our shopping demographic is 70% women, but during Valentine's and Christmas, it shifts to be about 65% male, so we know we have to cater to them."
3. Three J NYC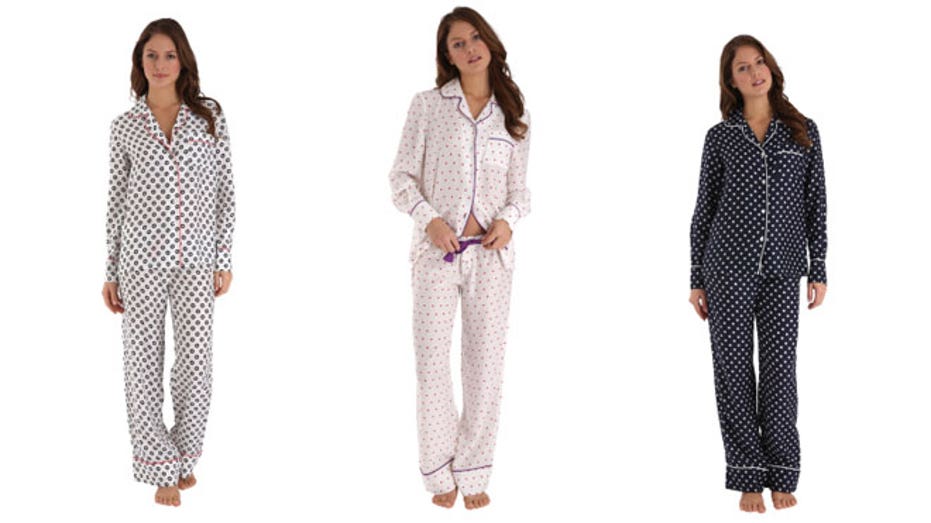 ---
Retail: $114-$275
The New York-based company uses "beautiful soft, organic cotton" on its pajama sets, according to its website, and it pre-washes any purchases before shipping them to ensure softness.  The sleepwear is also flattering because it lacks a high waist band and doesn't use elastic.
"After much research, I found that the specialty women's pajamas suppliers often were not so luxury," says the company's Founder Ali McLeod. "I felt I could offer something unique: pjs for the women wearing Louboutins by day, she needs something to lounge around in at night and on a lazy weekend morning."
The company's most expensive offering is the  "Coco Silk" pajama at $275. "They are so delicious. We offer two silk fabrics, our prints are printed on 16mummy weight silk charmeuse and we sew the pajamas inside out so the softest silky side is on the inside of the pajamas."
4. Derek-Rose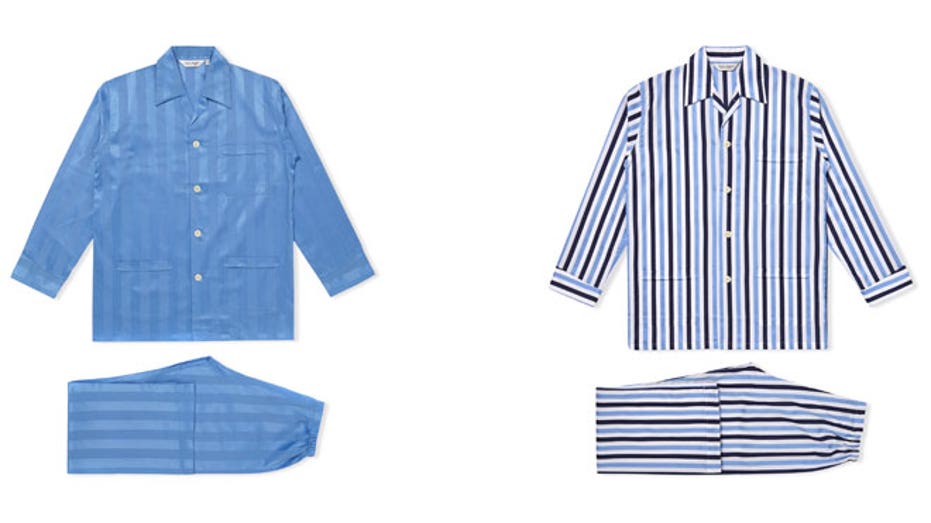 ---
Retail: $260-$1,400
Rose calls his company the Apple of the pajama world and is able to have a leg up on the competition because "we have three generations of practice."
"Not only do we use the highest-quality fabrics, we've mastered the little things. We only put elastic on the sides of trousers so when you lay on your back or stomach the fabric lies flat, our stitching is impeccable and  we don't cut corners, we still have deep hems which means the trousers hang properly.
Some companies cut corners and don't make a proper inch-sized hem because it adds weight and fabric is the most expensive component of a high-quality product.
He says the company sends his yarn to a different country to put a different finish on it that is better than rivals, but costs more. He also points to the pajama's match pockets, riffle cuffs and fabric lay that means the stripes are perfectly aligned from the top to the trouser, as qualities that make his product stand out.
The company's main demographic is 35-45-year-old men, followed by 45-55-year-old shoppers.
5. The Row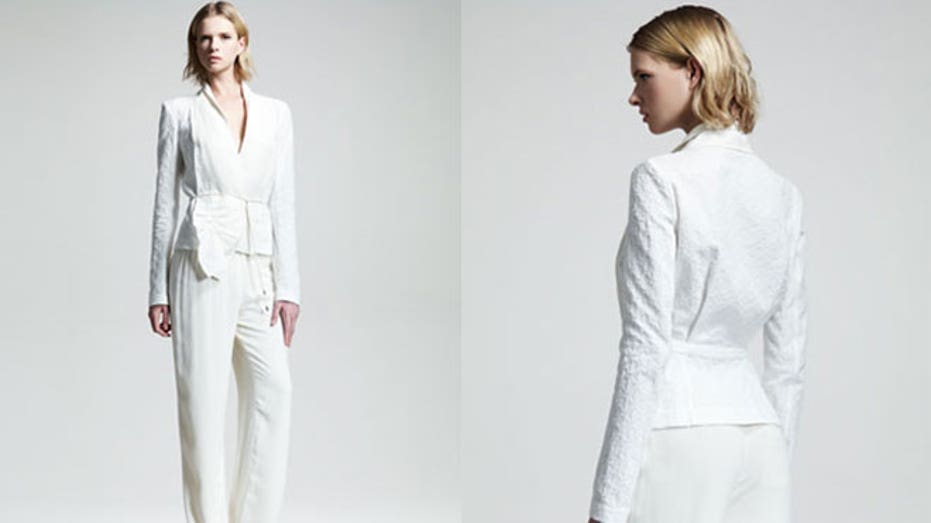 ---
Retail: $520-$1,890
Most high-end department stores offer shoppers sleepwear that would keep many people up all night.
This three-piece pajama set made from fashion label The Row comes with a $1,890 macro cotton jacquard jacket that is made of USA and Italian material with long sleeves and a cinched waste. The silk camisole made to be worn under it comes in at $520.00.
The drawstring pants are knit from an extra-soft blend of silk and spandex and cost $990.