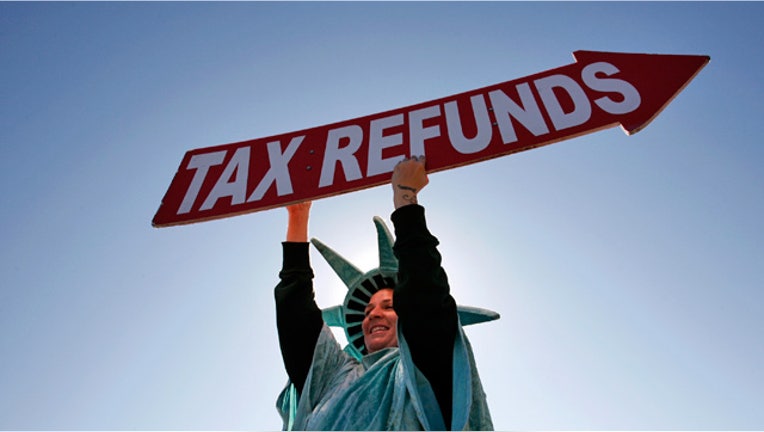 The average IRS refund is expected to hit $3,000 this year, with as many as a quarter of taxpayers using the cash toward the purchase of a new car, according to a pair of recent surveys.
GoBankingRates says it studied auto loan details from more than 6,000 financial institutions and statistics gathered from eBay Motors to project that about 25% of Americans would use refunds to grab a fresh ride. A separate online polling of more than 1,000 people came up with somewhat smaller numbers -- CarMax says its research shows that 17% of taxpayers would buy vehicles with the money.
The IRS announced earlier this month that the average refund will be $3,034, about 3% more than 2013. GoBankingRates Managing Editor Casey Bond says a reason many people are planning to take the cash to a dealership is because auto loan rates are reasonable.
"The average tax refund is equivalent to a 20% down payment on a $15,000 auto loan," Bond said in a written statement. "In fact, qualified car buyers can expect to find a three-year loan around just 3%. Three years ago, you'd pay double."
While the thrill of new wheels tickled about one in six of those questioned by CarMax, more taxpayers say they'll be cautious with their refund money. Twenty-six percent expect to save it, while 25% will pay off debt.
Here are some of CarMax's findings:
Twenty-nine percent of consumers younger than 35 will use a refund on a car. Twenty-six percent of parents and 22% of people living in southern states are also leaning that way.
Twenty-three percent of parents may apply the refund toward a house or car purchase, compared to 11% of those without children.
Sixteen percent of all taxpayers will use the money for everyday expenses, 11% for travel and 9% for home improvements.
Midwesterners are best when it comes to filing their taxes early, with 89% claiming to do so. Forty-five percent of all Americans say they filed by the end of February.
As for tax extensions, 7% of men need them, compared to 4% of women.
A tax refund won't figure in the money planning for 29% because they aren't expecting one.
Car financing across the country
GoBankingRates says the national average for a three-year auto loan is 3.26%; 4.01 for a four-year; and 3.58 for a five-year. It also listed the five states with the best financing rates:
Hawaii: 1.9% for a four-year new car loan.
Delaware: 2.34% (five-year).
Rhode Island: 2.34% (five-year).
Washington, D.C.: 2.34% (five-year).
Virginia: 2.44% (five-year).
Here are the five cities with the lowest three-year car loan rates, according to GoBankingRates:
Detroit: 2.67%
Long Beach, Calif.: 2.71%
Oakland, Calif.: 2.72%
Portland, Ore.: 2.80%
New York City: 2.81%
Insuring your new car
Before you can drive your newly purchased car home, you typically have to prove to the dealership that you have car insurance. If you already have a policy, it will generally cover your new car temporarily, but policies differ from insurer to insurer. Your car insurance company may require that you notify it of the change within 30 days or less. It's wise to check with your current insurer about the rules for covering a newly purchased vehicle.
The type of car you drive is one of many factors that auto insurance companies consider when setting rates. Insurers will look at how safe your car is, how much it costs to repair or replace it and how likely it is to get stolen, among other things.
Penny Gusner, the consumer analyst for CarInsurance.com, explains the insurance needs depending on how you pay for the car:
Buy the car outright: If you have the cash to do this, you can opt for any coverage you want, as long as it meets the state's minimum auto insurance requirements.
Use a loan: Since a lien-holder wants its asset protected, it will require you to cover damage to the car and carry collision and comprehensive in the policy. You may also have to keep the deductible under a prescribed amount, perhaps $1,000 or less. And, of course, you'll still need to buy at least the required state coverage minimum.
Lease the vehicle: Because the auto is in the leasing company's name, you'll be required to include comprehensive and collision coverage on your policy. You will also need to carry higher liability limits of $100,000 per person and $300,000 per accident for bodily injury liability and $50,000 for property damage liability (100/300/50). As with a finance company, the lessor will also require you have collision and comprehensive and may limit your deductible amount.
Gusner also has some general advice: "A new car, even if you buy it outright with cash, should have physical damage coverages of collision and comprehensive; you can't afford to write off a car so valuable," she says. "If you buy a used vehicle that is much older, you may be able to get by with just liability coverage. You don't want to pay for collision and comprehensive on a vehicle when the premiums cost more than your vehicle's fair market value."
The original article can be found at Insurance.com:Surveys: Tax refunds jump-start new car purchases