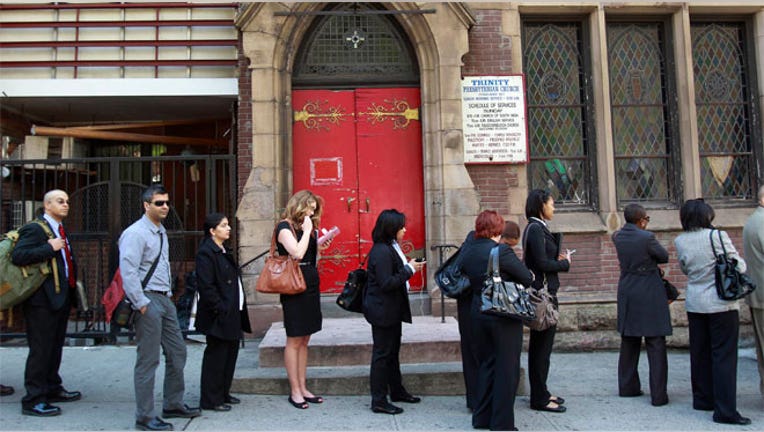 One of the groups the Affordable Care Act most sought to help were the uninsured, and many without insurance are also unemployed—but they aren't interested in getting coverage.
A new report finds that with only three weeks left before the end of open enrollment period, the majority of unemployed Americans have yet to sign up for health insurance.
A report from Beyond.com, a network that connects job seekers to potential employers, finds that more than half (52%) of the unemployed individuals it surveyed were confused about the law and were unaware of the deadline to sign up.
Under the ACA, every individual in the country has to have insurance by the end of the open enrollment period, or they will face a fine of $95 a year or 1% of their annual income for failing to comply.
Of the 4,000 unemployed job seekers Beyond.com surveyed, only 13% said they had signed up for coverage via state and federal exchanges, and 26% said they were planning to enroll.  On the other hand, 61% of unemployed job seekers said they haven't signed up and don't have plans to get covered. Some said they get coverage from their family or spouse, but 56% said they don't think the legislation is necessary.
What's more, 23% thought the ACA and its popular nickname, "ObamaCare," were two different things.
Joe Weinlick, vice president of marketing for Beyond.com, said one of the main reasons the unemployed lacked knowledge about the law was because they are more focused on finding work. "They are the audience the law is intended for, but their first priority is finding a job and salary. Finding a job is a job in and of itself."
The lingering confusion about the law is warranted, he adds. Despite efforts from the White House to provide information about the law through several different media platforms, there have been many delays to parts of the law, which can leave people confused.
"You ask people about taxes, which they do every year and they find them confusing," he says. "Health care is a highly-complex and confusing topic, and unless people need something now, it's something they don't want to look into," Weinlick says.
In addition to overall confusion, more than half of millennials ages 18-to-31 said they were unaware of the March 31 deadline to enroll. Weinlick attributes this to this group being able to stay on their parents' plans until age 26, or their searching for a job taking priority.
"People graduating from college [in particular] are less focused on this," he says. "Older generations are more likely to pay attention to the news and politics of it, while millennials are more disengaged. They are the least likely to need health-care, and the least likely to buy into this."
Young enrollees are needed to offset the costs of insuring older and less healthy people in both state and federal exchanges. The Department of Health and Human Services reported last month that 4 million people had selected plans on both state and federal exchanges, including those who have and have not yet paid their first month's premiums.