Survey: Americans Losing Battle Between Savings, Debt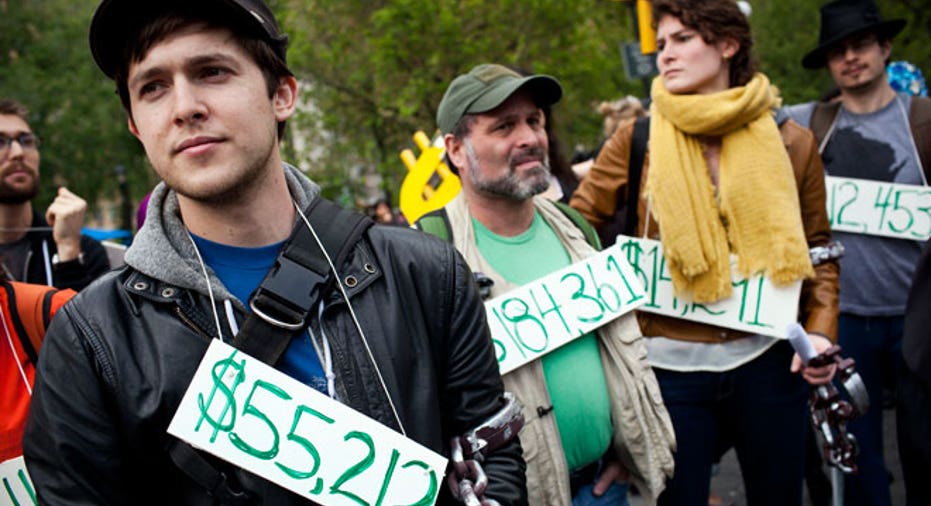 Bryan Layman was like many young adults when he got his first credit card.
"I thought it was free money," said the 34-year-old Purcellville, Virginia, resident, who got his first card when he was 18. "I didn't think about paying it back till I started getting the bills."
Now Layman is carrying $16,000 in credit card debt and has about $1,000 in emergency savings. His IRA holds $3,000. Layman is not alone in these struggles.
Only 52% of those surveyed in a new Bankrate Financial Security Index survey have more money in emergency savings than in credit card debt, and 24% of overall respondents have more credit card debt than emergency savings.
CARD SEARCH: Put those high-interest debts behind you. Grab a balance-transfer card today.
"Too many Americans haven't rightsized their savings relative to debt," says Greg McBride, chief financial analyst at Bankrate. "And even those that have made progress still find themselves with an inadequate amount of savings."
Millennials Most in Trouble
Millennials, like Layman, are the most likely demographic to have more credit card debt than emergency savings. Twenty-nine percent of millennials, ages 18-36, fit that criterion.
Seventeen percent of overall respondents said they have no credit card debt and no savings.
"They are just one unplanned expense away from having credit card or other high-cost debt," McBride says.
One alarming finding in the survey, McBride says, is that 28% of respondents of the Silent Generation, ages 72 and older, had no emergency savings, and that's the highest percentage of any age group. This is a testament to how many seniors are surviving on a fixed income such as Social Security and a pension with little wiggle room.
A Wakeup Moment
In his mid-20s, Layman wanted to buy a car. It was at that moment he first realized the importance of good credit.
Bryan Layman
"I was getting denied or was getting approved, but at 20%, 25% interest rates," Layman says. "My parents told me that was insane."
Layman started turning things around. His parents cosigned a car loan, and he began repairing his credit score with secured credit cards. He now uses regular credit cards, sticks to a budget and economizes by, for example, bringing lunch to work.
Now an avid reader of articles on personal finance, Layman has solid financial goals. He wants to accumulate three to six months of living expenses in emergency savings, and pay off his credit card debt.
Layman's single most critical move was to break away from the 18-year-old's mindset of free money and to start using credit cards much more carefully.
"You shouldn't be living off them," he says. "I would use them to buy everything."
Financial Security on Rise
The Bankrate Financial Security Index rebounded from January, rising from 101.0 to 103.9.
The FSI is derived from survey questions on how people feel about their debt, savings, net worth, job security and overall financial situation. Any reading above 100 indicates improved financial security over the past year while readings below 100 profess a deterioration in financial security.
RATE SEARCH: Are you saving money for retirement? Check out the best rates on high-yield CDs today.
The Financial Security Index is based on a national telephone survey made in English and Spanish by Princeton Survey Research Associates International. The survey was conducted Feb. 2-5, 2017, of 1,000 adults living in the continental United States. The survey has a margin of error of plus or minus 3.9 percentage points.
Copyright 2017, Bankrate Inc.