Super Bowl bonuses: Eagles $112,000, Patriots $56,000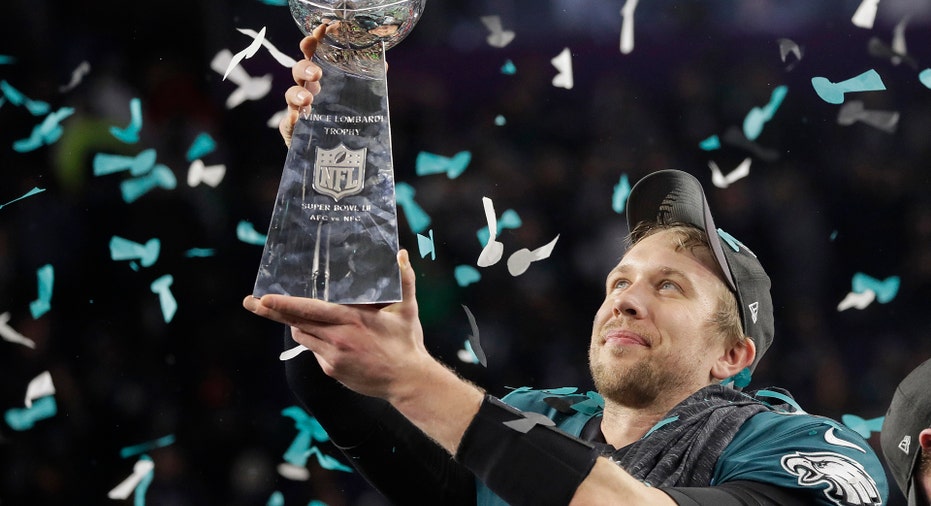 The Philadelphia Eagles left Super Bowl 52 with the Lombardi Trophy on Sunday, but players on both teams will go home with a paycheck, thanks to the National Football League's playoff bonus structure.
The NFL's collective-bargaining agreement mandates equal pay shares for all players in each playoff round, regardless of an individual player's salary during the regular season. In the Super Bowl, the winning team earns a double share.
This year, the victorious members of the Philadelphia Eagles will earn a $112,000 bonus for the game while the losing New England Patriots will each earn $56,000.
Both the Eagles and the Patriots earned a first-round bye and then secured victories in the divisional and conference championship rounds to earn a spot in the Super Bowl. Players on the Eagles will rake in a total of $191,000 in bonus money from all of the post-season rounds, while the losing Patriots will earn $135,000.
For highly paid players, playoff checks can mark a significant pay cut compared with what they typically earn for a regular-season game. Eagles offensive lineman Lane Johnson had a base salary of $7,750,000 in 2017, or roughly $456,000 per week, over a full 17-week schedule.
Philadelphia, the underdog, defeated New England on Sunday 41-33.
This story has been updated.