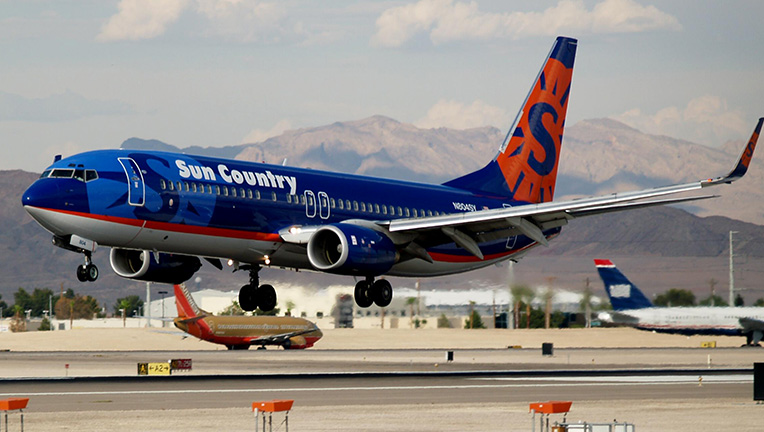 Sun Country Airlines is awarding refunds after a blizzard forced the cancellation of return flights to its Minneapolis hub over the weekend and left some travelers stranded in Mexico.
Forty of its flights were axed after Saturday's blizzard disrupted arrivals and departures on Sunday.
Some passengers who were trying to return from two destinations in Mexico – Los Cabos and Mazatlán – were stranded because the airline was ending its seasonal schedule to those locations.
"Our fleet was already allocated to fly other operations, and unfortunately we were unable to send additional aircraft to Los Cabos and Mazatlán without canceling more flights, causing further disruptions to more of our passengers," a spokeswoman for the airline said in a statement.
To compensate those passengers, the airlines is providing full refunds, which will be "automatically" credited back to the accounts of those who booked directly through the carrier. For those who booked through a travel site, it could take up to seven days for the refund to go through. In some cases, the airline said it may take longer depending on which bank they use.
Sun Country apologized to customers and called the recovery situation in Mexico "challenging."
Sen. Tina Smith, D-Minn., wrote a letter on Monday to the U.S. Department of Transportation, asking the agency to look into the situation. She said about 250 passengers were affected when the airline "abandoned" travelers in Mexico.
Smith said that in some cases the refund didn't cover the increased expense of finding alternative transportation back to Minnesota.
"Despite these passengers being refunded the return-flight portion of their airfare, booking last-minute one-way travel proved to be an unplanned and costly burden on hundreds of consumers traveling to my state," Smith said in her letter. "As many travelers are already financially squeezed by the airline industry, it is troublesome to see a domestic carrier abandoning its passengers in a foreign country, forcing them to find their own way home and to incur further expense of time and money."