Studio head, Oscar-winning producer apologize for insensitive Jolie, Obama remarks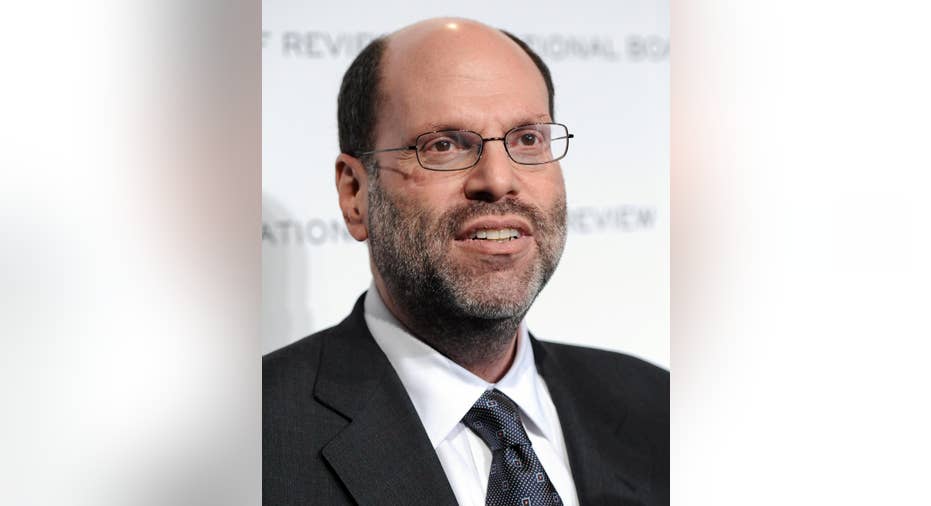 Angelina Jolie and her highly anticipated "Unbroken" may have been shut out at the Golden Globe nominations, but she was still in the Hollywood spotlight Thursday, following the latest in a series of leaked emails in the Sony hacking scandal that calls the actress and director a "spoiled brat."
Scott Rudin, the high-powered producer who made the "spoiled brat" comment, in addition to an email exchange with Sony Pictures Entertainment co-chairman Amy Pascal about President Barack Obama's presumed taste in movies, apologized Thursday, as did Pascal.
""I made a series of remarks that were meant only to be funny, but in the cold light of day, they are in fact thoughtless and insensitive — and not funny at all. To anybody I've offended, I'm profoundly and deeply sorry, and I regret and apologize for any injury they might have caused," Rudin said in a statement to industry website Deadline that was also later sent to The Associated Press.
In a statement released by Sony, Pascal called her comments "insensitive and inappropriate" and "not an accurate reflection of who I am." She said that although the emails were "stolen," she accepted "full responsibility for what I wrote and apologize to everyone who was offended."
Controversy swelled Tuesday in the long-playing Sony scandal when hacked email exchanges obtained by the website Gawker gave the public an unfiltered glimpse into the way Hollywood often does business: down and dirty, with scant mincing of words.
The correspondence in question was primarily between Rudin, an Oscar-winning producer known for "No Country for Old Men," and Pascal, who has held the position since 2006. The two have a decades-long friendship, thanks, in part, to a longstanding deal with the studio, where they've worked jointly on projects like "The Social Network."
When juxtaposed with the saccharine graciousness of Hollywood's awards-season, the emails reveal a coarser, darker and, to some, surprising side of the industry.
"She's a camp event and a celebrity and that's all," wrote Rudin of Jolie in one exchange about a potential "Cleopatra" project.
In another, as reported by Buzzfeed, Rudin and Pascal also riffed about what she should talk to President Obama about at an upcoming fundraiser.
"Should I ask him if he liked DJANGO?" Pascal asked, referring to Quentin Tarantino's "Django Unchained."
They continued the email chain joking about which films the President might enjoy, referencing "Lee Daniels' The Butler," ''Think Like a Man" and "Ride Along" — all films with primarily African American casts.
"I bet he likes Kevin Hart," wrote Rudin.
In a separate email exchange obtained by Gawker, Sony CEO Michael Lyton also called Hart a "whore" for asking to get compensated for promotional tweets.
"I look at myself as a brand and because of that, I will never allow myself to be (taken) advantage of," Hart responded on Instagram.
Rev. Al Sharpton said in a statement that the apologies were not enough, comparing Pascal to disgraced NBA owner Donald Sterling and demanding that she meet with black leaders immediately.
Beyond the scintillating behind-the-scenes peek at the film business, Hollywood is somewhat divided on how to feel to about the unflattering exposure and what it means for Sony. Many are concerned about the ethics of diving into the leaked assets, which have included films, executive salaries, and the Social Security numbers of nearly everyone who has received a paycheck from Sony.
"You can't hold people responsible on how they conduct (emailing) in private or between colleagues, unless they're doing something illegal," comedian Ricky Gervais told the AP.
"It almost seems like it's a story line from a film," said "Foxcatcher" star Steve Carell. "But the truth is stranger than fiction, I guess."
Representatives for Jolie did not immediately respond to the AP's request for comment, nor did the White House.
___
AP Entertainment Writers Sandy Cohen and Derrik Lang contributed to this report.