Strong Underwriting Revenue Fuels 4Q Beat at Morgan Stanley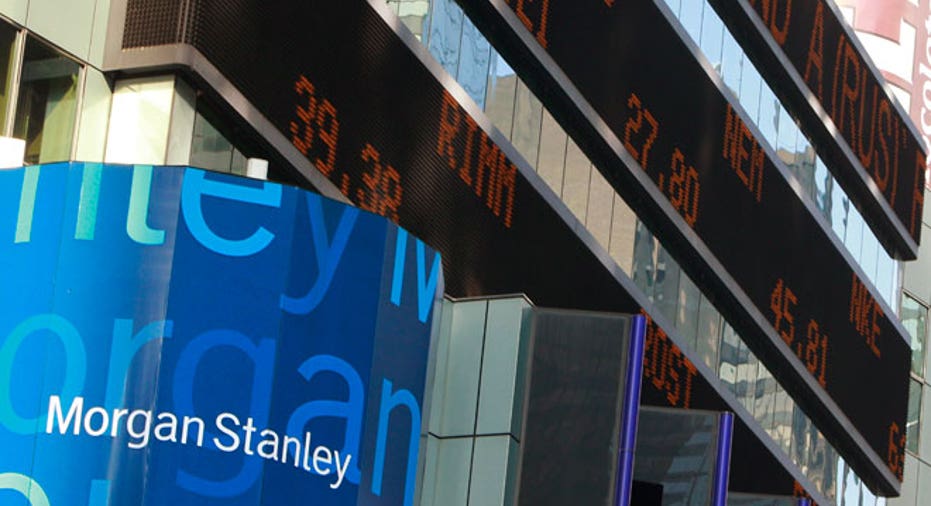 Bolstered by soaring underwriting revenue, Morgan Stanley (NYSE:MS) impressed Wall Street on Friday by saying it swung to a stronger-than-expected profit in the fourth quarter on 23% revenue growth.
Shares of the investment-banking giant soared 6% in premarket action in response to the upbeat numbers.
Morgan Stanley said it earned $507 million in the fourth quarter, more than reversing a loss of $250 million the year before.
On a per-share basis, the company said it earned 25 cents a share, up from a loss of 15 cents in the same period of 2011. Excluding one-time items like debt-valuation changes, Morgan earned 28 cents a share, topping the Street's view by a penny.
Net revenue soared 23% to $6.97 billion and hit $7.48 billion excluding the debt-valuation fluctuations. Analysts had been calling for revenue of $7 billion.
"After a year of significant challenges, Morgan Stanley has reached a pivot point," CEO James Gorman said in a statement, noting progress at the company's Smith Barney wealth management joint venture and efforts to reduce risk. "Our firm is now poised to reach the returns of which it is capable on behalf of our shareholders."
Morgan Stanley said its institutional securities division generated a 42.9% leap in fourth-quarter revenue to $3 billion. Equity underwriting revenue grew 25.4% to $237 million, while fixed-income underwriting revenue surged 85.4% to a record $534 million.
However, Morgan said its commodities results "declined meaningfully in a challenging market." Gorman said the fourth quarter marked the bank's worst commodities trading results since 1995, but didn't disclose specifics.
Revenue at the company's global wealth management group gained 7.5% to $3.46 billion as asset management fee revenue grew 16% to $1.9 billion. Total client assets stood at $1.8 trillion at the end of the fourth quarter.
Morgan said its asset management revenue rose 41.3% to $599 million and assets under management rose 18% to $338 billion.
Morgan said its compensation expenses slid 5.3% to $3.6 billion in the fourth quarter, while non-compensation expenses gained 8.7% to $2.5 billion.
Wall Street cheered Morgan's results, driving its stock 6.6% higher to $22.12 in premarket trading on Friday. The rally puts the stock on track to extend its 12-month rally of almost 25%.
Earlier this week rival Goldman Sachs (NYSE:GS) blew away Wall Street's expectations by posting fourth-quarter net income of $2.89 billion on revenue that soared 53% to $9.24 billion.