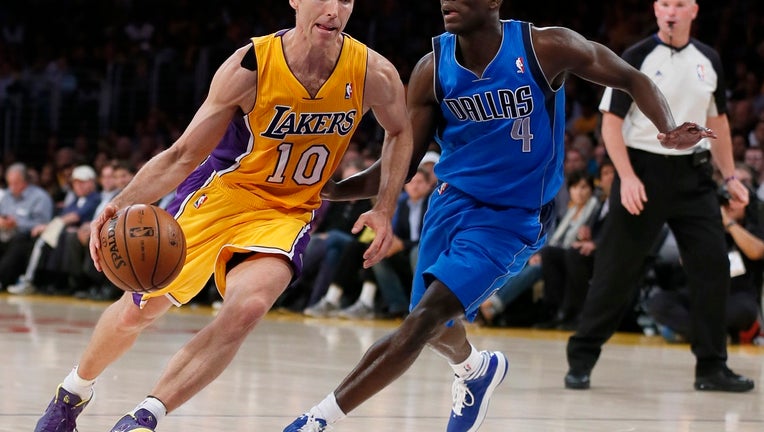 Steve Nash, the two-time NBA MVP known for his wizardry with a basketball, long flowing hair, and poise on the court, once had an encounter with Donald Trump before he was president.
"I have met him. It was in Phoenix at a charity event," Nash said about their 2007 run-in. "It was brief, he was a nice enough guy."
Trump has just completed his first 100 days in office -- the magic number that highlights the accomplishments, as well as unfulfilled campaign promises of every commander in chief.
"But you know, it's different from being a nice enough guy and… being president," Nash added.
Like many athletes and celebrities, the future of Hall of Famer hasn't been one to shy away from expressing his beliefs over the course of his career – however, Nash did it before social media, when 140 characters wasn't an option to defend your values.
In 2010, Nash voiced his opposition to SB1070, the controversial Arizona legislation which required law enforcement to determine the immigration status of someone thought to be in the country illegally.
During the NBA All-Star weekend in 2003, Nash spoke out against the Iraq war by wearing a T-shirt with the words, "No War. Shoot for Peace."
The basketball underdog, who willed his way to the NBA through hard work and determination, became a voice both on and off the court.
So when it comes to Trump, Nash didn't mind offering up his opinion on the candidate whose victory stunned much of the nation just a few short months ago.
"I mean obviously, Trump is a very difficult one for the rest of the world, if not half of America to accept. You know, I don't think that people around the world understand how it's possible and how he has the credentials," Nash said.
Despite Trump's lack of experience and disregard for political correctness, he struck a chord with American voters who rallied behind his "Make America Great America" mantra, giving him the victory over Hillary Clinton.
"But that's part of the evolution, I think of our times and our electoral system, and politics in this country," said Nash calmly, while sitting in the back of the Gem Saloon bar. "Hopefully it will create change as well and people will find a more efficient way to find a really effective leader."
Since retiring from the NBA in 2015 after a short stint with the Los Angeles Lakers, Nash is more precarious about how he spends his time – his family, the Steve Nash Foundation and his media company Meathawk are some of his main priorities. He recently opened the bar which he co-owns with a friend of his.
Every summer for the past ten years, Nash can be found in lower Manhattan as the Steve Nash Foundation hosts its annual Showdown in June, a soccer tournament that features some of the best athletes in the world all competing for a good cause.
"It's just one of those unique events. You know, it's not broadcast on TV, it's not in a stadium, it's in the streets of lower Manhattan where kids can walk up for free and be within arm's length of some of their heroes and some of the great players in both sports in the history of the game."
And today, the Steve Nash Foundation, which aims to help children in underprivileged communities, put on its first-ever Charity Shield soccer tournament in NYC, leading up to the big Showdown later this summer – something that Nash hopes to continue moving forward.
"It's more opportunity to play soccer, to celebrate life a little bit, the pub, to meet new people, and do it all for the name of charity while you can still win a little bit of money. So, all in all, there's not a lot of downside."
Between the Steve Nash Foundation, Meathawk, and being a dad, Nash can also be found on his new show "Speak Responsibly," on Verizon's online platform go90, which features the MVP and his co-host Stu Holden at a bar with athletes to talk about their true, untold stories.
But does he want to head back to the NBA? "I don't think so," said Nash, "at least not for the foreseeable future. I really value being at home, and being a dad. So, I love working on other things that I have a lot of passion for while my kids are at school. So, that's important to me."
It's safe to say that for Nash, life after basketball might just be as busy as his time on the court.