Steelers Star Antonio Brown's Facebook Live Lapse May Cost Him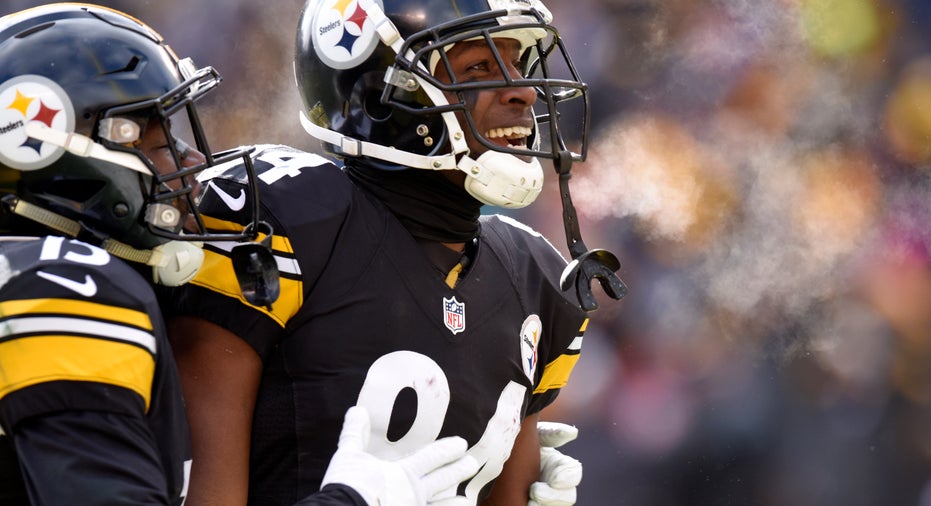 Pittsburgh Steelers wide receiver Antonio Brown reportedly earned big bucks last year to promote 'Facebook Live' – the same streaming service he used to broadcast head coach Mike Tomlin's profanity-laden postgame speech last Sunday.
Brown was one of several social media influencers, including decorated Olympic swimmer Michael Phelps, that Facebook (NASDAQ:FB) paid last year to create content for "Facebook Live," as first reported by the Wall Street Journal last July. The 28-year-old wide receiver purportedly received $244,000 for his efforts, according to a leaked memo.
Facebook declined FOXBusiness.com's request for comment on its deal with Brown. It's unclear if Brown received the payment in a lump sum, or if his agreement with Facebook is still ongoing. Brown's agent, Drew Rosenhaus, did not immediately respond to a request for comment.
The purported payday may come in handy if the NFL fines him for the broadcast. As of Wednesday morning, officials had yet to determine if Brown would be fined for the Facebook Live broadcast, an NFL spokesman told FOXBusiness.com. League policy limits the circumstances under which players can use social media on game day. Teams are typically fined $25,000 for a first offense.
"The use of social media by coaches, players, and other club football operations personnel is prohibited on game day (including halftime) beginning 90 minutes before kickoff until after the post-game locker room is open to the media and players have first fulfilled their obligation to be available to the news media who are at the game," the policy states.
Brown drew universal criticism this week after livestreaming Tomlin's postgame speech in the Steelers locker room immediately after Pittsburgh's 18-16 victory over the Kansas City Chiefs in the AFC divisional playoffs. In the video, Tomlin can be heard using a derogatory term toward the New England Patriots, the Steelers' opponent in this Sunday's AFC Championship game.
Brown took to social media on Tuesday night to apologize for his actions. In the post, Brown admitted to acting "against team and NFL policy."
"First, I'd like to take this opportunity to say that I'm sorry for my actions and behavior after Sunday's game. I let my emotions and genuine excitement get the best of me, and I wanted to share that moment with our fans," Brown wrote on Twitter. "It was wrong of me to do, against team and NFL policy, and I have apologized to Coach Tomlin and my teammates for my actions."
Tomlin publicly admonished Brown for his behavior on Tuesday, adding that he will be face internal discipline. A Steelers representative declined to provide further comment.
"It was foolish of him to do that," Tomlin told reporters. "It was selfish of him to do that. It was inconsiderate for him to do that."
Brown is no stranger to social media – he posted regularly on Facebook Live during the season. Videos of his training sessions and locker room interviews have generated tens of thousands of views in recent months.