Starbucks Trumps Street in 4Q, to Open 800 Cafes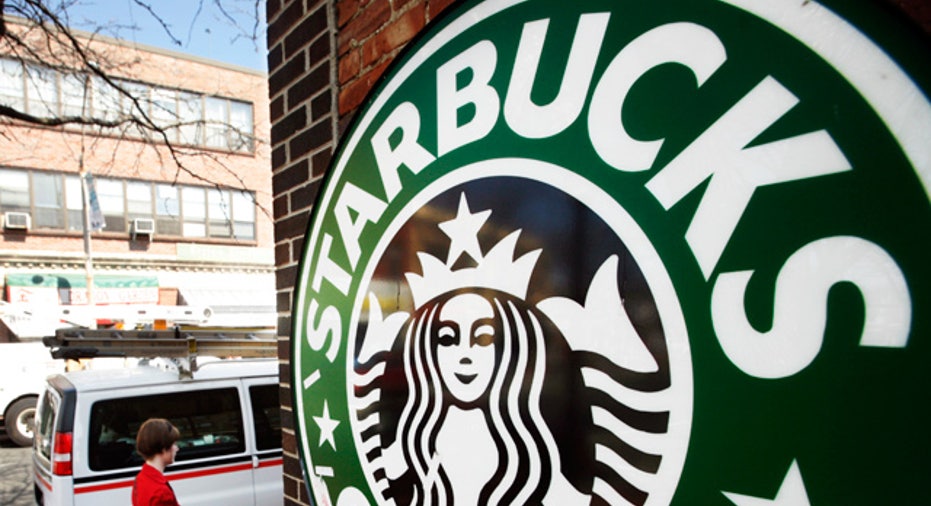 Starbucks (NASDAQ:SBUX) said its fourth-quarter income climbed 12% and surpassed Wall Street's expectations, as demand for lattes and coffees continued to surge despite renewed economic fears.
The coffee giant expressed optimism for the upcoming year and said it plans to open 800 new stores around the world in 2012, half in the Americas, another 100 in Europe, the Middle East, Russia and Africa, and about 300 in China and other Asian nations.
The Seattle-based global operator of chain cafés said it earned $448.3 million, or 47 cents a share, in the fourth quarter, compared with $399.3 million, or 37 cents a share, in the same quarter last year.
Those results were lifted by higher average ticket prices, up 3%, and a 6% increase in traffic. Analysts polled by Thomson Reuters were expecting a profit of just 36 cents.
Revenue for the three months ended Oct. 2 was $3.03 billion, up 7% from $2.84 billion, beating the Street's view of $2.85 billion. Comparable sales, or those at stores open more than a year, was up 9%.
"Fiscal 2011 was an extraordinary year in which Starbucks reported record earnings every quarter, and for the full year, and very strong comp store sales growth all around the world," the company's CEO Howard Schultz said in a statement.
For the full-year, the company reported both record earnings and sales that surpassed Wall Street expectations, however higher coffee prices and other commodity costs like milk continued to weigh on the top line.
In the final quarter of the year, Starbucks saw U.S. sales increase 3% to $2 billion, due primarily to a 10% gain in comparable store sales. International revenue climbed 16% to $717.9 million, driven by favorable exchange rates and higher comparable sales.
The company's consumer products group, which includes its popular K-cops and packaged coffee brand, saw sales grow 20% to $242.2 million. That increase was largely due to a new distribution deal it inked with Green Mountain Coffee Roasters (NASDAQ:GMCR), which makes the Keurig one-cup brewing system.
Starbucks' biggest rival, Dunkin' Brands (NASDAQ:DNKN), has fared worse in the latest economic downturn that has kept commodity costs high and consumer sentiment slumped. The Dunkin Donuts' parent is trading 6% below its IPO price.
The board of directors declared a cash dividend of 17 cents a share last period, which is up 31% from its earlier quarterly payout of 13 cents, and has authorized the repurchase for up to an additional 20 million shares of the company's stock, adding to an earlier buyback that still has 4.4 million shares remaining.
For 2012, Starbucks predicts it will earn between $1.75 and $1.82 a share, which would be growth of 15% to 20% from the period that just ended. As of now, analysts in the Thomson Reuters poll are predicting a fiscal profit of $1.82.