Starbucks' 'Race Together': Where Schultz Went Wrong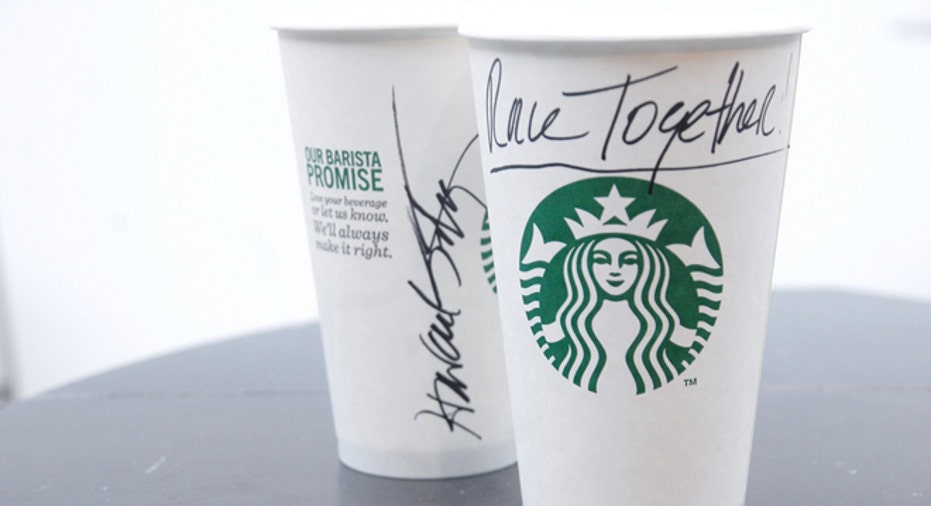 If nothing else, Starbucks (NASDAQ:SBUX) CEO Howard Schultz is an optimist known for putting positive spin on bad news. After returning to turn around the ailing coffee giant during the great recession, the positive-thinking executive tried desperately to put a happy face on what was undeniably a horrendous quarter.
"Despite a global economic environment which shows no immediate signs of improvement, the steps we took in FY08 position us to deliver EPS growth in FY09," he wrote in a press release, "I am optimistic we are well positioned to weather this challenging economic environment."
That stood in stark contrast to the headlines of the day, which included, "Starbucks Cools Way Off," "Starbucks Losing Its Buzz," "Starbucks' Bitter Results," and "Starbucks' Schultz needs to get real." Not to mention that the company's sadly depressed stock plunged another 10% on the news.
I should know. I was among the commentators who thought a more cautious tone was warranted. And Schultz proved us all wrong. Not only did he deliver earnings growth the following year, he flawlessly executed that improbable turnaround, put the pedal to the metal and hasn't stopped going since.
When it comes to the business of brewing espresso, Schultz has actually proved me wrong on several occasions. You might even say I have or at least had a blind spot where he's concerned. While I'd hate to be wrong once again, I'm pretty sure he's the one with the blind spot when it comes to his latest sociopolitical cause.
In a memo to employees on Sunday, Mr. Optimism once again tried his deft hand at spin control. This time he was commenting on the unprecedented backlash against his now infamous "Race Together" initiative, particularly the idea of writing the slogan on cups to foster discussions on race relations between baristas and customers.
"While there has been criticism of the initiative -- and I know this hasn't been easy for any of you -- let me assure you that we didn't expect universal praise," he said. I guess that's one way to put it. Another way would be to say, "While our intention was to bridge a racial divide, we instead threw fuel on a firestorm."
To say his efforts backfired is an understatement. While progressive proponents of Schultz's "Don't be a bystander" mantra hold him up as a rare CEO with a corporate conscience and a paragon of corporate citizenship, the public backlash against this campaign was so vitriolic that Starbucks' top communications officer had to shut down his Twitter account.
Here's where Schultz went wrong with "Race Together." He said he wanted to "use [Starbucks'] scale for good." What he did, on the other hand, was to try to make the company's key stakeholders -- its employees and customers -- part of his personal crusade.
Granted, he did say that participation in the "conversation" was voluntary. But make no mistake, when the billionaire founder, chairman and CEO of a $70 billion company pushes an initiative this hard, the pressure to conform is enormous. That by definition makes it mandatory for employees.
And when an unsuspecting customer walks into Starbucks for a quick grande cappuccino and is confronted with all sorts of racial collateral -- the messages on cups may be over and done but there's still plenty of material around the stores -- you can't help but feel manipulated.
Look, it's one thing for Schultz to personally gift $30 million to U.S. vets returning home from the Middle East and commit to hiring thousands of them. And it's certainly his prerogative to support same-sex marriage and ask customers not to bring firearms into his company's stores. Fair enough.
But putting employees and customers on the spot when all they're trying to do is conduct a simple business transaction is wrong on so many levels I wouldn't even know where to begin explaining it. Never mind the inevitable impact on employee productivity and customer wait times.
As a management consultant and former senior marketing and communications officer of several publicly traded companies, if a CEO ever asked me what I thought of such an idea, I would look at the calendar to see if it's April Fool's Day. Frankly, it's hard for me to believe that Starbucks' board of directors approved such an ill-fated plan.
Schultz may be the undisputed king of the coffee business. And he has every right to be passionate about his causes. But he needs to remember that Starbucks is a place of business, not a forum for sociopolitical discourse. He can't just put a positive spin on this kind of bad news.