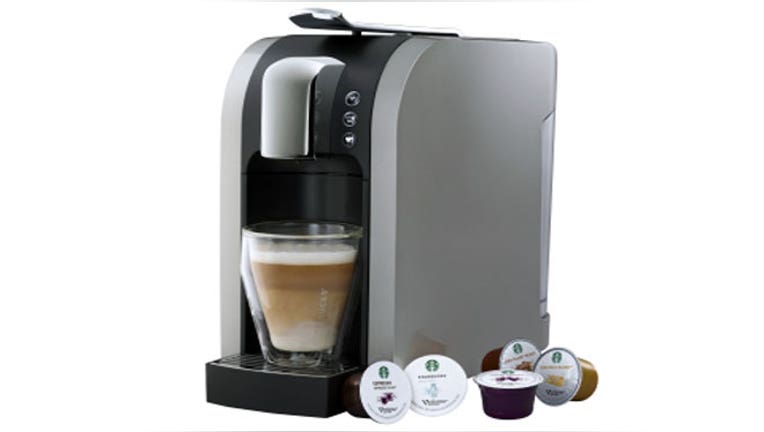 Starbucks (NASDAQ:SBUX) is attempting to give Green Mountain Coffee Roasters' (NASDAQ:GMCR) Keurig a run for its money in the multibillion-dollar premium single-cup segment.
The Seattle-based global café operator unveiled its own single-cup home brewing machine on Thursday that can make coffee, espresso and lattes.
The home brewer, known as Verismo, is being offered for $199, or $399 with additional features such as an LED display and temperature control.
"What we are bringing to market today has been impossible until now," Starbucks CEO Howard Schultz said in a statement.
The coffeehouse had first unveiled early in 2011 intentions to enter the fastest growing segment of the coffee market, just days after announcing a deal with Green Mountain to make Starbucks-branded K-Cup pods for the Keurig.
Starbucks had boasted at the time that its machines would be priced more affordably than the Keurig, which currently holds around 80% of the market.
However, with Keurig machines running only as high as $249.95 and as low as $99.95, it seems Starbucks has instead chose to take the more premium route, marketing the Verismo as a system that doesn't "compromise quality" for convenience.
The premium single-cup market has grown more than 143% over the last year in the U.S. and is now valued at around $8 billion. Hansberry said that with more than one out of three brewers sold last year being a single cup machine, "this is more than a trend."
The Verismo System is currently available only at Verismo.com but Starbucks said it will expand to select high-end specialty retailers and participating Starbucks stores in the U.S., Canada and certain international markets starting in early October.
Shares of Starbucks ticked 1.6% higher Thursday to $50.90.