'Star Wars: The Force Awakens' Smashes Box Office Record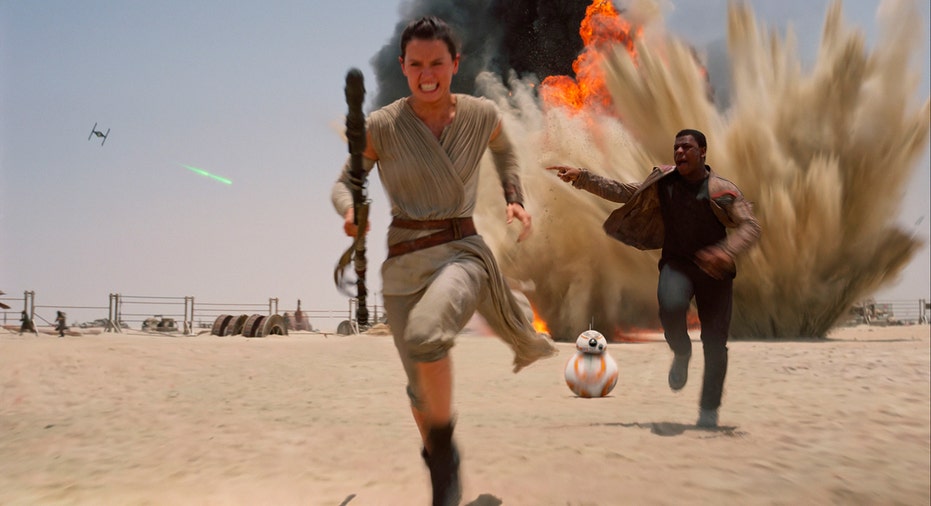 "Star Wars: The Force Awakens" shattered the domestic box office record with an estimated $238 million in U.S. and Canadian ticket sales through Sunday, a staggering debut that re-established the celebrated space saga as a global phenomenon under Walt Disney Co.
The first "Star Wars" film in a decade took in a total of $517 million at box offices around the world, second only to the dinosaur film "Jurassic World", which had the benefit of an opening weekend that included China, where "Force Awakens" won't open for weeks.
Financial and critical success for the film mark a victory for Disney Chief Executive Bob Iger's strategy of acquiring proven brands, including Pixar Animation and comic book powerhouse Marvel, to fuel Disney's entertainment empire.
Disney purchased "Star Wars" producer Lucasfilm for $4 billion in 2012 and is betting that big-budget films can draw customers even as viewers gravitate to online streaming and mobile viewing and theater attendance declines.
Over the weekend, fans reveled in the chance to visit the "Star Wars" galaxy for the first time in a decade. Filmgoers dressed as Jedi or Sith, carried lightsabers and cheered when classic characters such as Princess Leia or Chewbacca appeared on screen. Theaters added showtimes to meet demand, Disney said.
"Jurassic World" opened in June with $208.8 million in the United States and Canada and a take of $525 million worldwide.
"Force Awakens" is the seventh installment in the epic science-fiction franchise created by George Lucas in 1977.
Disney plans four "Star Wars" movies through 2019, plus major expansions at its U.S. theme parks to incorporate the droids, spaceships and otherworldly creatures of the universe Lucas invented. "Force Awakens" toys, clothing, home accessories and video games already pervade stores ahead of Christmas.
Nostalgia, plus a carefully planned, months-long release of film trailers and character profiles boosted interest. Disney, which spent more than $200 million to make "Force Awakens," also created intrigue by keeping the plot largely secret.
Critics lauded the movie's throwback feel, doses of humor and the performances of newcomers Daisy Ridley, John Boyega and Oscar Isaac. Audiences awarded an "A" grade in polling by survey firm CinemaScore.
Disney took steps to attract more women and girls to the series, including casting Ridley as the star and running commercials during shows such as "Keeping Up with the Kardashians." Forty-two percent of the weekend's domestic audience was female, Disney said.
"Force Awakens" could become the highest-grossing movie of all time, box office analysts said. "Avatar" now holds that title with $2.8 billion in global sales.
The wild card is China, the world's second-largest movie market, where "Force Awakens" opens Jan. 9. The last "Star Wars" movie in 2005 collected just $9 million there. Disney made an effort to build buzz, placing 500 miniature Stormtroopers at the Great Wall and striking a deal to stream the six earlier "Star Wars" films through video service Tencent.
(Reporting by Lisa Richwine; Editing by Helen Popper and Alan Crosby)