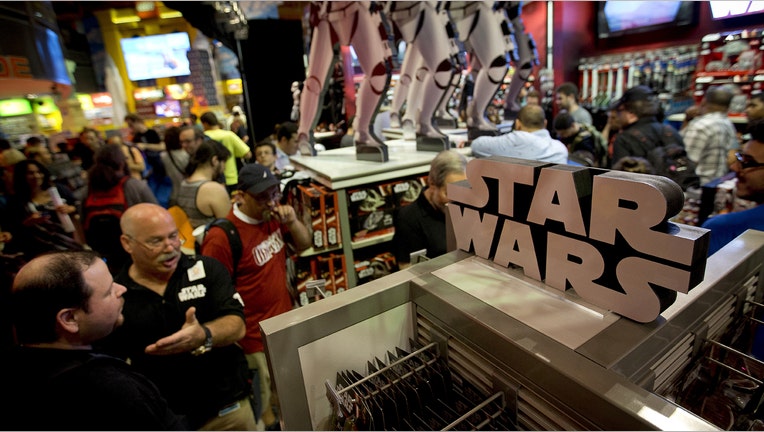 The buildup to the release of "Star Wars Episode VII: The Force Awakens" is a jolly sign for toy makers and retailers that are poised to profit from the first "Star Wars" film in a decade.
With a long hiatus now over, the return of "Star Wars" to the big screen is generating the kind of excitement that can light a fire under the lucrative business of licensed film merchandise. Oppenheimer & Co. analyst Sean McGowan estimated that "Star Wars" toys have the potential to generate $2 billion in sales from September through December.
Meanwhile, "Star Wars" owner Walt Disney (NYSE:DIS) said the franchise contributed to 9% growth in earned licensing revenue. That does not even include merchandise for "The Force Awakens" because the company must wait until the theatrical release before recognizing sales.
"The 'Star Wars' movie will absolutely drive increased demand for toys this month in all channels of distribution," said Donna Tobin, Kantar Retail's senior vice president of global product strategy and marketing. "The 'Star Wars' toy line was likely developed in tandem with the movie, and all forms of entertainment drive a much deeper level of engagement with the brand."
Hasbro (NYSE:HAS) and Mattel (NASDAQ:MAT), two of the largest toy companies in the world, are going all-in on "Star Wars" mania.
The merchandise bonanza kicked off on Sept. 4, dubbed "Force Friday," the first day retailers around the world could begin selling products tied to the new movie. "Star Wars" toys and other merchandise quickly became some of the hottest items on the cusp of the holiday season.
From September through October, "Star Wars" was the top property in the toy market, according to the NPD Group's Retail Tracking Service. "Star Wars" toys were up 250% in dollars versus the same period last year.
Mattel, known for its Barbie and Hot Wheels brands, expects a boost from Star Wars products for years to come.
"I'm really excited to have a piece of the Star Wars business and in particular, I think what it does is it proves the extension possibilities that we have with Hot Wheels," Richard Dickson, Mattel's president and chief operating officer, said during a conference call to discuss third-quarter earnings. "Star Wars is going to be a great business for us this year and we anticipate subsequent years to follow."
According to NPD data cited by Hasbro, action figures and role play accounted for 42% of U.S. toy revenue during the week of Force Friday. Hasbro said its Black Series toys were collectively the best-selling item, and Hasbro's "Star Wars" sales overall through Sept. 26 outpaced total retail growth in "Star Wars" merchandise in the U.S. and U.K.
Hasbro expects to roll out new Star Wars toys through 2016, encouraged by strong consumer demand prior to the release of "The Force Awakens."
Toys "R" Us has echoed those observations. Dave Brandon, CEO of the retail chain, said toy sales would continue to heat up as the Dec. 18 release date moves closer.
During an appearance on FOX Business Network's "Mornings With Maria" before Black Friday, Brandon was asked if "Star Wars" will be a key driver of sales during the critical holiday shopping season. "You bet," he replied.
"With that movie coming out on the 18th, it's just an unknown for us. We're all stocked up and ready to go," Brandon said.
Disney has led a revival of "Star Wars" on the big screen. The media titan acquired Lucasfilm, the production company founded by "Star Wars" creator George Lucas, for $4.1 billion in 2012. Disney plans to release a new "Star Wars" movie every year, starting with "The Force Awakens," the latest installment in the "Star Wars" saga. "Rogue One," a spinoff film, is slated for 2016.
In addition to licensing revenue, Disney stands to benefit from selling its own toys and games.
"The huge global response to the brief glimpse of new merchandise we revealed on Force Friday in September suggests the demand will only grow with the release of new movies," Disney CEO Bob Iger told analysts during a conference call.