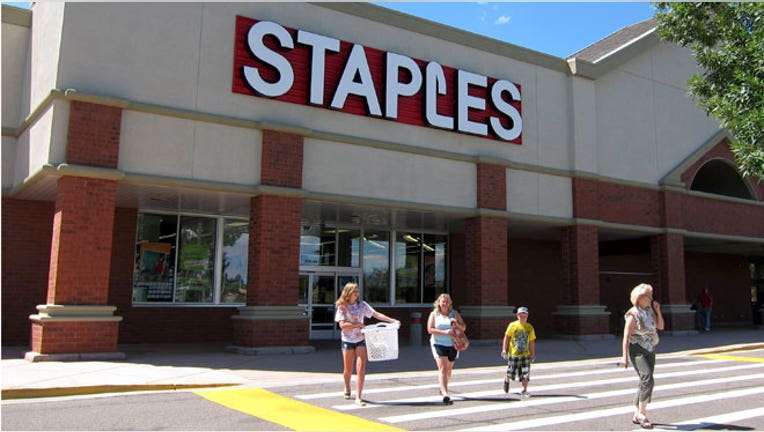 Staples (NASDAQ:SPLS) outlined a $500 million cost-cutting plan, including the closure of 225 North American stores by the end of 2015, after the fourth quarter showed continued pressure on store traffic.
The seller of office supplies also said Thursday it expects to book lower sales and earnings of 17 cents to 22 cents a share in the current period. Wall Street analysts were recently projecting 27 cents a share.
Shares tumbled 11.1% to $11.91 in pre-market trading. Through Wednesday's close, the stock was already down 15.7% since the start of the year.
Staples reported fourth-quarter earnings of $212.3 million, or 33 cents a share, versus $90 million, or 14 cents a share, in the same period a year earlier. Adjusted earnings in the year-ago quarter were 46 cents a share.
Sales dropped 11% to $5.87 billion, although the comparable quarter had an additional week. Excluding that week, fourth-quarter sales were down 3.8%. Gross margin fell to 25.7% from 26.2%.
The results missed Wall Street estimates for earnings of 39 cents a share and revenue of $5.98 billion.
Staples, the nation's largest office-supply retailer, has battled increased competition from the likes of Wal-Mart Stores (NYSE:WMT) and Target (NYSE:TGT), weighing on store traffic and sales.
In the latest period, Staples saw a 7% decline in North American same-store sales as traffic slipped 6%. The average order size decreased 1% year-over-year. European stores recorded comparable sales that ticked 1% lower.
After stripping out the impact of the extra week in fiscal 2012, online sales in North America grew 10%.
Staples chief executive Ron Sargent said nearly half of the company's total sales are now generated online, and the decision to close stores helps Staples meet "the changing needs of business customers."
The Framingham, Mass.-based company currently has 1,515 stores in the U.S. and another 331 in Canada.
Rival Office Depot (NYSE:ODP) recently completed a merger with OfficeMax, and analysts expect the newly combined company to also shutter locations.