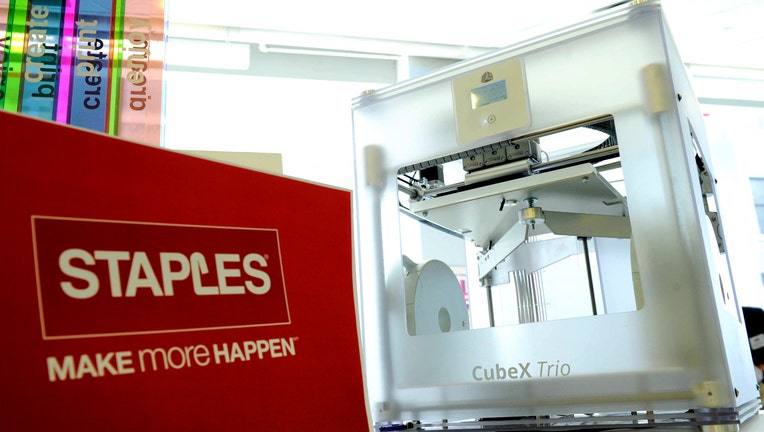 Staples is launching a 3D printing pilot program in New York and California aimed at small businesses and consumers.
The giant office supply chain is partnering with 3D printing company 3D Systems to launch the test program in New York City and Los Angeles locations. 3D Systems makes both personal and professional-grade 3D printers.
"3D printing offers enormous potential for small businesses, and by using Staples, they can print with the technology without having to invest in it," said Damien Leigh, senior vice president of business services for Staples, Inc.
The pilot stores will feature 3D printing centers. Staples says small business owners can bring in their own 3D printing files to print at the stores. Customers who are new to 3D printing will be able to work with trained employees to use the printers.
At a launch event in New York City last week, Leigh said he envisioned small businesses using 3D printers to quickly make prototypes and test ideas. Ash Martin, a director at 3D Systems, said simple 3D printed items made at the Staples printing centers can cost as little as $4. Larger and more complex products could cost thousands of dollars.
Leigh said businesses currently spend more than $100 million annually on printing related to direct sales and marketing efforts. He said the company will be gauging customer response to the pilot programs to see if the technology is a service to more heavily invest in.
"The test with 3D Systems will help us learn about our customers' needs for a local 3D printing service, and how Staples can help them make more happen for their business through printing," said Leigh.