Standing on the Shoulders of a Younger Generation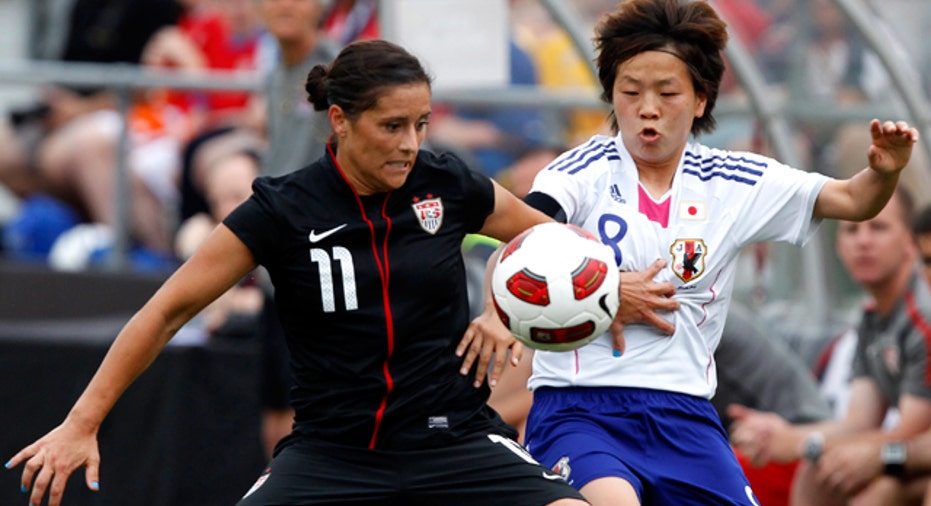 The first sports bar I entered with hopes of grabbing a seat at the bar to catch last weekends Womens World Cup final was filled to the brim. I was a little disappointed, but walked out of there with a grin on my face nonetheless.
I admit Im a little out of touch compared to my sports writing days, but standing room only in a random bar for a womens soccer game? I like it.
My second choice, not exactly a sports bar, had a stool front and center and a few televisions, so I grabbed it and made myself at home next to a few enthused young guys.
After working in sports media when womens sports were on the cusp of legitimacy and popularity, this was a rush. I recalled about two decades ago, while working for a newspaper, being asked by some female athletes at a high school in our coverage area to come speak to their media class. Once I arrived, I realized pretty quickly that theyd invited me to make a case for their team to the boys, who had taken their cue from Sports Illustrated and ESPN and believed that real sports were played only by males.
I enjoyed the girls fire and it took me years to realize that for me, a girl who barely scraped by in gym class and still shudders at the thought of a balance beam, watching thousands of games involving high school and college female athletes changed my life in the most wonderfully insidious ways. Sure, I was earning my writing stripes along the way, but that wasnt all that was going on.
So often we talk of how the pioneers break ground for generations to come. And of course they do. But for me, when I was a 30-something journalist, the inspiration was going the other way. These girls and women were aware of their physicality in a way I never was and most times I was in awe, even when they werent outstanding. It was their zeal and guts I so admired and I made it my business to give them as much exposure and encouragement as possible. I became their champion.
Imagine then, 20 years later, seeing my Facebook feed filled with primarily men posting status updates about where they were watching the Womens World Cup and the detractors coming off like curmudgeons. Plus, overall the final generated a record-breaking 7,196 Tweets per second, according to Twitter (more than the 5,106 per second following Osama bin Ladens death).
With Japans impressive comeback win against a relentless United States team behind us, it is worth pausing and reveling in this shift. Its the new normal. More guys are watching. Little girls are growing up at a time when of course sports participation is a consideration and their male counterparts dont give it a second thought; in most cases, they are in fact cheering on the girls.
Still, it was the younger women who were setting the example for me and the women in my generation (Im now in my late 40s). We were less likely to be athletes than those I was covering and the novelty of it made my job all the more fascinating. These days I often punch a bag in the aerobics room at the gym and it has a window across the front overlooking the weight room. Full exposure. I would have shrunk from that at one time. Last week I told a gym buddy who used to train boxers, I no longer care if someone thinks I punch like a girl.
Ironically, later that day I saw a Facebook post about a little girls t-shirt that read, Yes, I throw like a girl. Jealous?
That brought to mind some of the powerful softball pitchers I saw over the years, sizzling the ball over the plate and mowing down batters. I was a little jealous of them, come to think of it. Now Im proud to stand on the shoulders of all those teenage athletes I covered and all the little ones coming up behind them who are fearless and ready to step onto the playing field and compete.
It feels like on a large scale our gender has pushed past that awkward, self-conscious stage where we are ultra-sensitive about what others think. That means were moving into maturity, where movement, competition and strength are the norm for us. What a dream.
The 2011 Womens World Cup field gave us an example of this maturity.
There is greater parity between nations, Mia Hamm, arguably the most recognizable face from the womens game, said in an interview on FIFA.com . The skill level of players and quality of coaches has become better. In the U.S., we always had some great coaching, but now we see it right across the board. Coaches are really investing in learning the womens game and I think that is important.
Investing. Now theres a verb we like. It suggests growth over time.
Sam Sommers, a professor at Tufts University, recently published an article on The Huffington Post titled On Dads, Daughters and the Womens World Cup. It really captured the layers of this topic because he is the father of two daughters, ages 6 and 8, and his intent is to expose them to his love of sports and give them ease around the culture and language.
& I'll be damned if my kids are going to be the ones on the playground who keep getting doubled off first base in kickball because they don't grasp the concept of tagging up, Sommers writes. Let the gym teachers and the boys in the class do a double take upon discovering that my girls understand when a force play is in effect better than they do. And by the time theyre ready for prom, my daughters will be the ones able to surprise their dates by explaining the infield fly rule to them.
Later he writes, Im thrilled that this is the sporting landscape in which my daughters are growing up. As a kid, I had multiple soccer coaches who, as a means of criticism or tough love, would tell us that we were playing like a bunch of girls. This years World Cup run provides just one more justification for reclaiming that line as the ultimate compliment.
Its the new normal.
Nancy Colasurdo is a practicing life coach and freelance writer. Her Web site is www.nancola.com and you can follow her on Twitter @nancola. Please direct all questions/comments to FOXGamePlan@gmail.com.