Sprint Reportedly Agrees To Buy T-Mobile for $32 Billion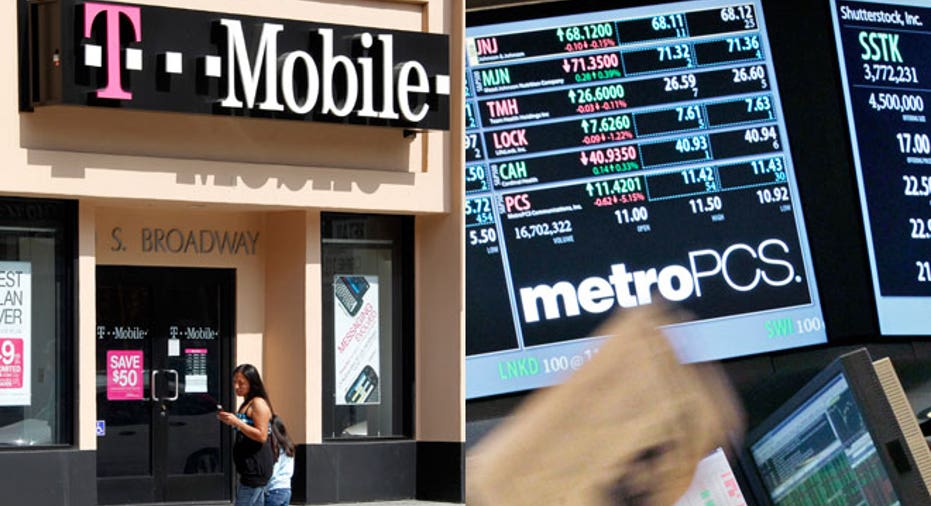 Telecom giants Sprint (NYSE:S) and T-Mobile (NYSE:TMUS) are reportedly nearing a deal in which Sprint would purchase T-Mobile for about $32 billion. The nation's third and fourth largest carriers would combine forces to take on AT&T (NYSE:T) and Verizon (NYSE:VZ).
The acquisition price works out to $40 per share, about a 17% premium to the $34 close for T-Mobile stock on Wednesday. T-Mobile purchased provider MetroPCS last year and has seen its shares double since then.
Sprint is owned by Japan's Softbank and Germany's Deutsche Telekom has a 67% stake in T-Mobile. The two parties still need to come to terms on deal financing and a breakup fee, which The Wall Street Journal reports could be as high as $1 billion in cash.
It remains unclear whether the deal would pass antitrust scrutiny. AT&T tried to purchase T-Mobile three years ago, but it was struck down by regulators.
Cable providers Comcast and Time Warner Cable are expected to go under review, too, after Comcast agreed earlier this year to purchase Time Warner Cable for $45 billion.
Sprint shares are up 8% this month, and are currently trading about $9.50. Sprint has a market cap of $37 billion and T-Mobile has a market cap of $27.5 billion.