Spotify Raises $500 Million in Apple Battle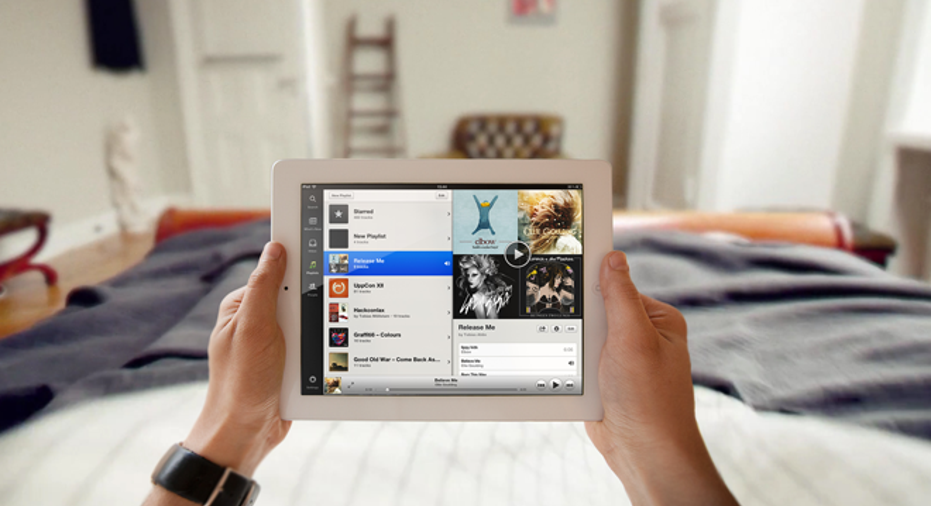 Music-streaming company Spotify Ltd. has raised $526 million in a fundraising that values it at $8.53 billion, according to a person familiar with the matter, as investors bet it can fend off a new threat from Apple Inc.
The fundraising attracted investment from a number of investment funds in Europe and the U.S. and included a $115 million investment from Nordic telecom operator TeliaSonera AB, which said the two companies would work together on areas such as media distribution, data analytics and advertising.
Spotify's latest funding round comes as the company invests in expansion and new forms of content as it faces a growing set of challengers that now includes Apple Music, a subscription-based streaming-music service and a 24-hour global Internet radio station unveiled by the tech giant on Monday.
The financing, which The Wall Street Journal first reported on in April, closed on Tuesday.
As well as TeliaSonera, investors in Spotify's new round include British asset managers Baillie Gifford, Landsdowne Partners and Rinkelberg Capital; Canadian hedge funds Senvest Capital and Discovery Capital Management, the person familiar with the matter said.
U.S. investors in the round include Halcyon Asset Management, GSV Capital, D.E. Shaw & Co., Technology Crossover Ventures, Northzone and P. Schoenfeld Asset Management, the person said. Goldman Sachs which Spotify hired to raise the new funding, also invested through its Global Private Opportunity Partners fund.
Abu Dhabi's sovereign-wealth fund also agreed to invest in the round, a person familiar with the matter said in April.
Spotify is now valued at more than double Pandora Media, which has a current market capitalization of about $3.5 billion.
Part of the new funding may be used to fuel Spotify's push into new forms of media. At an event last month in New York, the company announced a plan to add videos and podcasts from partners including ESPN, NBC, Condé Nast, and Comedy Central.
Spotify was valued at more than $5 billion last September, according to filings by GSV Capital, a private investment fund that owns the shares.
The nine-year-old company has now raised a total of more than $1 billion. Spotify is at least the 10th venture-backed company in Europe, China and the U.S. to raise at least $500 million in equity funding this year, according to Dow Jones VentureSource.
Last year Spotify posted a wider net loss of €162 million ($183.0 million), compared with a net loss of €55.9 million in 2013, according to a legal filing made in May. The company's revenue rose 45% to €1.08 billion, but like its rivals, Spotify shares a large portion of revenue with music-label partners.
TeliaSonera is a former telecom monopoly in which the Swedish and Finnish governments hold a 49% combined stake.
(By Juhana Rossi and Douglas MacMillan)