Sponsors, UEFA Increase Pressure on FIFA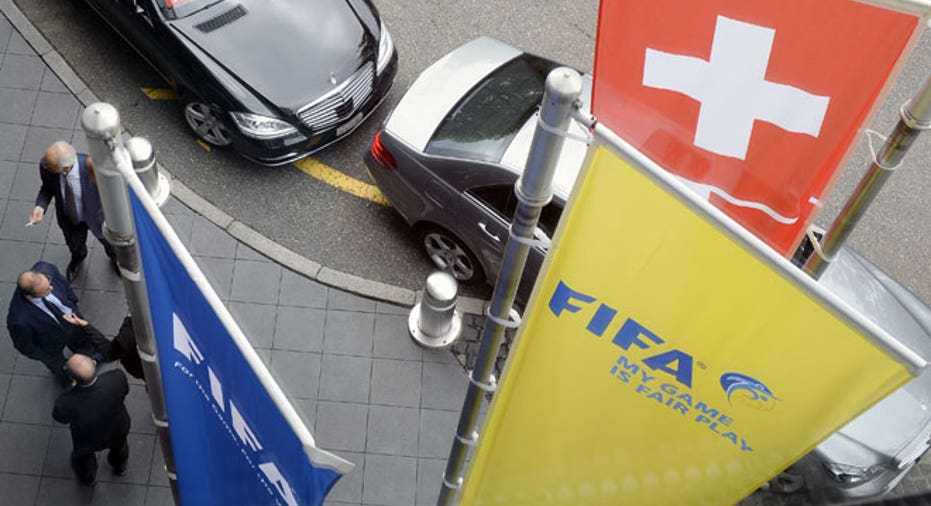 FIFA, reeling from the arrest of several high-ranking officials, is getting a heavy dose of criticism from major sponsors and soccer's European governing body.
Visa (NYSE:V) issued the harshest assessment. The credit card giant threatened to sever its relationship with FIFA if the international soccer organization doesn't make internal reforms.
"As a sponsor, we expect FIFA to take swift and immediate steps to address these issues within its organization," Visa said in a statement. "Should FIFA fail to do so, we have informed them that we will reassess our sponsorship."
Coca-Cola (NYSE:KO), another top FIFA sponsor, said it has "repeatedly expressed our concerns about these serious allegations," some of which surfaced when FIFA awarded World Cup bids to Russia and Qatar.
"We expect FIFA to continue to address these issues thoroughly," Coca-Cola added.
German sportswear maker Adidas Group, which has a sponsorship agreement with FIFA that runs through 2030, said it expects corporate partners to promote "the highest standards of ethics and compliance."
"Following today's news, we can therefore only encourage FIFA to continue to establish and follow transparent compliance standards in everything they do," Adidas said.
U.S. federal investigators on Wednesday announced indictments against nine FIFA officials and five marketing executives for racketeering, wire fraud, money laundering and other charges. Seven of the nine soccer officials were arrested by Swiss police at a five-star Zurich hotel. Six are fighting extradition to the U.S.
In a separate move, Swiss authorities launched an investigation into the controversial bidding for the 2018 and 2022 World Cups, which were awarded to Russia and Qatar, respectively.
FIFA scrambled to assure the soccer world that its annual congress will kick off Friday as planned. At the meeting, FIFA members will vote whether to give Sepp Blatter a fifth term as president.
Allegations of bribery and financial mismanagement have plagued FIFA throughout Blatter's tenure. The Swiss executive has served as FIFA's president since 1998.
Michel Platini, president of the Union of European Football Associations, said he's urging members of his confederation to vote for Jordan's Prince Ali bin al-Hussein, who's running against Blatter. Platini also suggested the UEFA would consider pulling teams out of FIFA tournaments if Blatter wins re-election.
"People have had enough. They don't want this president anymore," Platini said. "I am disgusted. I've had enough."
The UEFA has 53 members, and Platini believes a large majority will back Prince Ali. Russia, one member association, has said it will support Blatter.
At a press conference Thursday morning, Platini acknowledged that he asked Blatter—whom Platini called a friend—to resign.
"If it's not me to tell him, nobody will tell him," said Platini, a former French soccer player. But the embattled FIFA president refused, saying "it's too late."
When asked if splitting from FIFA is an option, Platini responded, "of course."
Platini's comments reflect a statement issued by the UEFA Wednesday. The UEFA said its executive committee members "are convinced that there is a strong need for a change to the leadership of this FIFA and strongly believe that the FIFA Congress should be postponed."
In an address to open the FIFA congress, Blatter insisted he will make changes.
"We cannot allow the reputation of football and FIFA to be dragged through the mud," Blatter said Thursday. "I will not allow the actions of a few to destroy the hard work and integrity of so many. Those who are corrupt in football are in the minority but must be held responsible."
Blatter admitted that "more bad news" may be on the horizon. On Wednesday, U.S. prosecutors said the indictments marked the beginning of law enforcement's efforts to rid international soccer of corruption.