Sponsors Reconsider Sharapova Ties Amid Doping Scandal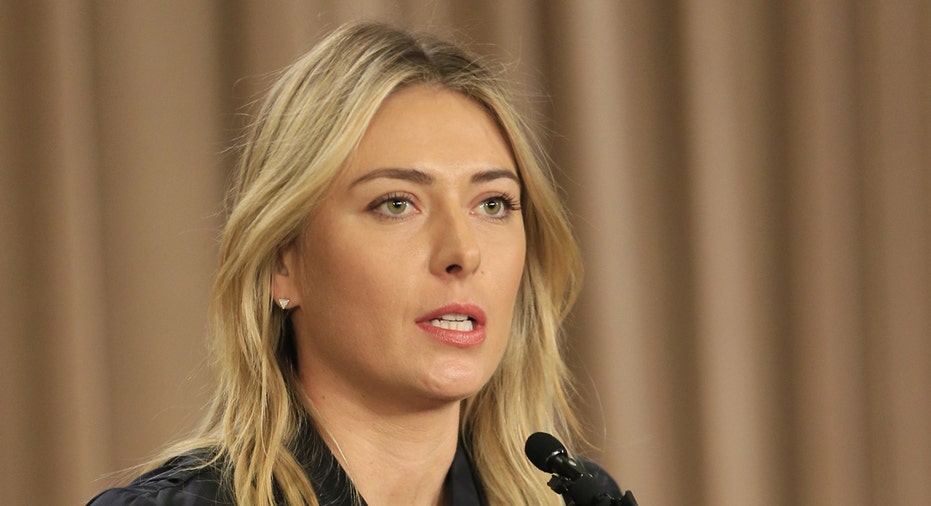 Several major companies are reassessing their business relationships with Maria Sharapova this week after she admitted to failing a drug test, but none of the international tennis star's active corporate sponsors has permanently severed ties.
Sharapova said Monday that she tested positive for meldonium while competing at the Australian Open in January. The World Anti-Doping Agency has banned the substance, which is primarily used to treat blood circulation and cardiac issues, since January 1, 2016. The 28-year-old Russian said she has taken meldonium for health reasons since 2006 and was unaware it had been added to the banned list, but took "full responsibility" for the failed test.
Sharapova has been the world's highest-paid female athlete for more than a decade. She earned nearly $30 million in 2015 alone, including $23 million off the court, according to Forbes. Her active sponsors include apparel giant Nike Inc. (NYSE:NKE), beauty company Avon (NYSE:AVP), water brand Evian and luxury automaker Porsche.
American Express (NYSE:AXP), which worked with Sharapova on sponsored events as recently as 2015, told FOXBusiness.com that the company has "no planned work" with her in 2016. A company spokesperson did not specifically address the failed drug test.
Avon declined to comment on the failed drug test, but a company representative confirmed to FOXBusiness.com that Sharapova remains a brand spokesperson for its "Luck" Fragrance.
Evian, the water brand owned by French corporation Danone, called Sharapova a "trustworthy" partner but said it planned to monitor the situation.
"Evian has been a partner of Maria Sharapova for many years, and until now, we have maintained a trustworthy professional relationship," the company said in a statement obtained by Reuters. "Evian attaches great importance to health, to integrity, and transparency, and we will follow closely the development of the investigation."
Nike has sponsored Sharapova for more than a decade and re-signed her in 2010 to an eight-year deal worth an estimated $70 million. The Oregon-based company said it was "saddened and surprised" by her announcement and announced a suspension of its agreement with Sharapova, but stopped short of ending the relationship entirely.
"We are saddened and surprised by the news about Maria Sharapova. We have decided to suspend our relationship with Maria while the investigation continues. We will continue to monitor the situation," Nike said in a statement.
Porsche took a similar approach, stating that it was "saddened" by Sharapova's infraction and had temporarily suspended its dealings with her.
"Until further details are released and we can analyze the situation, we have chosen to postpone planned activities," a Porsche spokesperson said.
Swiss watchmaker Tag Heuer's endorsement deal with Sharapova expired last December. The two sides held talks to renew the contract, but the company said Monday that it was breaking off negotiations in light of Sharapova's admission.
A former top-ranked tennis player and winner of five Grand Slam events, Sharapova has been hampered in recent years by a string of injuries. She has earned more than $36 million in prize money during her tennis career.
Sharapova will begin a provisional suspension on March 12, with the full length of her suspension to be announced after further deliberation, the International Tennis Federation said Monday.