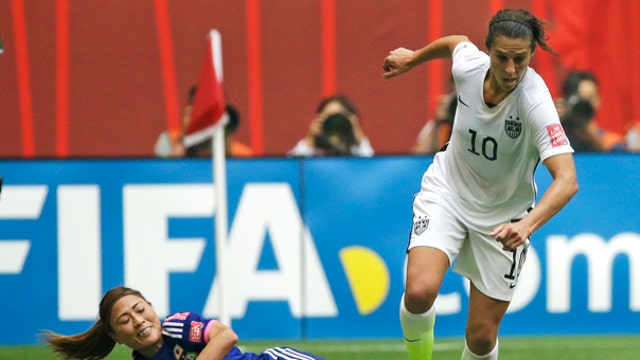 The U.S. national team surged past Japan for its first FIFA Women's World Cup title in 16 years, a victory that puts the Americans in line for lucrative endorsement opportunities.
America's win in 1999 was followed by a wave of national headlines and endorsements. Brandi Chastain, Mia Hamm and Briana Scurry each appeared on Wheaties boxes that year, and Chastain's celebration following her title-clinching penalty kick is an iconic moment in sports history.
Chastain reportedly turned down offers of more than $200,000 for her famous sports bra.
The spotlight in Vancouver was on Carli Lloyd, who posted the first hat trick ever in a Women's World Cup Final. Lloyd completed the feat shortly after the 15-minute mark when she connected on a shot from midfield, giving the U.S. a commanding 4-0 lead.
Lloyd's third score came on the heels of a Lauren Holiday goal, and Tobin Heath joined the offensive barrage as the U.S. went on to win, 5-2.
The game drew 25.4 million viewers on FOX, widely eclipsing the 17.9 million people who saw the U.S. win the 1999 World Cup. Including the Spanish broadcast on Telemundo, the championship was the most-watched soccer match in U.S. TV history with an estimated total audience of 26.7 million people.
The 32-year-old Lloyd became just the second American after Carin Jennings in 1991 to win the Golden Ball, which is awarded to the best World Cup player.
Lloyd, a New Jersey native and Rutgers University graduate, has been in the spotlight before. The midfielder scored the winning goals in the 2008 and 2012 Olympic gold-medal matches.
Still, Lloyd may have the most to gain after her dominant performance in Sunday's final.
According to ESPN, Lloyd secured a marketing agreement with Visa (NYSE:V) last week to work with the company through the 2016 Summer Olympics. Lloyd has a few other major endorsement deals. ESPN reported that Lloyd's agent is negotiating with a car company and watch maker, while her speaking fees are on the rise.
The Houston Dash of the National Women's Soccer League was advertising tickets to see Lloyd play the Chicago Red Stars on July 12.
Based on data from Thuzio, which helps businesses book athletes for speaking engagements, a two-hour appearance by Lloyd would cost about $30,000. That's up from $10,000 after the U.S. team's quarterfinal victory.
Fans are showing a lot of interest, too. Lloyd's personal website crashed Sunday night, and she gained more than 70,000 Twitter followers and 100,000 Instagram followers.
Female soccer players in the U.S. can make a large portion of their earnings through sponsorships, given that salaries and winnings are far smaller than in men's soccer. Total prize money for the Women's World Cup was $15 million compared to the $500 million purse for the 2014 World Cup in Brazil.
U.S. striker Alex Morgan, 26, has built a large sponsor portfolio that includes big names like Nike (NYSE:NKE) and Coca-Cola (NYSE:KO). Before the World Cup final, Thuzio said a sponsored message from Morgan on Twitter would cost $15,000.
Morgan rose to fame at the 2012 Summer Olympics in London, where she scored three goals including the game-winner in a semifinal match against Canada. U.S. Soccer named Morgan its 2012 Female Athlete of the Year.
Megan Rapinoe also counts Nike among her sponsors. The midfielder has played on the national team since 2006.
Abby Wambach is a 14-year veteran of the U.S. Women's National Team. She announced that this year's World Cup would be her last, but like Christie Rampone, Wambach will likely remain one of the most recognizable players in women's soccer.
Wambach has endorsement deals with Nike, Panasonic, Chipotle Mexican Grill (NYSE:CMG) and PepsiCo's (NYSE:PEP) Gatorade. Her appearance fee is approximately $30,000, according to Thuzio.
Rampone, the U.S. captain, also said she was playing in her final World Cup. The 40-year-old defender was the lone holdover from the 1999 championship team.
Another longtime member of the team, Hope Solo, is considered one of the top goalies in the world. Solo is still repairing her image after she was suspended early this year following assault charges that were eventually dismissed. Nike stood by the two-time Olympic gold medalist.