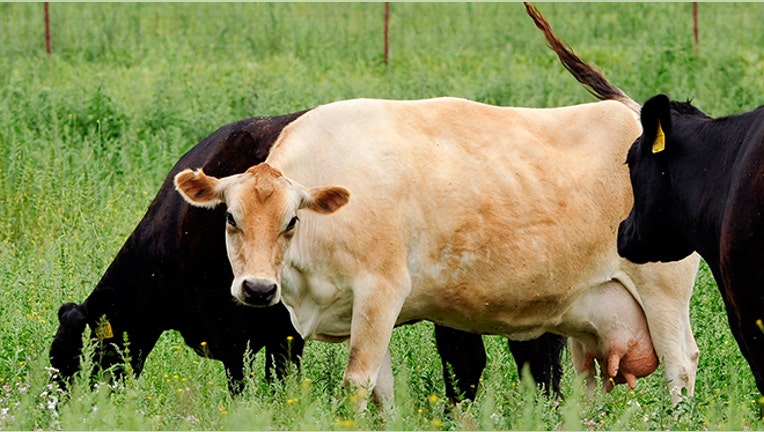 Increasing global demand and stagnant production could leave some consumers paying more for milk next month.
Dairy economist Mary Ledman says prices could rise 30 to 60 cents a gallon during the first quarter of 2014 as tight global dairy product supply and demand boosts domestic milk prices, though not all consumers will face higher costs.
Ledman says the market value for a gallon of milk is close to $4 in many markets, but not all shoppers are seeing that price tag, as many retailers use milk as a loss leader.
"Milk is a strategic product that gets people into the door, and retailers know this, so they  don't raise the price. They know they will lose money; everyone comes in for milk so that price stays the same while something like ground beef will increase."
According to data from the Bureau of Labor Statistics, the average price of a gallon of  whole milk has increased 1.5% from December to January, to $3.55.
However, some states don't allow retailers to sell milk below cost, and those shoppers will likely see an increase, says Ledman.
Government data also show the average price of a gallon of whole milk has risen to $3.52 in January 2014 from $3.43 in September 2013.
Ledman says that at the farm level, prices are up nearly 15 cents a gallon for whole milk in March, which often becomes almost 30 cents by the time it gets passed on to the consumer. "That means they retailers been eating nearly one third of the price increase."
Chris Galen, senior vice president of communications at the National Milk Producers Federation, points out the rise in dairy prices simply brings us back to 2008 levels.
"It has taken us almost five to six years to see prices return to where they were before the crisis. The Great Recession knocked down the price of dairy products, and we are finally climbing out of that. This is good news for farmers, but more noticeable for consumers."
Demand has been outpacing supply, and the U.S. exported 15.5% of its milk product in calendar year 2013, according to Galen. "China has been soaking up a lot more milk from a number of sources. China is really trying to westernize its diet, but it can't increase its production to keep up with its population."
In the U.S., supply of milk has grown less rapidly than demand with production ticking up 0.4% in 2013 from 2012.
Ledman adds that the regulated price for milk used to create packaged fluid milk has been increasing since mid-2013, resulting in an all-time high price of $2.36 for domestic cheese at the end of January. The rise in the cheese market will bring the highest fluid milk price on record in March. "It will be short-lived as the cheese market has already corrected and is trading near $2.10/lb. today."
For milk drinkers, she says this means some markets will have about a 10-20% price increase.
Analysts are paying close attention to the current drought in California (the No.1 dairy state)  and its potential impact on diary prices in the future.
"It's too soon to tell the impact, that becomes a question for the fourth quarter of this year," Ledman says. "Many of the farmers have already purchased their feed for the first half through three-quarters of the year and there has been some precipitation recently. It is clearly the biggest unknown we have in 2014, and if the problem persists, it will be more of an issue in 2015."