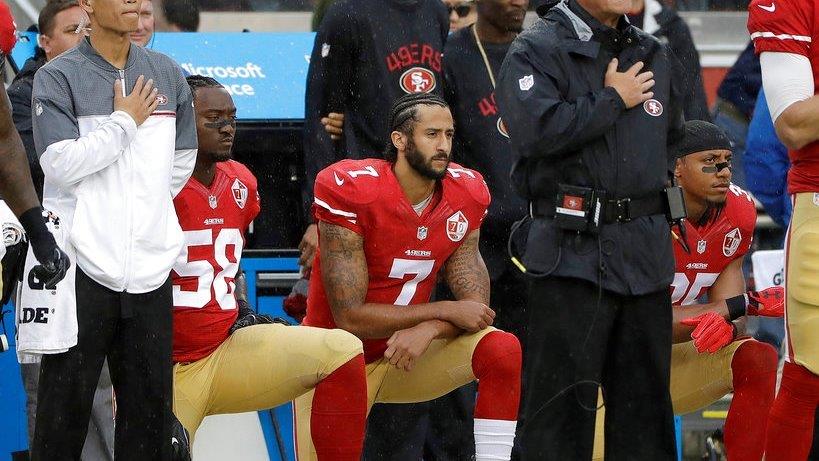 Famed filmmaker Spike Lee on Tuesday promoted a rally later this month to support Colin Kaepernick, the controversial free agent quarterback whose supporters say has been blackballed by the NFL due to his social activism.
Dubbed "United We Stand," the rally for Kaepernick is set to occur outside NFL headquarters in New York City on Wednesday, Aug. 23 at 5 p.m. ET, according to a post to Lee's Twitter account. It's unclear if Kaepernick himself will attend the rally.
"I did not organize and set up this protest. However I still support my brother and his stance on the injustices in the USA," Lee wrote on Twitter.
Several prominent groups, including Justice League NYC and the Empowerment Movement, are listed as sponsors of the event. Justice League is best known as the organization behind the "I Can't Breathe" shirts that NBA star LeBron James and several other athletes wore to protest the death of Eric Garner after a confrontation with the New York City Police Department.
Kaepernick has been a free agent since he opted out of his contract with the San Francisco 49ers last March. The 29-year-old quarterback started a national debate during the 2016 NFL season after he refused to stand for the National Anthem to protest social injustice.
Kaepernick's continued employment, despite a playing resume that includes a Super Bowl appearance, has led supporters to argue that he is being blackballed by NFL teams due to his social activism.
Lee previously spoke out in support of Kaepernick in a March 19 Instagram post, writing that Kaepernick's inability to land a job in the NFL "stinks to the high heavens."
NFL Commissioner Roger Goodell denied last month that Kaepernick has been blackballed, arguing instead that the league's 32 teams are making "football decisions" regarding whether to sign him.
"He can't be [blackballed] because we're not," Goodell told reporters Sunday during a fan forum event at M&T Bank Stadium in Baltimore. "The clubs are making those individual evaluations to make the determination whether they think he can help them win, and that's true with any player. Obviously, everyone's aware of the fact of his protests last year, and that's something individual clubs will either weigh or not weigh."