Soccer star Neymar set for richest transfer in sport's history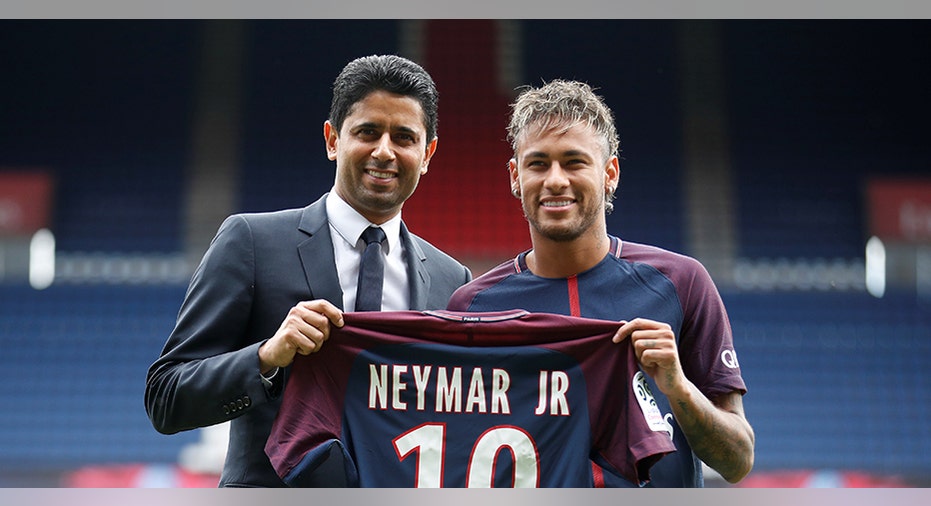 Neymar's record-breaking 222 million euros ($263 million) transfer from Barcelona to French side Paris Saint-Germain appeared close to completion on Wednesday, when his agent predicted he could be unveiled by the weekend.
Neymar's team mate Lionel Messi posted a farewell message on social media to the Brazilian, whose agent Wagner Ribeiro was quoted on Spanish radio as saying PSG would pay Barcelona's asking price and his client was en route to finalize the deal.
"They (PSG) are going to pay Neymar's (222 million euros buyout) clause today so that he can be presented at the weekend," Ribeiro told Spanish radio station Cadena COPE. "They (Neymar and his father) are in the air now."
The move would complete a hectic few days in which Neymar's heavily trailed exit has inched closer.
Events moved swiftly on Wednesday when Barcelona released a statement announcing that the 25-year-old had informed them of his intention to leave, and confirming the amount of his buy-out clause.
"The player Neymar Jr, accompanied by his father and agent, has informed FC Barcelona this morning of his decision to leave the club in a meeting held at the club's offices," Barcelona said in a statement.
"The club refer to the buy-out clause of his existing contract which as of 1 July totals 222 million euros."
Earlier the 25-year-old arrived at the club's training ground to tell team mates he was moving to Paris, Catalan radio RAC1 reported.
The Brazilian striker left the training area minutes later, it said, with the club confirming on Twitter that he had been given permission not to train.
Neymar's departure would end a four-year stay at the club, where he formed a formidable strike force with Messi and Luis Suarez.
Messi reacted to his team-mate's imminent move by posting on his Instagram account: "It was a great pleasure to have shared all these years with you, my friend @naymarjr. I wish you much luck in this new stage of your life. Be seeing you."
In October, Neymar signed a new contract until 2021 with the buy-out clause raised.
For a while it seemed that the deal might stall over concerns about Financial Fair Play.
In an interview published on Wednesday, the president of the national football league, Javier Tebas, said the league would not accept payment by PSG to trigger the release clause. It would potentially be in breach of UEFA Financial Fair Play rules, he told Spanish sports newspaper AS.
However, UEFA told Reuters on Wednesday that no complaint had been received, adding that European football's governing body would not block any potential deal in advance.
"UEFA will look into the details of this transfer in due course to ensure PSG are compliant with FFP requirements," the UEFA statement said.
"The transfer of Neymar to PSG will have an effect on the club finances over several years but the impact of such an operation cannot be judged in advance, notably as PSG could well sell several players for a significant amount.
"We shall therefore only make calculations at the end and make sure that they respect the rules."
PSG are one of the world's richest clubs following their 2012 takeover by Qatar SportsInvestments, an arm of Qatar's sovereign wealth fund, which has transformed their fortunes.
Under the fair play rules - which Uefa's FFP project leader Andrea Traverso was last week quoted by Italian newspaper Gazetta dello Sport as saying PSG were currently following - a club's wage bill must not exceed 70 percent of its revenue.
PSG's 2015/16 revenue came to 521 million euros, according to Deloitte's Football Money League report issued in January.
550,000 EUROS A WEEK?
Media sources across Europe reported that Neymar is negotiating a potential six-year deal worth more than 550,000 euros a week. The striker only arrived back in Spain on Tuesday after trips to China and the Middle East.
Neymar has been active on social media, sharing an excerpt from the New Testament (Philippians 4:11) on Instagram which said "I am not saying this because I am in need, for I have learned to be content whatever the circumstances.
"I know what it is to be in need, and I know what it is to have plenty. I have learned the secret of being content ...whether living in plenty or in want."
A PSG spokesman declined to comment.
Neymar signed for Barcelona from Brazilian side Santos for 57.1 million euros in 2013, although it was later revealed the cost was closer to 100 million euros.
(Reporting by Blanca Rodriguez; Writing by Neil Robinson; Editing by Hugh Lawson)