Smithfield Brings Home the Bacon With NASCAR Sponsorship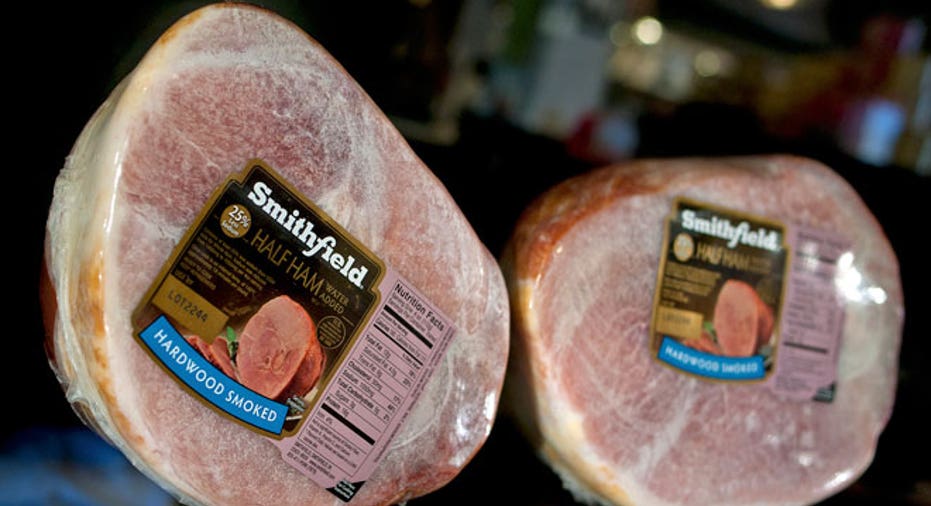 As it continues to expand its footprint in the world of packaged foods, Smithfield Foods has made its NASCAR sponsorship a key component of its growth plans.
Even before it was taken private last year by China's Shuanghui International Holdings, Smithfield embarked on an effort to lessen its exposure to fluctuating commodity prices and ramp up its packaged-foods business.
The move brought the Virginia-based company into eyeing greater competition with the likes of Hormel Foods (NASDAQ:HRL) and Kraft Foods (NASDAQ:KRFT).
Under CEO C. Larry Pope, a racing aficionado whose father sold Fords (NYSE:F) for a living, the world's largest pork producer became the primary sponsor for Richard Petty Motorsports for 15 races. Last year, Smithfield expanded the deal to 25 events.
Now Smithfield is going all-in, extending its sponsorship of the No. 43 car to 29 races through 2016 and increasing its investment in Richard Petty Motorsports by 50% each of the next three years.
At a news conference Wednesday to announce the move, Pope said Smithfield's investment in NASCAR and Richard Petty's teams has paid dividends. The company has seen percentage sales increases of double- and triple-digits before and after Sunday races.
Smithfield has also found that compared to other consumers, NASCAR fans significantly over-indexed in the consumption of five pork-based product categories.
"There's no better way to attract customers than racing on Sunday," Pope said. "There's an immediate connection from our customer to Richard to the race car to our brand."
Factoring into the success of Smithfield's NASCAR sponsorship is Richard Petty, co-owner of his racing team and a NASCAR Hall of Famer who won over 200 races in his career.
"If you can help me sell more bacon, ham and sausage, we're going to have a great relationship," Pope recalled telling Petty in early conversations about a sponsorship deal. Noting his role as CEO, "I love racing, but I'm in it for the money," Pope added.
Bringing Home the Bacon
It's not as simple as putting the Smithfield logo on the No. 43 car and expecting results.
Pope explained that Smithfield's relationship with retailers is a critical component in turning its partnership with Richard Petty Motorsports into sales.
The meat producer works with retailers to run in-store promotions leading into Sunday, particularly near the location of each weekend's event. Pope said if there's a race in Phoenix, the company can orchestrate a campaign in Phoenix for Smithfield's brands, which include Eckrich, Farmland, Gwaltney, Nathan's and the namesake product line.
The partnership with Richard Petty and Aric Almirola, driver of the No. 43 Ford Fusion and an ambassador for Smithfield, has transformed Smithfield's relationship with many retailers.
The company's retail partner in Buffalo, N.Y., for example, logged 100% year-over-year sales increases of Smithfield products. Last year, Smithfield doubled its NASCAR-related sales gains compared to 2012.
Last year, retailers began asking Smithfield to bring promotional activities to their stores. That's a first for the company.
"We don't have to chase retailers. Retailers chase us," Pope said.
Part of the allure for retailers is Petty, who makes the partnership an easy sell to retailers. It's then up to Smithfield to explain "what the attachment is between fans of NASCAR and loyalty to the brand. So we show them the information on that," Pope told FOX Business.
A NASCAR study conducted before the 2013 season by online research firm Toluna revealed that 55% of NASCAR fans said that when they see a company sponsoring NASCAR, they feel good about that brand.
"Retailers are always looking for something to get somebody into the store," Pope added. "Richard Petty, the 43 car and racing gives them some excitement in the store."
Almirola also plays a critical role in boosting Smithfield's marketing prowess. The driver, entering his third full year in Sprint Cup racing, said he works with Smithfield to meet fans "so people go to the grocery store."
"It's more than the decals on the side of the car. I'm glad that it's working for them," he said of Smithfield. "I'm glad that the cash register is making all sorts of noise."
Almirola also noted how Smithfield's partnership with Richard Petty Motorsports enables charity work, through Smithfield's Helping Hungry Homes and others, in the communities that host NASCAR races.
Winning Over Customers
Smithfield's investment is a major development for Richard Petty Motorsports. The revenue is going right back into research and development, and Almirola said the alliance enables the team to retain top talent and attract new people.
Richard Petty Motorsports recorded a revenue increase of at least 20% over the past year. It also has partnerships with Stanley Black & Decker (NYSE:SWK), STP, the U.S. Air Force and others.
"When someone like Smithfield steps up, it helps other investors come in," Petty said. "It's good for other sponsors to see the results."
Jim O'Connell, chief sales officer at NASCAR, stressed that fans change their behavior based on whose name is on the car.
"Some of the world's most profitable and successful corporations choose to partner with NASCAR because it's proven to drive business," he said. "The extension between Richard Petty Motorsports and Smithfield Foods reinforces that blue-chip brands are confident our sport is positioned for future growth."
For Smithfield, sponsoring the No. 43 car is helping the company win over customers. Sales gains are apparent not just before but well after races, an indication that Smithfield is in fact gaining a following for its brands, Pope said.
"As Richard [Petty] has said many times, he can sell our product one time, but our product has to sell itself the second time," he added.