Smith & Wesson, Ruger to End Handgun Sales in California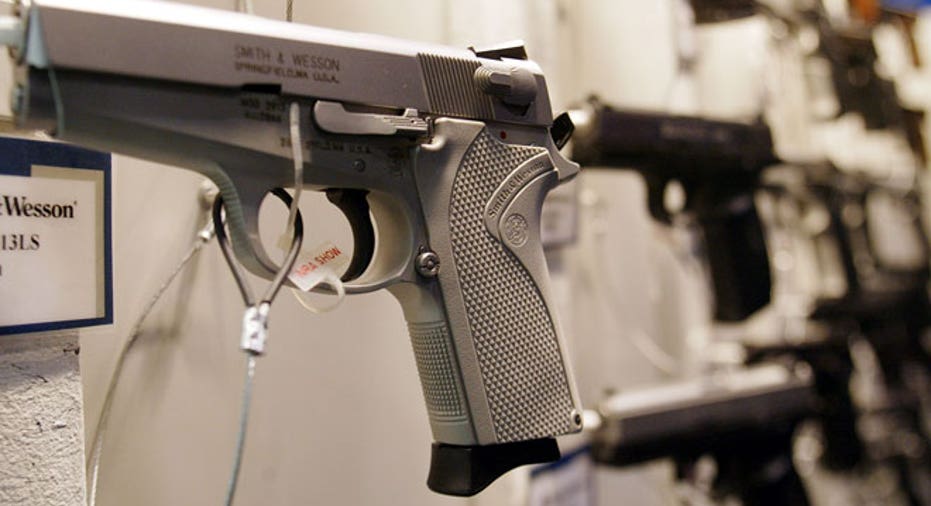 Smith & Wesson (NASDAQ:SWHC) said it will no longer sell many of its semi-automatic handguns in California, following a new law in the state that mandates the use of microstamping technology.
The decision follows a similar move by rival gun maker Sturm, Ruger (NYSE:RGR), which recently announced that its handguns would be dropped off the list of approved firearms in California.
Shares of Smith & Wesson were trading 4% to $13.36 late Friday afternoon. Ruger slipped 5.6% at $73.65.
The law, signed by former Gov. Arnold Schwarzenegger in 2007, was approved for implementation in the Golden State last year. It requires that gun manufacturers add microstamping capabilities to all new or updated semi-automatic pistols.
Microstamping is a technique whereby the firing pin doubles as a stamp, etching an identification code onto the primer. The code, which would theoretically help law enforcement trace rounds to the gun's owner, is also engraved on the casing.
Firearm makers like Smith & Wesson have argued that microstamping is cost prohibitive and won't deter crime. The company said it will not include microstamping in its firearms.
James Debney, Smith & Wesson's president and CEO, said the Springfield, Mass.-based gun manufacturer will continue to work with the National Rifle Association and the National Shooting Sports Foundation, a trade group, to oppose the law. The NSSF filed a lawsuit last week.
"At the same time, we will do our best to support our customers in California with state-compliant products, enabling them access to at least a portion of the firearms to which we believe all citizens are entitled," Debney added.
Smith & Wesson will still offer its revolvers and California-compliant handguns, including versions of the M&P Shield and SDVE pistols that were launched last week. The company believes sales of those firearms will "more than offset" the loss of other M&P handguns in California.
Smith & Wesson doesn't plan to make changes to the M&P Shield and SDVE pistols in order to keep selling them in the state. All other M&P handguns, which Smith & Wesson has marked for updates, will fall off the California Roster of Handguns Certified for Sale by August.
Ruger also warned that its handguns would no longer be sold in California, calling the law "Draconian."
"Until microstamping is repealed, we expect that Ruger pistols -- some of the safest available -- will continue to be forced off the Roster," the company said.