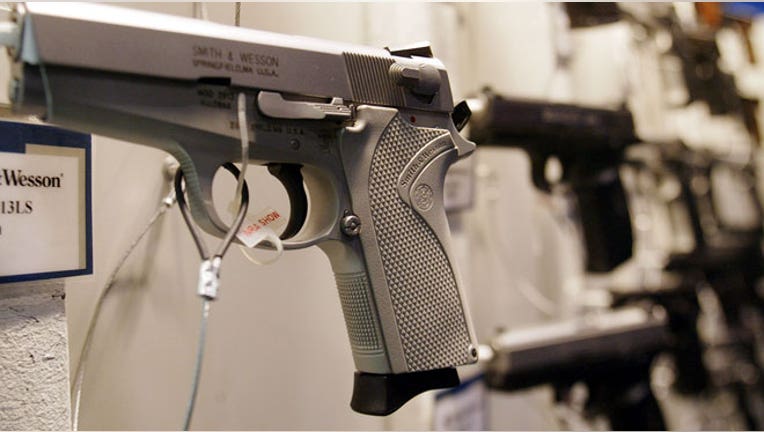 Smith & Wesson (NASDAQ:SWHC) ignited a selloff on Friday after reporting a slight drop in fourth-quarter earnings and a disappointing outlook for the new fiscal year.
Shares dropped 9.9% to $15.32 in recent trading, paring a 26% gain on the year as of Thursday's close.
Gun makers like Smith & Wesson saw a surge in demand last year, when first-time buyers and talk of additional regulations helped fuel sales. More recently, the industry has reported a slowdown in sales growth.
National Instant Criminal Background Check System inquiries—adjusted by the National Shooting Sports Foundation to exclude checks related to permit applications—declined 16.6% in April to 988,726. But the total was still good enough for the second-highest April on record.
After Thursday's closing bell, Smith & Wesson said it earned $25.1 million, or 44 cents a share, in the period ended April 30. The Springfield, Mass., company reported a profit of $25.2 million, or 38 cents a share, in the year-ago period.
Net sales fell 4.6% to $170.4 million. Gross margin widened to 40.9% from 38.3%. Excluding Walther firearm sales, sales were down 1.5%. Smith & Wesson phased out a distribution agreement with the German gun manufacturer in 2013.
The quarterly results beat Wall Street expectations. Analysts were looking for per-share earnings of 39 cents and revenue of $163.55 million.
Smith & Wesson, which posted 38% sales growth in same period last year, said lower rifle sales offset strong demand for handguns. The company has focused on grabbing a bigger share of the market for polymer pistols, launching new versions of its M&P handguns in recent years.
In May, rival gun maker Sturm Ruger (NYSE:RGR) reported a 9% increase in total sales during the company's fiscal first quarter.
Smith & Wesson chief executive James Debney said the company booked record sales, profits and margins in the just-completed year.
"We believe that by executing on our strategy, we are well positioned to continue to take market share and deliver profitability, even as the consumer market for firearms returns to a more normal environment," Debney added in a statement.
The company sees 2015 earnings from continuing operations of $1.30 to $1.40 a share, below Wall Street's estimate of $1.45. Sales are expected to check in between $585 million and $600 million. Analysts were projecting $621.8 million.
For the first quarter, Smith & Wesson provided guidance for per-share earnings of 23 cents to 25 cents and sales of $130 million to $135 million. The current consensus estimates are 40 cents in earnings and $160.6 million in revenue.