Smartphone Maker HTC Sees Record Sales Again in Q2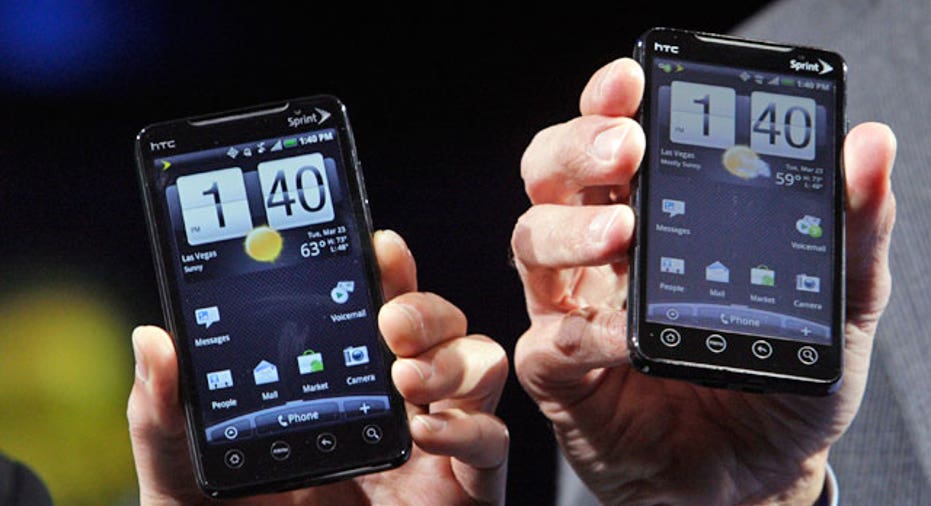 HTC Corp , the world's No.5 smartphone maker, expects its revenue to set a record in the second quarter, building on the first quarter record on robust demand in the growing smartphone market.
The company said in a statement on Friday that it sees revenue in April-June at T$120 billion ($4.18 billion), double that of the same period a year ago. Its revenue has reached a record high of T$104.16 billion in the first quarter.
"People were worried that HTC's shares were surging too much and too rapidly, but it has held its ground because it is rare to have a company that can give such solid guidance these days," said UBS analyst Arthur Hsieh.
The Taiwan smartphone maker has seen runaway success with smartphones based on Google's Android operating system as it battles for share in a market dominated by Apple's iPhone.
The HTC Desire series has been a hit since last year, and investors are betting recent models such as Thunderbolt and Incredible S, will build on that success among consumers in the U.S. and Europe.
The smartphone market will grow 58 percent this year and 35 percent the next, research firm Gartner said earlier this month. [ID:nLDE7360GI]
HTC's market capitalisation has already overtaken that of Finnish giant Nokia , which is cutting jobs as it struggles to compete in a market it once dominated [ID:nLDE73R01N].
Research firm IDC said on Friday the overall cellphone market grew 20 percent in January-March, helped by strong gains by smaller vendors as the three largest phone makers -- Nokia , Samsung Electronics and LG Electronics -- lost market share. [ID:nLDE73S00S]
HTC said sales volume would double to 11 million-11.5 million units, up from 9.7 million units in previous quarter.
Gross margin in the quarter would be around 29 percent, the company said, while net operating margin would be around 15.5 percent.
Chief Financial Officer Winston Yung told an investor teleconference that Japan's earthquake and tsunami in March will not have an impact on HTC's revenue in the second quarter.
Analysts expect HTC to earn T$121.36 billion in the second quarter, according to a poll by Thomson Reuters I/B/E/S.
HTC reported earlier this month that first-quarter profit almost tripled, beating forecasts. [ID:nL3E7F814S]
Shares of HTC closed at a high of T$1,300 on Friday, more than triple a year ago. That surge has helped turn its chairwoman, Cher Wang, into Taiwan's richest person and inhabitant of the Forbes billionaire list.
The broader market fell 0.36 percent.