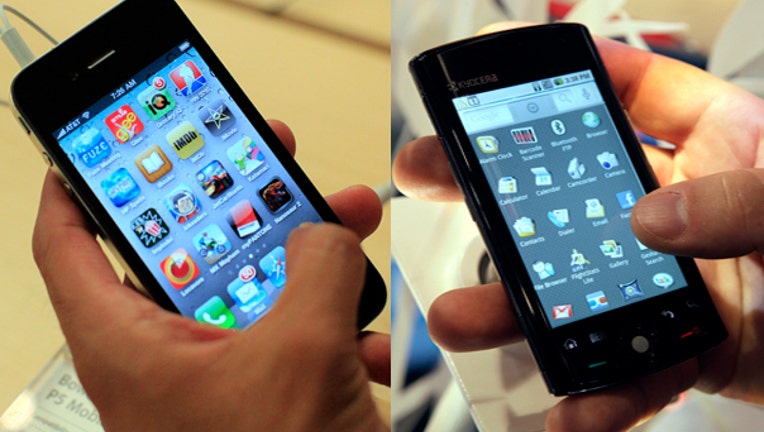 No cash to pay that dinner check? Instead of running to an ATM or waiting to pay your friend back later, you could use a smartphone app to settle up with her right now.
Benefits:
Convenient compared with the alternatives.
No or low cost.
Eliminates risk of losing a paper check or paper money.
Drawbacks:
Some services charge a fee.
Not as instant as getting cash in hand.
Potential hacker target as they become more popular.
In many cases, both parties must sign up for the service to make or receive payments.
Odds are you've probably never tried it. While smartphones are pretty ubiquitous these days, sending money to a friend with one isn't, says James Wester, global payments research director at IDC Financial Insights.
These apps are being pitched as a way to split a check with friends, but the average amount transferred, he says, is in the $300 to $400 range, and is typically for things like roommates giving each other money for rent and utilities, Wester says.
"When you pitch that peer-to-peer service as being something for small things you might normally handle with cash, I don't think it's resonated very well yet," Wester says. "I do think that over time, peer-to-peer payments will be something a little more common once people discover on their own the usefulness of it."
Sending money via your bank's smartphone app or mobile site
Many banks have either created their own peer-to-peer programs or hired companies like Fiserv or ClearXchange to set one up for them.
Each bank has its own fee schedule, but most offer the service for free.
One provider of such services is Popmoney, a product of Fiserv that's used by 1,800 banks and credit unions including Wells Fargo, Chase and Bank of America.
Popmoney
Cost: 95 cents, paid by sender.
Whom you can send to: Anyone with a mobile phone number or email address.
How: Users can access the service through banks' apps and mobile sites. Those whose financial institutions don't offer it can still use Popmoney on a third-party basis through the Popmoney app or Popmoney.com.
Limits: If not requested by another user, $500 per day and $1,000 per month if drawn from a debit card; $2,000 per day and $5,000 per month if from bank account to bank account. You can request $1,000 per day and $2,500 per month. You can also pay requests through Popmoney of up to $2,500 per day and $4,000 per month.
Speed: After a request is accepted, the money will appear as early as the next business day for transfers through a debit card and three business days for transfers through a bank account.
Whom it's for: People who want to make peer-to-peer payments through their banks.
Sending money via 3rd-party apps
With these apps, tech companies have gotten into the financial services game to allow users to send money regardless of where they choose to bank.
Most of these are no or low cost, says Wester, because tech companies want people to feel comfortable paying with the Web or their phone.
"Once you've gotten someone comfortable with making a payment to friends and family, it becomes a little bit easier," Wester says.
Other money transfer apps include Dwolla and the new service, Ribbon.
Security
Mobile wallets are only as secure as your phone is, Donfried says. Even though there hasn't been a big hacker attack on mobile wallets, it's a possibility if they become more popular. Plus, someone can just take your phone.
"Somebody can steal your phone, and if they know your PIN they can transfer money whenever they want," Donfried says.
If the mobile wallet has additional security features, like requiring a password authentication for every transaction, use them. Google Wallet offers a two-step authentication that not only requires a password to get into Google Wallet but also texts you an authorization code every time you want to make a transaction.
With a few simple precautions, you can get that pesky check settled -- safely.
Copyright 2014, Bankrate Inc.