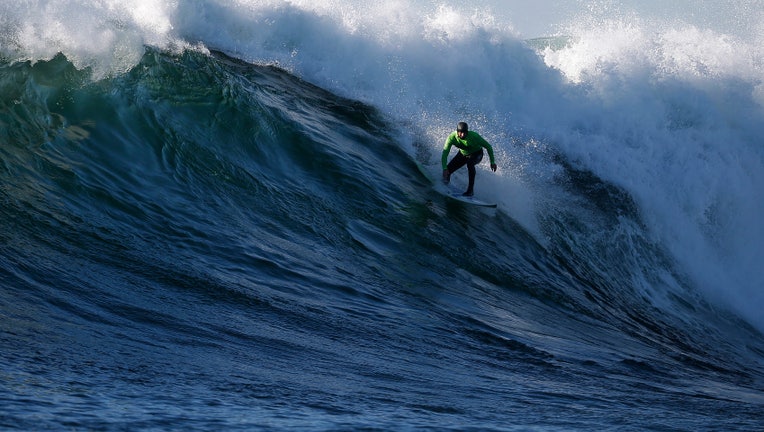 Some of the world's best surfers will compete Friday in the Mavericks Invitational held in Moon Bay, Calif. It's been called one of the Super Bowls of surfing – but it's announced just 48 hours before starting.
As competitors scramble to get to Half Moon Bay, Calif., surf fans also make their way to the small town located 20 minutes south of San Francisco. Though there's not much time to prepare, small businesses say they quickly get ready to hang ten.
"There's a line out the door right now with folks coming on through," says Gary Bayless, an employee of Half Moon Bay's Mavericks Surf Shop. Owned by Jeff Clark, the legend who popularized the surf spot, the Mavericks Surf Shop is a major attraction for tourists coming to view the invitational.
"All of the businesses are very happy – [Mavericks is] bringing in customers," says Bayless.
One such business is Half Moon Bay Sportfishing. The only way to watch Mavericks is from the water, so Half Moon Bay takes out six boats. Over the course of the day, owner Sherry Ingles says the company will ferry over 350 people to watch the invitational, with each ticket costing $250.
Ingles says the rapid-fire preparations are over the top, even after over 20 years of experience. She chartered boats to watch Mavericks even before it became a professional surfing competition.
"I earn every penny getting this set up," says Ingles. "Thankfully, I have a pretty good handle on what needs to be done ahead of time and what needs to be done the day itself."
She says the day of the invitational is an adrenaline junkie's dream – even for herself and her experienced staffers. (The captains have a combined 125 years of experience on the water, a necessity for navigating the crowded, volatile waters.)
"Without a doubt, absolutely, no hesitations: It's our biggest day of the year," says Ingles.
Even away from the water, businesses benefit from the event. Costanoa, a camping ground and lodge in nearby Pescadero, sees an influx of Mavericks-obsessed visitors each year.
"We see a five to ten percent bump in our campground business," says general manager Trevor Bridge. "They announce [the competition] late, so it's last minute."
But one nearby business owner says she's not getting flooded with customers, as visitors rush to see the surfers in action.
"They go straight to the water! I don't see anybody," says Cascade Restaurant owner Kathy Song.