Small Business Lessons from Nelson Mandela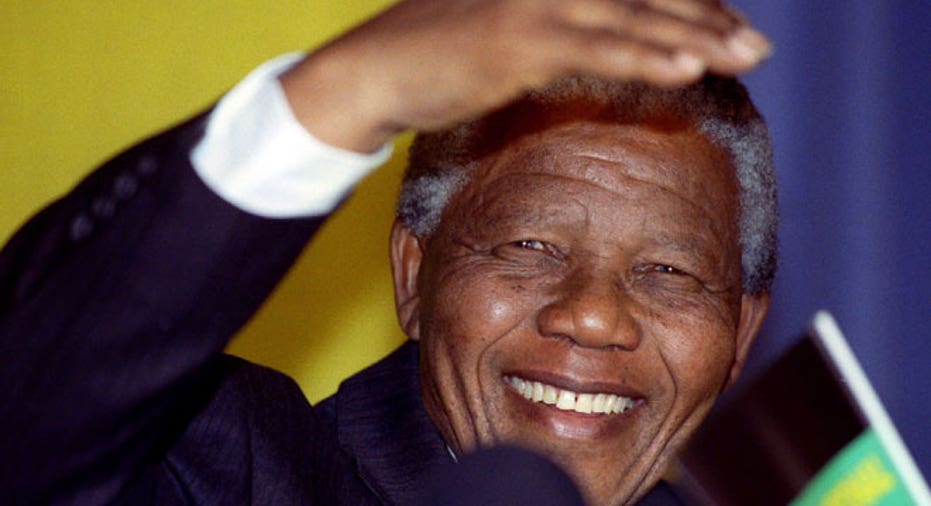 Nelson Mandela's life provided a blueprint for leadership that could change a country and indeed the world. Many of the characteristics that made the former South African president a great political leader also apply to entrepreneurs.
Some of the lessons small business owners can draw from the life of Nelson Mandela are:
Make a good first impression
People who met Mandela spoke of his height, posture and his grace. Often dressed in silk shirts, he presented an elegant style that was augmented by his charisma. It is often said that he was warm and welcoming and had a great sense of humor. He treated celebrities, heads of state, and common folk in the same manner.
Entrepreneurs should rip a page from this book. It is true that first impressions last the longest.  This is critical to gaining new customers and establishing brand ambassadors.
"The personal touch should never be underestimated," says Shaun Clancy, owner of Foley's NY Pub & Restaurant in Manhattan.  "If a customer meets the owner of an establishment, is welcomed, and then invited to come back again, it makes an indelible first impression.  Hopefully, that person will remember how he or she was treated and will become a repeat visitor."
Persistence even against long odds
Countless entrepreneurs are told by non-believers that they are crazy and that their idea will never work. Now imagine how improbable it was for one man to be able to change the apartheid system developed to keep an entire race from living? Had he not been persistent in the struggle against a political system stacked against him, black South Africans might not have broken free of the shackles that had been placed on them by a prejudiced, minority-run government.
Small business owners often face improbable odds. Yet somehow, pioneers such as Jim Koch of the Boston Beer Company were able to break through against Budweiser and Miller's market domination and take the forefront of the craft brewing industry. Koch tapped into a segment of the market that was willing to pay more for quality, award-winning brews.
Self-Sacrifice
Had he renounced the violent overthrow of apartheid, Mandela would likely not have served as much time in prison (27 years) as he did. The people of South Africa benefited from his tremendous personal sacrifice.
Entrepreneurs sacrifice much of themselves in launching and growing their businesses. They work long hours -- both days and nights -- and frequently on weekends, while their friends may be pursuing leisure activities. Instead of traveling on vacations, they reinvest their income back into their businesses. Married entrepreneurs miss out on time that could be otherwise spent with their spouses and children because of their dedication to building their companies. No one becomes successful in business without some sort of sacrifice.
Mastery of communications
Nelson Mandela was a master of symbolism. His raised fist upon his release in 1990 and the pictures of his donning a Yankee cap and jacket during his triumphant visit to New York City created lasting images. He injected humor into his speeches and his media interviews, and his eloquence won over many people whose prior knowledge was that he supported armed struggle against his government. Mandela was always clear about his vision for his country and the world.
Communicating a brand message and a vision are important for the owners of any growing company. For instance, Thomas DeGeest, the founder of Wafels & Dinges, New York's premier maker of authentic Belgian waffles, has succeeded by reinforcing his country's heritage.  The company's brand colors are the same as those of the Belgian flag. The wafels themselves are made with imported ingredients and made using waffle irons similar to the ones that have been used in Belgium for centuries. As a premium brand, Wafels & Dinges embodies European flair.
Ability to get along with diverse groups of people
Once he became president, Mandela faced the challenge of unifying the country and creating an atmosphere in which the minority white citizens did not feel threatened. Had vengeance been one of Mandela's primary aims, he would not have been able to successfully transition his country away from a society based on hatred and oppression. His agreeing to meet and work with political opponents and former oppressors won respect. Today, his decision to support the predominantly white Springboks rugby team, long viewed as a symbol of Afrikaner supremacy, is viewed as a stroke of genius.
Similarly, in today's global economy, small business owners have to be able to work with a wide range of individuals from different races, cultures and economic backgrounds. Often small business owners must build trust with and then empower their employees. Mandela famously established a relationship with rugby captain Francois Pienaar and created an ally among his teammates. He was a master at building consensus in this way. Business leaders can do the same by empowering key employees in their organizations.
Set a good example
Mandela was not one to say, "Do as I say, not as I do."  He led by example and inspired others to learn to put aside past grievances and move forward -- even through difficult times. Much of the praise we have heard about Nelson Mandela has been about his integrity, passion and commitment to the values he believed in. Throughout his long life, the great leader truly set an example for all of us to follow.
This month, Arthur Frommer, America's travel guru for the past half-century, reintroduced his famous travel guides to a new generation. While user-supplied -- and often biased -- reviews fuel many purchases, Frommer believes strongly that consumers want honest, insightful advice from experts who have traveled the world and can recommend the best values. He and his daughter, Pauline Frommer, reacquired the publishing rights to the series from Google early this year and are publishing 30 new guides with updated information for 2014.  They also offer travel tips on a comprehensive Frommers.com web site.  Like Mandela, Arthur Frommer is accomplishing great things - even as an octogenarian!
Rohit Arora is co-founder and CEO of Biz2Credit, an online resource that connects 1.6 million small business owners with 1,200+ lenders, credit rating agencies and service providers such as CPAs and attorneys via its Internet platform.  Since 2007, Biz2Credit has secured more than $1 billion in funding for small businesses across the U.S.