Slumping Sales Drag Down Best Buy's 2Q Profit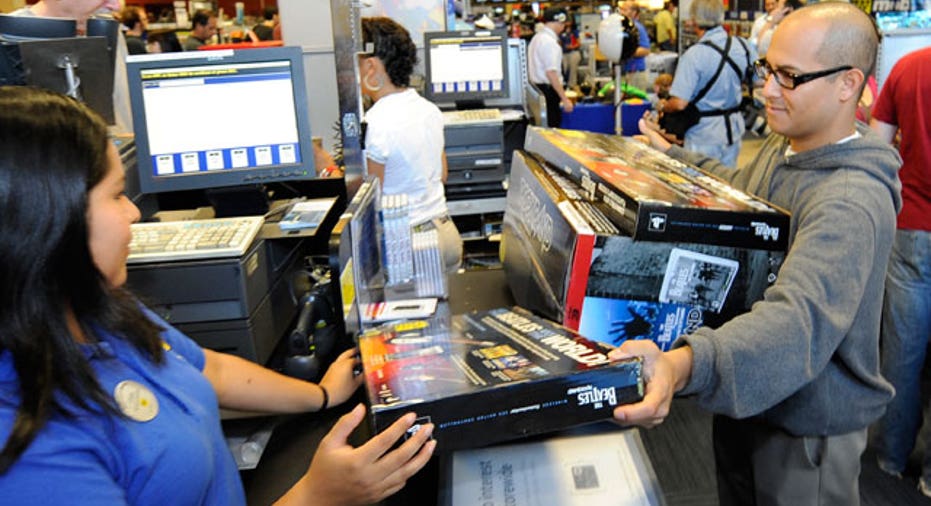 Best Buy (NYSE:BBY) suffered a steeper-than-expected 30% slide in fiscal second-quarter profits as the worlds largest consumer electronics retailer continues to see deteriorating same-store sales amid weak TV demand.
Despite the disappointing results, the Richfield, Minn.-based company relieved shareholders by standing by its sales forecast for the full year.
Best Buy said it earned $177 million, or 47 cents a share, last quarter, compared with a profit of $254 million, or 60 cents a share, a year earlier. Analysts had expected EPS of 53 cents.
Revenue was flat at $11.35 billion, trailing the Streets view of $11.47 billion. Gross margins shrank to 25.3% from 25.7%.
Best Buy was hurt by a 2.8% decline in second-quarter same-store sales, its fifth consecutive falling quarter. The drop was highlighted by a 3.2% fall in international comparable sales. Domestic revenue slid 1.5% to $8.31 billion, while U.S. same-store sales fell 2.7%.
While results in the second quarter and our outlook reflect continued macro challenges to overall consumer spending and lower consumer electronics industry sales, we have made good progress on our key strategic focus areas in this environment, CEO Brian Dunn said in a statement.
Best Buy disclosed a 5% decline in mobile phone sales at comparable stores and weakness in television, gaming, digital imaging and physical media sales.
Looking ahead, Best Buy said it still expects fiscal 2012 same-store sales to range between flat and down 3% and it reaffirmed its view for revenue of $51 billion to $52.5 billion. That compares with consensus calls from analysts for revenue of $52.07 billion.
Best Buy also said it now sees full-year EPS of $3.35 to $3.65, up from $3.30 to $3.55 previously. Analysts had called for EPS of $3.46.
However, most of that raised EPS forecast is due to the impact of share buybacks, which should hike profits by 20 cents to 25 cents a share.
Looking forward to the important holiday season, I believe Best Buy is well positioned to bring the benefits of our multi-channel model to our customers and shareholders, Dunn said.
Shares of Best Buy slipped 0.56% to $24.82 ahead of Tuesdays open, putting them in jeopardy of extending their 2011 tumble of about 27%.