Slowdown Sting: China Steel Demand Shrinks for First Time in 14 Years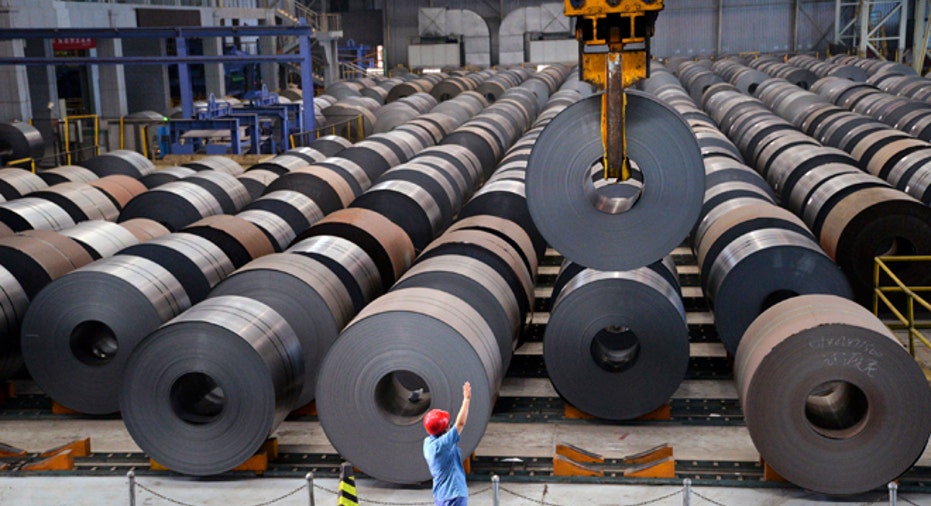 China's steel consumption dropped this year for the first time since at least 2000 due to slower economic growth, leading to a surplus of iron ore in the country and a more than 40 percent plunge in prices of the steelmaking raw material.
But top global miners like Vale and Rio Tinto , which have invested billions of dollars to ramp up output to sell more iron ore to China, are still convinced that Chinese demand has yet to peak with an urbanization drive there expected to last at least another decade.
Apparent crude steel consumption in China, the world's top consumer and producer of the alloy, fell 1.9 percent on year to 61.9 million tonnes in August, Wang Xiaoqi, vice chairman of the China Iron and Steel Association, told an industry conference.
"There are many reasons for this - the economy slowing and the economy undergoing restructuring. Steel consuming sectors have cut their demand," Wang said on Thursday.
With China now focusing growth on consumption and away from investment that has fueled years of massive expansion in China's steel sector, Wang said: "From now, domestic steel output and consumption won't rise along with economic growth."
China's steel consumption dropped 0.3 percent to 500 million tonnes in the first eight months of the year, he said.
China's economy got off to a weak start this year as first-quarter growth cooled to a six-quarter low of 7.4 percent. Beijing responded with a flurry of stimulus measures that pushed the pace up slightly to 7.5 percent in the second quarter, but soft July and August data suggest the boost is rapidly waning.
The decline in China's steel consumption this year marks the first time demand has shrunk since 2000, said CLSA commodity strategist Ian Roper, who has tracked the data since that year.
"We've been bearish for a while saying property construction activity has peaked, but maybe the scale of the decline will be faster than we anticipated," Roper said.
"This reinforces our view that there will be a multi-year downtrend in demand for iron ore, and there's no hope for a recovery in prices to anywhere near $100/tonne," he added.
Iron ore <.IO62-CNI=SI> fell below $80 a tonne this week for the first time since September 2009 and is on track for its biggest-ever annual drop amid a deep supply glut stoked by top, low-cost producers including Rio and Vale.
Shanghai rebar futures, which plunged more than 3 percent to a record low on Thursday, have shed around 30 percent of their value this year and could come under further pressure if output remains high amid poor demand.
China's crude steel output is likely to hit 826 million tonnes for the year, said Wang, up 6 percent from the official 2013 output figure released by the government but only slightly above the 822 million tonnes cited in August by leading steelmaker Baoshan Iron and Steel.
Weak demand has been a big strain on China's steel sector this year with Beijing, in a bid to cut down overcapacity, not too keen on rescuing companies as it has done before for fear of bloating the government's bad debts.
Sinosteel Corp, China's biggest state-owned steel trader earlier told financial magazine Caixin that it was facing financial problems due to unpaid bills from customers, but denied rumors that it is struggling because of overdue loans amounting to 10 billion yuan ($1.63 billion).
ANOTHER TEN YEARS
Amid slower steel consumption, iron ore supply exceeded demand in China by 81 million tonnes over January to August, CISA's Wang said.
But Claudio Alves, global director of iron ore marketing and sales at Vale, said the "cycle of development and urbanization in China will continue for another 10 years," suggesting the country's iron ore demand will remain strong.
The world's top iron ore producer, Vale, is targeting to raise its annual output to 453 million tonnes by 2018 from 306 million tonnes last year.
Second-ranked Rio Tinto agrees, saying long-term fundamentals remain strong. "We expect Chinese growth in steel consumption per capita to continue out as far as 2030 ... Rio Tinto's assessment remains that China will reach around 1 billion tonnes of crude steel demand by 2030," said Alan Smith, Asia president for Rio Tinto Iron Ore.
But Baosteel President Dai Zhihao said current low iron ore prices are here to stay, reiterating that China's steel production will peak at 800-900 million tonnes around 2018.
"I personally feel this fall represents a new status quo. Looking at the distribution of profit across this industry and at the relationship between supply and demand, the current price is rational. An even lower price will be rational," Dai said.