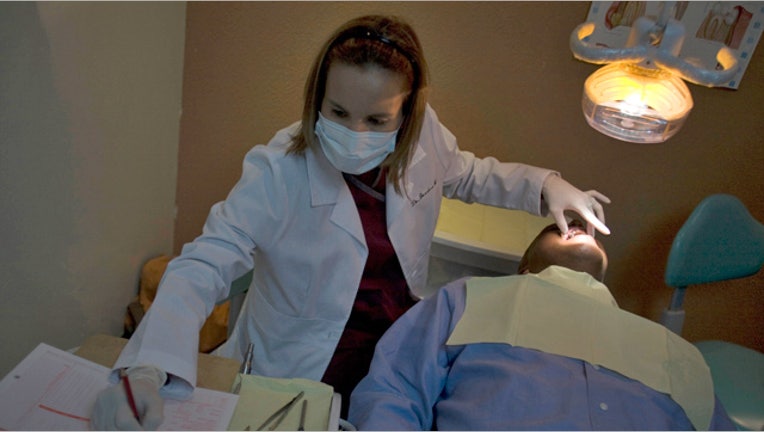 Even with dental coverage, getting your teeth worked on can be costly, especially if you need extensive treatment. Many insurance plans will cover standard cleanings, x-rays, examinations and diagnoses but when it comes to the treatments, patients often find themselves on tap for some or all of the bill.
"There are a lot of issues with traditional dental coverage," says Bruce LaMond, a dentist in Keller, Texas. "It doesn't help much [if you need a lot of work], but it helps a little bit."
While never going to the dentist is one option many people choose when it comes to avoiding hefty dental fees, there are ways to reduce your cost.
Get Routine Checkups
People dislike dentist visits for a myriad of reasons, but experts say regular check-ups are the best way to save money on your teeth. "If you go in for routine checkups it gives doctors the opportunity to make early diagnoses," says Keith Libou, chief dental officer at Dental Care Alliance. "If a cavity is developing or anything is happening, the dentist can identify things early, which is almost always less costly as opposed to after it has progressed and becomes a more complicated procedure."
Dentists recommend getting an exam and cleaning twice a year to protect your teeth and your wallet.
Find Discount Plans
There are dental discount program for the uninsured which can provide discounts on many treatments.  Under the plans, dentists agree to accept a discounted fee for their services. The plans typically cost around $100 a year and the discounts can be 60% to 70% off the costs of preventive care like x-rays and exams and 20% off on other treatments and procedures, according to Libou.
LaMond adds that dental discount plans also give people more options with their dental care. While traditional insurance usually only covers specific procedures, a discount plan can provide a reduced rate on any treatment you choose.
Negotiate
Experts recommend patients try and negotiate the costs of their treatments ahead of time to see if there is any price flexibility, especially when paying with cash.
For instance, if your dentist says you need $20,000 worth of work, they may be inclined to accept $15,000 in cash. Another option, says Libou, is to see if the treatments can be sequenced. This allows the work and payments to be broken up into bite-size and more affordable pieces. "The most critical things are addressed first and once those are completed the remaining treatment is spread over to time to allow it to be as cost effective as possible."
Check Out Dental Schools
Dental schools offer discounted treatments done by students being supervised by a professor. Expect the treatment to take longer since it's a learning experience for the student and the professor will be teaching throughout the dental appointment. "You can get very good care at dental schools," says Libou. "Some even have waiting lists."
Look Abroad for Dental Destinations
It's no secret people go overseas to get medical procedures at a reduce rate and the trend is catching on with dentistry.
According to experts, people in need of dental work are heading to places like Costa Rica and Tijuana to take advantage of these lower costs, driven in part by lower rents and cheaper labor. But buyers beware, says LaMond. While there are credible dentists performing valid work outside the U.S., he says he's seen a lot of bad treatment as well. Always do a thorough background check on potential dentists, ask for recommendations, read reviews and validate they have license.
Seek Out Donated Dentistry
Donations for dental work started out as programs targeted toward underprivileged children but has expanded to include anyone without the funds for necessary work.
Under these programs, dentists donate their time to treat people for free. FreeDentalWork.org has a list of free and affordable dental services across the company and Dentistry From The Heart is a non-profit organization that enlists dentists and dental practices from around the country to donate their time and equipment and host their own events.