Six Tips for Frugal Back-to-School Savings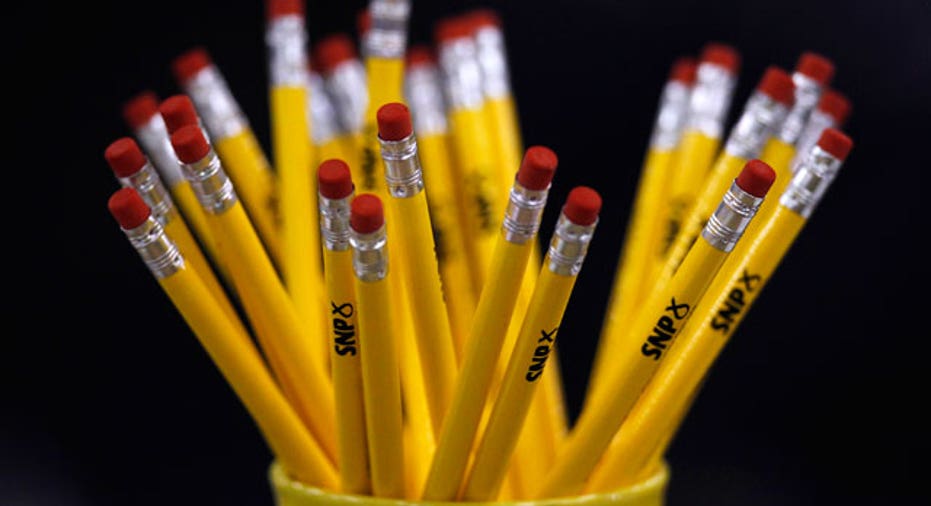 A Frugal Back-to-School Strategy
Parents will spend more than $600 to get one child ready for school this year, according to the National Retail Federation's annual survey.
Laura Rowley, finance columnist at Yahoo, says some parents can do it for half that by sticking to a back-to-school savings strategy and being proactive with sales and wardrobe recycling.
Bankrate asked professionals from around the country to weigh in on how best to achieve back-to-school savings this buying season. This is what they said.
Take Inventory
Choose a day before you begin to shop and go through your kid's clothes to see what you can salvage from last year, says Nina Restieri, founder of momAgenda.com and an organizational expert in Greenwich, Conn.
First, prepare an inventory sheet by dividing a sheet of paper into four columns with the child's name, the article of clothing, the quantity you have and how many you need to buy.
Then, remove everything from your child's closet and drawers, have him try on each piece of clothing and whatever fits goes on your inventory sheet.
Restieri suggests having trash bags handy for items that need to be discarded and for clothing you can donate to charity. That way, you're cleaning out closets while creating some real back-to-school savings.
"With school supplies, lunch boxes and backpacks, I suggest starting fresh each year," says Restieri. "For us, the backpacks and lunch boxes in our house barely last one school year."
And remember, school supplies usually change each year according to the grade and teacher preferences.
Set a Budget and Stick to It
Consider which items are non-negotiable like the class list of required supplies, says Kim Danger, frugal author and creator of mommysavers.com. Clothing, shoes, lunch boxes and backpacks allow for greater flexibility.
Past spending is a good starting point to this year's back-to-school savings. Look at last year's credit card statements and check registers to get an idea of what you spent on back-to-school shopping last season.
"By seeing what you spent in the past, you can challenge yourself to find better bargains this year," says Danger. "The exact budget will vary from family to family. You just need to spend within your means."
A good way to make sure you stay within your budget is to use the envelope system and put the cash you've allotted for each child into separate envelopes. Danger says cash easy to understand. Even younger kids get it that once the cash is gone, no more money can be spent.
Danger suggests using this opportunity to teach older kids how to budget by giving them a set clothing allowance so they can benefit from their own back-to-school savings.
Make a List
Rowley recommends using your clothing inventory as a start to back-to-school savings by creating a shopping list from it of what you need to buy.
"For clothing, focus on five to seven well-made, easy-care basic items and change the look by mixing in a few less expensive pieces," she says.
A wardrobe for a girl might include two pairs of jeans, a pair of khakis or black pants, two shirts, a sweater, and a skirt or a dress in a basic color. Mix in low-cost, colorful T-shirts, tank tops to wear under the shirts, scarves, tights and belts, Rowley says.
"Kids usually don't outgrow the accessories," she says. "Also, look for summer pieces -- maybe a short-sleeved dress that can stretch into next season by adding leggings and a sweater."
Use your list as a checklist while shopping. You don't want to wander into a department store without a back-to-school saving strategy and watch your child fall in love with a $60 T-shirt, Rowley says.
Buy in Quantities
"Buying in bulk can be a fantastic money move and a time-saving godsend," says Kristen Hagopian, author of "Brilliant Frugal Living."
Certain school supplies get burned through at a ridiculous rate over the course of the school year, says Hagopian. Depending on your child's age and class description, he will use lots of pens, pencils, paper, notebooks, printer paper, computer disks, markers and paints. While the additional outlay of cash now might not seem like back-to-school savings, you'll have cheaper supplies on hand for several months if you buy in quantity.
"No more rushed dashes to the store for another pack of paper. You'll save money on gas and you'll save the hassle," says Hagopian.
Buying in quantities at your local warehouse store and sharing the bounty plus the cost with friends also helps the budget. Pasta, meat, ready-made foods, desserts and produce can be found in large quantities at Costco and Sam's Club, and can easily be distributed to a group of friends who can share the cost of school lunches, Hagopian says.
Tap the Web
Use comparison-shopping engines to find the best bargains online, suggests Michael Rowland, Internet marketing manager at Solid Cactus, a company in Shavertown, Pa., that helps small businesses sell online.
"Online retailers are going to be aggressive in their efforts to win your business. So one of the best ways a savvy shopper can capitalize on the best deals is to use (comparison-shopping engines)," says Rowland.
Each engine is different -- from the products they show to how they sort the products. Some are better for apparel while others have the best buy in electronics. Rowland says to get the best use of a shopping site, be specific in your search.
"Make your buying decision based on price, rating and shipping costs," says Rowland. "Always look for free shipping."
Rowland suggests starting with these sites: Pricegrabber.com, Shopping.com, Nextag.com, Google.com and Amazon.com.
If you follow the brands you use and the stores you regularly shop on Facebook and Twitter, you'll also attain back-to-school savings. Sign up for mailing lists for these brands and stores, and you'll often get instant savings of coupons, Rowland says.
Host a Clothing Swap
Another way to achieve back-to-school savings is by holding a party to exchange kids' clothing. Decide who to invite based on the ages, sizes and gender of their children, says Leah Ingram, author of "Suddenly Frugal" and the blog suddenlyfrugal.com.
If you have six friends who have children who are similar in age, you can hold a small party. But, you may want to expand it to 12 or 15 guests.
Ingram recommends leaving the children at home. That way, saving on back-to-school items can be a fun, social time for adults. "Even if 60% of what you take home doesn't fit, you're still getting the clothes for free," says Ingram.
Remind your guests that the clothing needs to be clean, stain-free and with no rips or tears. Ask yourself, "Is this something I'd buy at a resale store." Ingram suggests you set a minimum number of items that each guest must bring with them, like 10.
"It's like currency. You bring in 10 pieces of clothing and you should be able to leave with 10 different items," Ingram says.