Six Nightmare Vacations With Monstrous Costs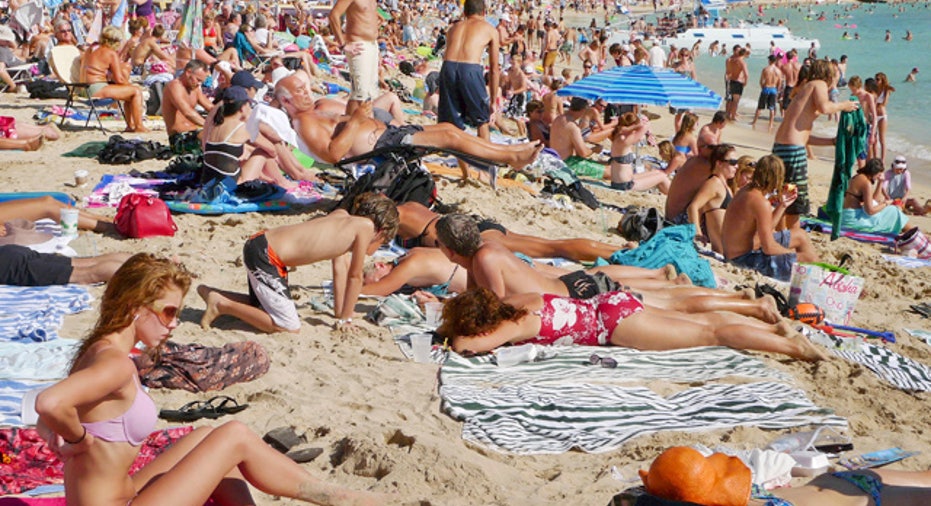 Ana Gonzalez Ribeiro
Sometimes without warning, a dream vacation can spiral into a nightmare when things go awry. However, with a little foresight and careful planning, travelers can avoid those pesky traps that hinder the much-needed days of relaxing.
Bankrate asked its readers to share their worst vacation stories and their financial repercussions. Here are the six stories we found most horrifying and what you can do to prevent these disasters from affecting your vacation.
Credit Card Traps
I got a sweet offer from a bank for a new credit card: no interest for 12 months, free transfer from other cards, etc. It had a $6,500 limit, so I felt so smart when I transferred most of my other balances to it. The total balance was just less than $6,400. I planned to pay down a couple of extra thousand dollars in principal that year with the savings from interest.
I was about to go on a two-week out-of-town trip deep in the mountains where I'd be off-grid. To avoid any stress and billing problems, such as a missed payment, I paid my bill before I left.
While on the trip, I charged some small purchases to the card -- fries, a magazine and dog food -- to take advantage of the interest-free offer. These purchases were no more than $10.
When I got home, I logged into my credit card account and almost fainted when I saw my balance. Turns out, since I had paid my bill eight days before the due date, the credit card company had happily taken my money but not applied the early payment to my payment due. Therefore, they considered my payment late, defaulted me to a 14.99% interest rate, charged me a $35 late fee and assessed a $200 interest charge; all of which put me over the credit limit. They also added $39 fees for each of the three times I used my card during the trip. Since I was "late" and "over the credit limit," they put me in the default interest rate category -- a crushing 34% of my bill that totaled more than $6,500. And finally, just in case I thought I'd transfer those balances back to their original cards where I'd been paying between 8% and 14% in interest -- those other cards followed suit and also put me on the default interest rate.
Needless to say, I now bank at a credit union.-- Nicole from Georgia
Make sure this doesn't happen to you: Read credit card details about added fees and payment procedures before charging anything.
Never Go on a Trip With an Expired License
Have you ever gone to the airport and needed to show your driver's license to security, and you didn't realize it was expired? I have. They let me go through, but when I tried reserving a rental car in my name the company wouldn't let me because of my expired license. I managed to get to my destination, which was Las Vegas, but because I spent all my cash I needed to get extra money. I tried cashing my personal checking account checks but couldn't -- you guessed it, my license was expired. Thank goodness for debit cards!-- Blanche
Make sure this doesn't happen to you: Before you go on a trip, review any passports, licenses and other essential documentation you'll need.
Get Your Car Checked Out
I bought a brand-new car that soon had transmission trouble. The warranty replaced the transmission with a new one, so my family and I decided to take a road trip and drive it from Alabama to Atlantic City, N.J. However, in the middle of the night, the brand-new transmission froze. We pushed it back into a parking space and hailed a cab. The cab took 20 minutes to get us to our motel and charged an exorbitant amount of money. When we arrived at our hotel, I looked out the motel window and realized we could walk back to our car because we could see it from the motel window.
For a steep fee, we towed the car to a transmission shop and had the auto repair shop rebuild the transmission. However, the warranty would not cover another transmission charge and the shop would not take our Alabama check. So I asked our credit card company to double my limit in order to cover the repair charges. I paid off the credit card as soon as I got back to Alabama. To make things worse, we realized we all had the flu while driving back home.-- E. Gayle from Alabama
Make sure this doesn't happen to you: Get your car checked for any potential problems before a road trip. This small but preventive tip could save you loads of money and a headache.
No Really, Get Your Car Checked Out
Our group of 12 decided to go to Disney World after saving money for more than a year. The kids recycled aluminum cans, saved birthday money and did chores. We paid for everything upfront, had a padded gas fund and saved an extra $1,300 in case something broke down.
Our trip from Ohio to Florida started out fine until we got to Atlanta. When we stopped for gas, our RV broke down and the men in our group worked for 17 hours trying to fix the problem. The roadside service we had previously signed up for promptly sent us a mechanic, but he gave us an outrageous estimate and couldn't get the necessary parts for four days. We had to be at our destination by the next day, so we rented two vehicles to get us all to Disney World and another RV while ours got fixed.
To make matters worse, my dad ended up in the hospital with a heart problem and was admitted for four days. After he was released, we had him fly to my brother's house. Adding to our increasing expenses, we rented two more vehicles to get to Atlanta so we could retrieve our repaired RV. When we arrived to where our RV was located, someone had left the windows open in the rain, so we ended up sitting on towels on the ride back home. When we got just across the South Carolina border, our RV quit on us again! Since everything in our RV was wet, we rented motel rooms for the night. We had the mechanic in our local area tow the RV back home to fix it. By the time we got home, we were more than $3,000 in debt.-- Flo from Ohio
Make sure this doesn't happen to you: No matter how prepared you are, unforeseen circumstances can happen, so be flexible and ready to adapt and have a plan B ready.
Find Out About Cellphone Charges
My daughter Erin and I visited Ireland in February 2008; she was participating in the All Ireland Irish Dancing Championships in Killarney. We flew into Shannon Airport and made arrangements to share a rental car with another mother and daughter. The car was so tiny that our luggage was up to our necks. When we arrived at our hotel, our room was not ready, so I spent time making phone calls from my cellphone and eating in the overpriced restaurant. To make matters worse, a big storm in New York City shut down JFK (airport) on the day we were to arrive home, so we spent 16 hours in the Shannon Airport making calls. I came home to a $385 phone bill. I had mistakenly thought making calls from my cellphone would be cheaper than paying the hotel for the calls. Overall, the trip cost nearly $700 more than we expected.-- Suzie from Pennsylvania
Make sure this doesn't happen to you: Check out billing costs associated with every aspect of your trip so you don't overspend.
'We Had a Fountain of Our Neighbors' Waste in Our Front Yard'
My worst vacation nightmares actually occurred when I returned home. I'm a single mother of two daughters in Fairbanks, Alaska. We travel outside during spring break as often as possible. On two of my trips, I returned home to sewage backing up in my house. The first occurrence was a freeze in my home's private line, so although it was unpleasant, we only had to deal with our own family's waste.
Three days after returning from a second vacation, the main public line on our street faulted. When the utility thawed and forced the clog through, the resulting pressure caused the main-line waste to back up into my private line. We had a fountain of our neighbors' waste in our front yard. We chose to have it flow down into our daylight basement via an exterior entrance because there was no other alternative. Unfortunately, in both of these situations, the cleanup, demolition and restoration fell solely upon me. So five years later, we're still living in half of a house (the daylight basement apartment has one gutted bathroom, and the floors throughout have been reduced to concrete). I estimate these two events added approximately $10,000 to the cost of our vacations.-- Linda from Alaska
Make sure this doesn't happen to you: Make sure your home is in great shape before you leave, and have someone look over your house in case they have to contact you in an emergency.