Shy? 8 Opening Lines to Network Like a Pro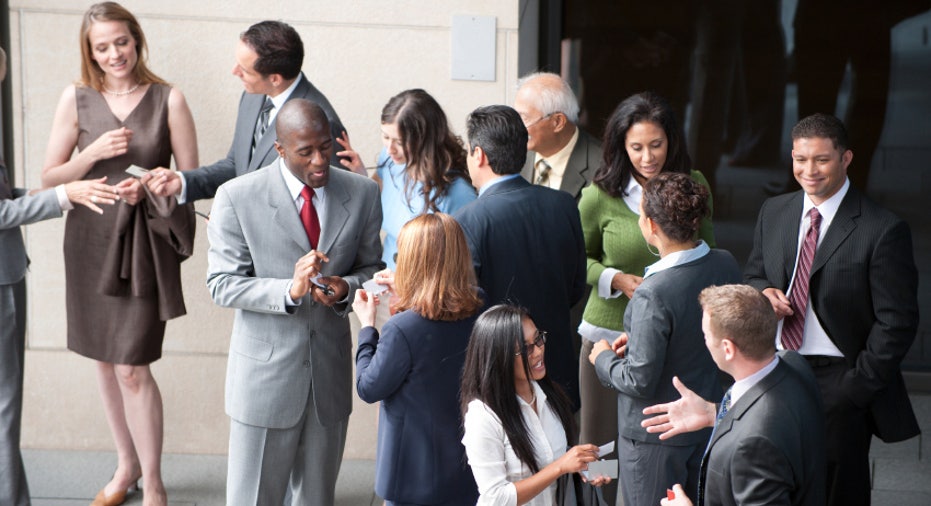 For many people, simply walking into a room full of strangers can be terrifying—let alone one packed with potentially valuable work contacts … and maybe even a future boss.
But since savvy networking can be one of the best moves you can make for your career, it's time to learn how to fearlessly bust through the doors of any work event—and own it.
That's why we challenged three networking veterans to divulge the clever opening lines that will enable you to strike up a conversation with just about anyone, whether you're mingling with hundreds of people at a convention center or a more intimate group at an after-work mixer.
Conversation Starter #1: "I just tried a slider from the buffet table, and I think I'm going to grab another. Care to join me?"
Hey, a networker's gotta eat, right? And if half of the room is as starving as you are after a long day at the office, the action is likely happening over by the food, says Barbara Safani of Career Solvers and the author of "Happy About My Job Search."
Conversation Starter #2: "I was just on LinkedIn and saw that we went to the same college." Or … "I saw on LinkedIn that you also worked with so-and-so!"
The most effective opening line is something that's personal to the person, says LinkedIn's career expert Nicole Williams, who's also the author of "Girl on Top: Your Guide to Turning Dating Rules into Career Success."
And while digging up info on other guests was hard before the advent of LinkedIn, Twitter and other social-networking sites, it's now easy to find an opener that connects you to a fellow networker. Just ask the event organizer for a list of attendees a few days beforehand, and then do a quick internet search.
Conversation Starter #3: "How long have you been a member of this organization?"
Sometimes less really is more, says Kathleen Brady, a career coach and the author of "Get a Job! 10 Steps to Career Success." This simple, open-ended question can work wonders to engage that shy someone who, by virtue of being at the same networking event, is there to meet people just like you. But try not to fire off too many questions at once—you don't want your conversation to suddenly feel like an interrogation.
Conversation Starter #4: "I read your book!" Or … "I was really impressed by the speech you gave at an event last year."
According to Williams, there's no greater compliment than to play up your knowledge of someone and their work. They're sure to be flattered and eager to hear your opinion of their writing or other accomplishment—and you can even use their talking points as a kicking-off point for an ice-breaker.
RELATED: 10 Questions For a … Career Coach
Conversation Starter #5: "What do you love about your job?"
This is another simple one-liner—but it's one of Williams' favorites. "Whenever someone gets the opportunity to talk about themselves, they not only love it," she says, "but they also feel closer to you by virtue of your hearing their story." Bottom line: "The more they're encouraged to talk about themselves," she adds, "the more likely they'll walk away going, 'I really like that person!' "
Conversation Starter #6: "I've worked here for several months, but I've never been to the penthouse floor before. Great views!"
According to Brady, disclosing something about yourself from the outset helps to establish vulnerability and approachability, and it will encourage others to do the same. But be careful not to get too personal—like sharing your real feelings about upper management—because the point isn't to leave your listener speechless.
Conversation Starter #7: "Are you from [insert locale]?"
This one-liner establishes both a personal and professional connection, says Williams. It's professional in that your shared industry brought you to the same city or town, and then you can compare notes on how you each arrived at point B from point A in your career.
And it's personal because you're attaching something emotional to the other person's story by finding out the individual's hometown and what exactly pulled them to where they are now—effectively helping you reach the next level of conversation.
RELATED: 8 Mistakes Not to Make on LinkedIn
Conversation Starter #8: "Did you see all the wacky stuff they're giving away at the sponsor tables?"
Do you often find yourself at conferences and expos where overeager organizers have plastered their faces, logos and catchphrases on everything from toothbrushes to fly swatters? Next time, hold up that glow-in-the-dark foam finger for a shared chuckle with the closest attendee, and then lead the way to the table with the best—and most usable—swag.
Simple Steps to Seal the Networking Deal
Once you've got the conversation going, says Brady, keep the person engaged by playing equal parts listener and engager—and don't linger too long with any one fellow networker.
"The goal is to meet as many people as possible, so you have to be tactful about when to break away," says Williams. "Try excusing yourself to make a quick call. Or pull the person standing next to you into the conversation, so you can make another connection, and then move on as they become immersed in a topic."
Of course, none of these killer lines are worth using if you forget the most vital step of networking: the follow-up.
Instead of exchanging business cards that can be misplaced, "I use an app to request a connection right then and there on LinkedIn," says Williams. "This way, I can send a note the next day that says, 'I enjoyed meeting you last night, and this was a great topic.' And they can then look into you further if they want."
But the real benefit of using an electronic follow-up, adds Williams, is that the next time you see an article about something you talked about—be it business-related or something tied to that Thailand trip the other person was taking—you can zap it over to keep the connection going.
Read More from LearnVest:
Accidental Networking: How to Use Luck to Land Yourself a New Gig
10 Apps That Could Supercharge Your Career