Shoppers Ditch Apparel in Favor of Big-Ticket Purchases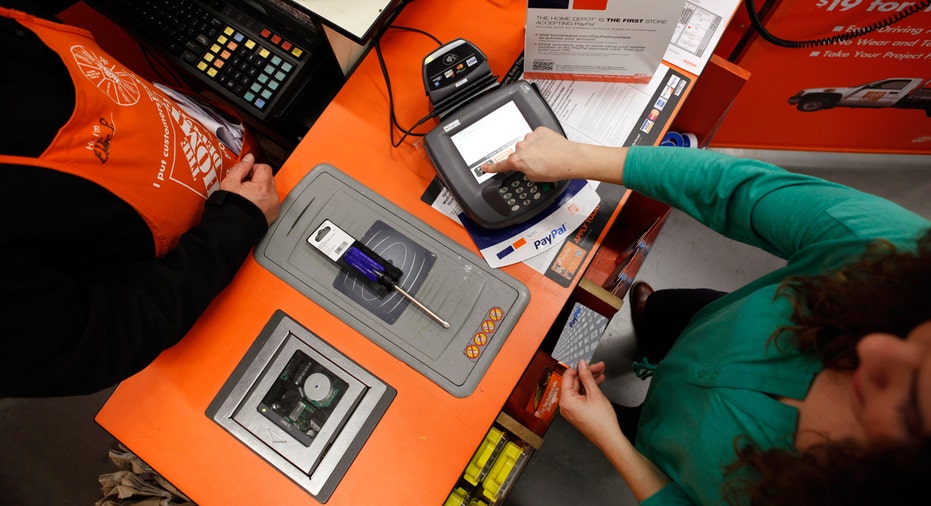 Consumers might not be shelling out big bucks at apparel retailers, but Home Depot (NYSE:HD) earnings proved shoppers had no problem opening their wallets for big-ticket items to improve their homes.
Shares of the No. 1 home-improvement retailer by revenue rallied on Tuesday after reporting better-than-expected quarterly results. The company booked earnings per share of $1.36 on revenue of $21.82 billion, topping forecasts for $1.32 a share on sales of $21.77 billion.
"We continue to see positive signs in the housing data with home-price appreciation and housing turnover being key drivers of growth to our business," Craig Menear, chairman and CEO of the company, said on the company's call.
Carole Tome, Home Depot's chief financial officer, said home renovations – done by both professionals and DIY consumers – will also continue to drive customers through the company's doors.
"There are 40 million homes in the United States that are older than 40 years. So as the housing stock ages, it just bodes very well for big-box home improvement retailers to sell to those customers who need to make repairs in their home," she said.
While Home Depot serves both do-it-yourself consumers and professional contractors and homebuilders, the company's executives said comparable sales among both segments of their consumers have increased as consumers "trade up," or purchase goods at higher price points.
The Atlanta, Georgia-based company said it expects profit and same-store sales for the full year to come in at the top end of its projected range, though it warned that for the fourth quarter, it will likely see smaller year-over-year gross margins due to more sales of lower-margin goods.  Analysts rewarded the stock, sending it up nearly 4% to a fresh 52-week high during the session, making it one of the biggest gainers on the Dow.
"It seems to be that collectively, people are making the decision that 'my closet is full enough of clothing, and I want to do other things with [my money].'"
Home Depot rival Lowe's (NYSE:LOW) will report its quarterly results before the opening bell on Wednesday. The company, in the second quarter, reiterated its expectation for both full-year total sales and comparable-store sales to increase 4.5% - 5%. For the third quarter, the company is forecast to report earnings per share of  78 cents on sales of $14.34 billion.
A Broader Shift in Consumer Spending Preferences
Home Depot's results are in stark contrast to the latest quarterly figures from big-name apparel retailers including Macy's (NYSE:M) and Nordstrom (NYSE:JWN). Macy's last week saw a drop off in revenue and same-store sales, also revising down its forecasts for the full year, which sent shares plunging to a fresh 52-week low. Nordstrom reported smaller-than-forecast same-store sales growth, and investors punished the stock, sending it down 15% following the results.
Similarly, Dick's Sporting Goods (NYSE:DKS) revealed on Tuesday a 4.1% decrease in profit in the third quarter, and revised lower its full-year earnings to a range of $2.85 to $3 a share, down from previous guidance of $3.13 to $3.21. Shares of the company plunged nearly 15% to a new 52-week low. Earlier this year, the company made a push to offer consumers more athletic-casual wear rather than sports-focused equipment. But even that couldn't help save the company from slumping sales.
Efraim Levy, equity analyst at S&P Capital IQ, said apparel is weighing on sales at department stores and multi-line retailers as consumers seem to express a bigger preference for other categories like cars, dining out, and on electronics and gadgets.
"With the favorable economic environment, availability of jobs, stock market highs, real estate recovering, and gas prices putting money back in people's pockets, you'd think [consumers] would be spending more. But the one area that lags is what you see in retailers selling suits, clothing, and related items…the surprising thing was Nordstrom, you'd think would do better, because they have an upscale clientele that would be less impacted, but their sales were also broadly disappointing," he said.
To that point, on Friday, KPMG Chief Economist Constance Hunter told FOXBusiness.com that while recent retail sales numbers have shown consumers are more apt to spend their money, it doesn't give the whole picture to include where and on what consumers are spending their cash. She said a lot of it has to do with millennial spending habits, which as Levy pointed out, are more geared toward experiences rather than physical goods – but he cautioned that the trend could be cyclical.
"It seems to be that collectively, people are making the decision that 'my closet is full enough of clothing, and I want to do other things with [my money],'" Levy explained. "It could be six months from now that they're bored with what they have and it's time to go back to clothing. But electronics and apps and related purchases are not going to go away."
Hunter added, though, part of the reason the economy isn't seeing a total boom in spending is because consumers are also saving more of their money as well.
"There is some precautionary saving going on, and quite honestly that's healthy…if we get another downturn, it means that people have some reserve…especially if they're saving for retirement because we look at the aggregate numbers and people aren't saving enough," Hunter said.
Levy also noted that while sales at apparel retailers have been disappointing for the third quarter, the companies have cited a range of factors for the slump. Those headwinds include a stronger U.S. dollar which hits foreign buyers of the products, and unusually warm winter weather that has so far prevented shoppers from making purchases for items like coats, boots, and down comforters.