Shelters, Pet Stores Team Up to Place Abandoned Animals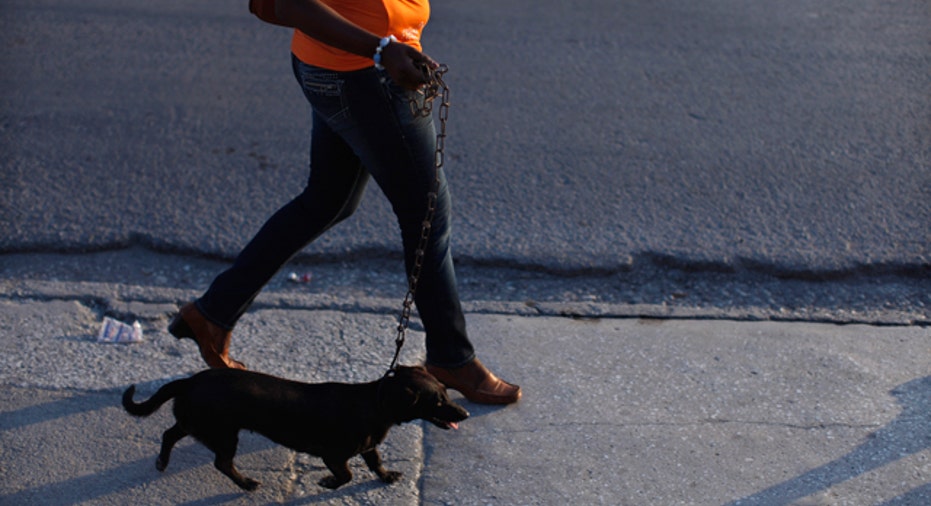 The down economy has forced many people to trim household expenses, and at a cost of $775 annually, according to the ASPCA, pet ownership is something many  have been forced to give up. In many cases, the burden of abandoned pets has fallen to animal shelters, but nationwide efforts by pet stores are providing much-needed assistance.
At San Franciscos Animal Care and Control, Director Rebecca Katz says the shelter has noticed an approximate 18% increase in owners surrendering pets since the recession started in 2008. But last week, the shelter got some help with its load when PetFood Express, a pet supply shop, opened an in-store cat adoption center.
The ideas of a permanent adoption center is much more helpful for us, because its a permanent home for the animals, says Katz. Doing weekend adoption events means finding volunteers who will come down, drive the animals in and bring them back; having this center takes off some of the burden.
While retail adoption centers might help shelters, theres a more fiscal reason behind the additions: sales.
Its a mutually beneficial relationship, says Katz. People like seeing the animals, and this kind of thing really drives people to the stores. People who might not want to come in to buy a dog collar will still come look around if they know there are cute kittens to look at.
At pet supply store PetsMart (NASDAQ: PETM), which has been doing in-store adoptions since the 1980s, senior communications manager for PetsMart Charities, Jeff Davis, says the company does not track how adoptions affect sales, but that having pets in store certainly inspires more people to drop by and look.
In 2010, PetsMart branched out from in-store adoptions and began setting up stand-alone adoption centers run by local humane societies or animal control in states including Colorado, Texas, Arizona, Idaho and Kentucky. So far, the new model is proving successful, says Davis.
The adoption rates are high, and we have seen a decrease in euthanasia rates in the cities where were located, he says, adding that the new centers were spurred by the increase in pet homelessness. Often, when a home is foreclosed on or a family has to downsize their living quarters, pets dont make the budget cut and get left behind.
Davis says that because shelters often dont have the polished exterior of a pet store, they arent given the consideration they deserve from individuals looking to adopt.
People are scared to go to county shelters, but the mall is a happy place, and we knew that pets could get showcased in a really great way at a venue that is more family friendly, says Davis, who adds that mall management companies are seeing the value in leasing space to a company that is helping animals in need.
Although the down economy is one reason more people are abandoning their pet, it is also a catalyst for others looking to add a furry friend to turn to homeless shelters. Adoption fees from a shelter animal range from $5 to $100, according to Davis, while purebreds can cost more than $2,000.
Also, when you adopt, you almost always get your pets first vaccines included, and many times they are already spayed and neutered, which saves at least $100 in vet bills, says Davis.
At Petland, Inc, which operates 90 pet stores in the U.S., all stores are privately owned and operated, but recent initiatives have required all stores to participate in saving homeless animals in some form or another, according to Petland Director of Marketing and Communication Elizabeth Kunzelman.
Some stores work with shelters to place unwanted puppies and kittens, while other stores dont sell any purebreds and work entirely with the community to bring in unwanted litters, says Kunzelman, who adds that offering homeless pets in conjunction with often pricey purebreds has not cut into store sales.
Really, youre talking about two totally different customers here. Some customers want a purebred animal for their family; they want that specific pet. Other families will be happy with a shelter animal and they arent the type of customer who would pay $1,500 for a purebred puppy anyway, says Kunzelman.
Kunzelman says that the main challenge in bringing in shelter animals is actually working with the shelters themselves, as some shelters do not believe that pet stores should sell pets at all. The American Society for the Prevention of Cruelty to Animals (ASPCA) issued a position statement in support of pet stores selling rescue animals as long as the stores meet certain requirements.
While [the sale of shelter animals at pet stores] might seem patently objectionable, a more careful examination of the concept suggests that with proper safeguards in place, the practice could provide a valuable new opportunity for saving animal lives, wrote the ASPCA in its statement.
For ASPCA approval, a store must be licensed to house and sell pets, must have undergone an inspection by shelter staff, and must agree to never sell a pet to a research laboratory.
And at PetsMart, the annual results are promising, with more than 400,000 shelter animals per year finding new homes via in-store adoption centers.