Shark Attack Margaritas Make Big Splash in Liquor Market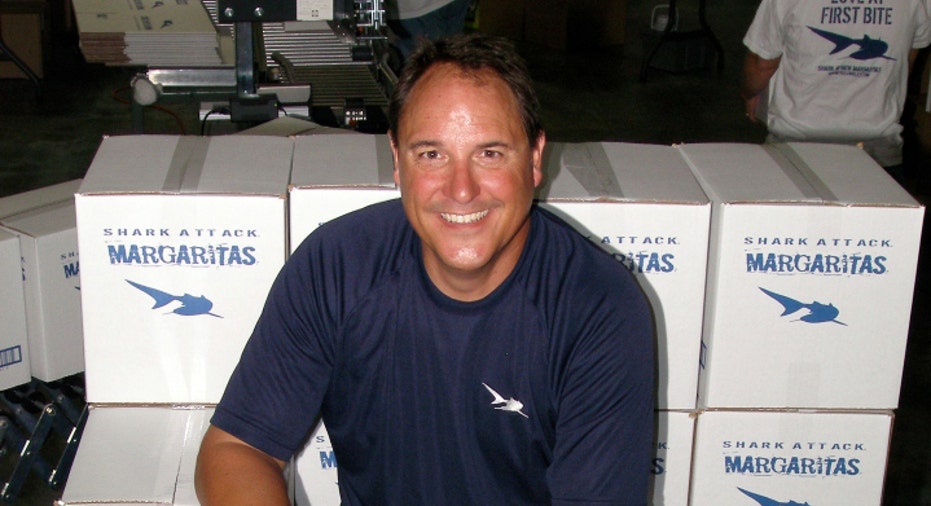 For Brad Dickson and other entrepreneurs, that "a-ha" moment that leads to the creation of a new small business never ceases to amaze.
Picture a casual neighborhood barbecue in the Kansas City suburb of Olathe in summer 2007.
"It was hot outside, the kids were sucking on freeze pops," Dickson recalled. "One of the moms said she wished there was something like that for us adults."
The exchange slipped Dickson's mind until Jan. 17, 2008, while he and his wife Tawnia were watching an episode of Desperate Housewives.
"Yes, we watch Desperate Housewives," Dickson admitted. "On this episode, some kids were eating freeze pops, and the conversation from the summer before popped back into my mind. I got up and walked to the bathroom. I write a note on the mirror sometimes with a dry marker, so it's the first thing I see the next morning. I wrote 'Put margaritas in tubes.' "
Thus, Shark Attack Margaritas was conceived. The gestation was long and fitful. But the birth, in May 2010, was blessedly followed by an instant growth spurt that continues today.
FIRST STEPS
The day after writing a note on the mirror, Dickson hired a woman to research the feasibility of his idea.
"We started calling the state and the feds to find out what it would take for me to legally make cocktails," he said. "I had no idea. I often say I started this company on three words – I don't know."
A licensed plumber by trade, and scuba instructor by avocation, Dickson had decided he was sick of running Dickson Plumbing, sick of dealing with the headaches brought on by 17 employees.
"I got tired of dealing with parole officers, ex-wives, paternity suits and employees who showed up for work drunk or stoned, wrecking my cars."
Dickson certainly was no stranger to tequila. He and Tawnia had been hosting an annual Cinco de Mayo party for more than 20 years and the main attraction was always Dickson's made-from-scratch "margs." According to neighbor Craig Farewell, now Shark Attack's marketing director, Dickson's palate is sophisticated enough to distinguish easily between different types of tequila – blanco, anejos, reposado.
He formed Sharkbite Cocktails, LLC in May 2008, after months of filling out multitudinous forms.  He bought rolls of FDA-rated medical tubing that was sterile on the inside. He bought a heat sealer off the Internet. And he began making batches of margaritas to put in the tubes.
"I didn't even know if the stuff would freeze or not," Dickson said. "The neighbors were my test market. I'd announce I'd made a new batch and they came running. I served them in numbered tubes to keep track of my formulas and consistency. It took 28 different formulations before I hit on one I thought would work."
RUNNING HURDLES
More red tape ensued. To obtain the required license from the federal Alcohol and Tobacco Tax and Trade Bureau, Dixon found he needed a specific location, so he rented 3,000 square feet of warehouse space in Olathe.
"They don't let you do this stuff in your garage," Dickson said. "They make you do water quality checks, make you get the sewer system certified so you can pour alcohol down it."
In making the margaritas, Dickson figured he'd buy tequila in bulk from a local liquor distributor. Wrong.
He was told he had to buy from a distiller, which required a distillers license and an import license. He said he sent hundreds of letters and e-mails to distillers throughout the Mexican state of Jalisco, the only region where tequila is produced.
"Only one guy e-mailed me back," Dickson said. "I told my wife and kids I had no idea what I was getting into, then flew down to meet him. I spoke through an interpreter. I was sure they thought I was nuts. Things were not going well until I explained about the tubes. All of a sudden, the distiller started rattling things off in Spanish and the interpreter said I had a deal."
That day Dickson ordered $15,000 worth of Afamado reposado from  the Tres Mujeres distillery in Amatitán, Jalisco. He had to pre-pay, wiring the money, and had to pay the excise taxes - $13.50 a gallon, compared to $1.50 for wine - at the border before the shipment could cross.
STRETCHING SAVINGS
Dickson had decided in January 2009 to go ahead with his plan, thinking he'd move into production later that year. At the time he was spending about $1,000 a month financing the business. Mounting paperwork and regulatory hurdles pushed back his time frame and escalated his costs.
He'd been financing Sharkbite with his plumbing business, but when the economy turned, construction stopped and business slowed.
"What I was using to finance went away," he said. "I started to dip into savings. I had a wife and three boys and was driving a pickup with 225,000 miles on it. I was broke. My kids' savings accounts paid the mortgage for six months last year.  But my wife never once told me to stop. She believed in me from day one."
Three weeks before he sold his first pallet of Shark Attack Margaritas, Dickson said he had $7.62 in his checking account. Starting with a few neighbors, he took on partners to help him shoulder the load.
"I had all these bills," he said. "I couldn't borrow a dime. The banks laughed at me. What did I have for collateral? The 40-year-old stainless steel kettle I was mixing margaritas in? I had to get private money."
EARLY PRODUCTION DAYS
With the cash infusion, Dickson bought a "piston-filling" machine used for stuffing tubes with tomato paste. He bought tubing in 750-foot lengths. One worker would use a papercutter, unrolling the tube 12 inches at a time and cutting a length, sometimes for 18 hours a day. Another worker would sit at the piston filler, pushing a foot pedal as the margarita mix was poured in.
Each Shark Attack Margarita contains about a shot of tequila, mixed with pure lime juice, pure cane sugar and Paula's Texas Orange liqueur, made in Austin.
"I prefer the robustness of the handmade orange liqueur," Dickson said. "I use it instead of the usual triple sec. I'm not going to use any chemical flavors. I think people want something real and fresh. That's my goal."
Potassium sorbate is added as a stabilizer for longer shelf life, he said, since the product doesn't have to be refrigerated.
Dickson had a verbal commitment to sell his first pallet of margaritas to Worldwide Wine and Spirits, a Kansas distributor.
"We have to sell through distributors, that's the law," Dickson said. "Two weeks before product release, the vice president I had the deal with got clipped. I talked to the new guy, who told me we didn't have a marketable product and he wouldn't carry it. I had all this product already made and no way to sell it. I pleaded with him to give me a shot. If it fails, you won't be out any money, I promised him. He finally agreed."
Shark Attack turned out to be a big win for Worldwide in 2010, said Trey Rolofson, vice president of sales. In fact the distributor sold more than 300,000 units in the last eight months of 2010.
"It took off like a rocket," Rolofson said. "Summertime in Kansas, 110 degrees, what more could you ask for than a quality frozen margarita in a tube? I picked up the first load myself. He had all his friends helping him out. It's been fun to see them get some traction."
Worldwide took a shipment of 108 cases of tube margaritas on April 28, 2010, Dickson recalled. "They called the next day and ordered another 108. And the next. They wiped out our three months of inventory in eight days."
RAMPING UP
Sharkbite was fast becoming a victim of its own success.
"It all happened so quick, I wasn't prepared," Dickson said. "We couldn't make the stuff fast enough. I knew we had to automate."
He sought the advice of a consultant who connected him with General Packaging in Houston, a company that provides machinery to fill containers with everything from lotion to beans to ink.
"It was a new concept for us as far as being an adult version of an ice pop," said Geoff Knowers, a vice president with the company. "But we've done the child version with two or three companies, so it was fairly run of the mill."
Dickson ended up with a $149,000 "form-fill seal machine" that pops out 46 finished margarita tubes a minute, compared to the earlier machine, which took a minute, 30 seconds per tube.
Sharkbite moved into a 10,000-square feet space in October 2010, and Dickson figures he'll outgrow the space in another four months. He has hired 11 employees, and a second filling machine from General Packaging is due in another week.
"Almost immediately, we started getting e-mail requests for product from all over the country," Dickson said. "Then in September, I got a call from Jim Gallagher, a division manager at Sam's Club in Bentonville, Ark., who said he'd like to put our margaritas in their stores."
SAM'S CLUB, WALMART
Dickson told Gallagher he was due in Arkansas the following week to offer scuba instruction and could divert to Bentonville. But he warned he'd be in a T-shirt, shorts and flip-flops. Gallagher told him they'd meet in the lobby.
"So I waltz in there, we're chatting," Dickson said. "All of a sudden he starts walking me all around the building, meeting all these veeps, showing them these tubes. I called my wife and said that if nothing comes of this, at least I can tell my grandkids their grandpa went to a business meeting at Sam's Club in shorts and flip-flops."
Mark Kenny, senior director of beer, wine and spirits for Sam's Club, said, "We value the relationships we have with our suppliers, and we often take the opportunity to introduce them to the broader team when those suppliers are in town. We became aware of Shark Attack in the marketplace, and based on our members' response, we plan to expand it."
Dickson's visit triggered a few valuable realizations.
"Sam's Club called me," he said.  "It gave me credibility, the feeling that I might really actually have something here. Through all the trials and tribulations, all I wanted to do was make an itty-bitty margarita and put it in a little-bitty tube. With all the people who told me I'd never do it, never get it to market, I was so beat down.  Walking through Sam's Club like that made me feel like I was a real business person.  I've never been in those situations before."
SNOWBALLING
Upon his return from Bentonville, in Dickson's words, "things started really kinda happening."
The two largest liquor distributors in Missouri called. By October, banks started calling.
"They told me, 'Hey, we're hearing good things about you,' " Dickson said. "Eventually, one of the most conservative banks in the country, Kansas City-based UMB, got behind us," lending the company enough to finance its new machinery.
Wal-Mart came calling in March of this year.
"Without our knowledge, through the Sam's Club connection, we were in two Wal-Marts in Missouri," Dickson recalled. "I went back to Bentonville for meetings, and this time I wore pants and socks."
He didn't think the meetings went well, but he was wrong. Wal-Mart has expanded Shark Attack's presence into 30 of its stores in Kansas, Missouri, Oklahoma and Nevada.
Shark Attack generally retails for $1.99 to 2.99 per tube, $12.99 to 16.99 per 8-pack. According to marketing director Farewell, the company has sold an additional 475,000 units this year, through May 31.
Said Rolofson of Worldwide Distributors, "We're always kind of worried after the first year something new in the spirits business comes out. But in this sophomore season, demand just didn't go away."
Dickson added, "When you're getting great support from the largest company in the world, it's pretty positive. But I still haven't had that tingle up my spine. The problem with where I am today is that, by the time that tingle gets there, I'm already so far past it I can't really sit back and enjoy."