Shared Work Spaces: 2 Entrepreneur Brains are Better than 1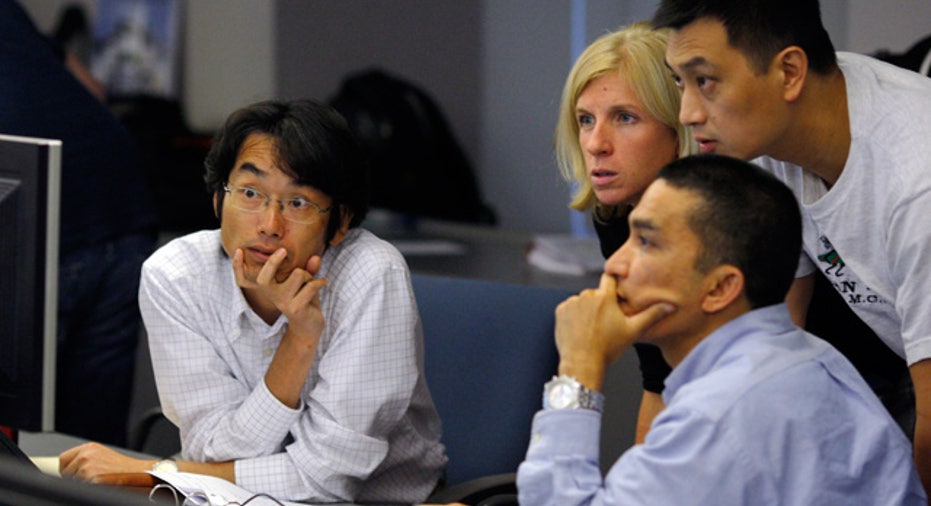 Sara Chipps, a young software developer from New York City, started her own independent consulting business more than two years ago. While she enjoyed the freedom of working alone, she found herself lonely and lacking focus.
"Working for yourself is very, very boring," she said. "I would find myself talking to my cat."
Luckily, she found New Work City (NWC), a community co-working space in Manhattan for independent workers to gather; she stopped talking to her four-legged feline and started brainstorming and socializing with other people. For $300 a month, Chipps can work at NWC five days a week and use its  conference rooms, wireless and event space.
The company, which launched in 2008, has drawn workers in a variety of fields and worker age groups.  Now a loyal member, Chipps started up a second company through NWC, Girl Developer, which offers low-cost software classes geared toward women.
Chipps said working alongside other independent entrepreneurs, or those just starting out in business has given her the advantage of networking and encouragement from like-minded people. NWC has 75 members, and on an average day there are about 30 workers in the space at a time.
"No one is good at working for themselves at first,"  said Chipps. "You don't know what you're doing, how to pay taxes or handle a situation when things are hairy. You don't know how to set up a contract, and some of the people there have been doing this for 10 years, so they help you out and give you advice. It's encouraging, I always knew I had them there, and that was a great thing."
For entrepreneurs with recently-launched businesses, working from home may seem to be the cheapest and most natural place to launch a business. However, sharing workspace with other independent business owners allows for networking opportunities, a creative environment and sometimes even new clients, none of which can be found in a home office.
NWC isn't alone in the market of offering shared workspaces.
Thirty-year-old Angela Benton, CEO of Cued, uses Citizen Space in San Francisco for coworking. Benton is based in Charlotte, N.C., where she often works from home. However, when she travels to California, she uses Citizen Space, which also has offices in San Jose, Calif., for meetings and networking.
"I'm not just sitting in a room or hotel and working alone the whole time," she said. "It's a great way to network with other people."
Benton also has a second business, BlackWeb 2.0, a tech blog geared toward the black community. Citizen Space has allowed her to meet many of her online counterparts in person.
"If you are online all day, this allows you to place a face with a name," she said. "It can be really lonely at times if you are just starting out, and most of your friends aren't likely entrepreneurs yet. Especially in tech, a lot of founders are in a dark room, alone, coding. It's good to get out of the house and work with people.
Citizen Space has a membership fee of $100 for the summer, Benton said, but those just looking to drop in for a day are allowed and are suggested to leave a tip. On the average work day there are around seven people, she said.
Priya Sheth, 28-year-old owner of the startup Be Scrappy, went to Citizen Space after winning a four-month pass to test out the space in San Francisco and is quickly becoming a fan.
"I have been able to meet other people, and it's great getting feedback," she said. "You get this group of people to brainstorm with who are objective, but have an entrepreneur background. You have the same challenges and issues—everyone is in that same space so you take ideas, skills and general insights that you wouldn't pick up on your own."
Kreativ, a fairly new cooperative workspace in Santa Clarita, Calif., offers 24-hour access to its facilities. All users can schedule their space online, according to owner and partner Nathan Ryan, who said the fee for a day in the general workspace is $19 and for an office is $39 for the day. Ryan, 23, said he was inspired to open up the co-op space after working independently for the past three years as a freelance designer.
"I had been a lone ranger for two or three years," he said. "There is a level of professionalism [in shared offices] that you don't get at home. It might be comfortable and easy at home in the beginning because you romanticize the idea of being your own boss. Next thing you know, you're doing laundry, taking out the trash and the list goes on."
Working with other freelancers and entrepreneurs allows these entrepreneurs to work together collaboratively, he said.
"The ability to bounce ideas off of other people is huge. You gain feedback from other people, and that doesn't exist in the physical form for most entrepreneurs."
Steven Leavitt, a freelance music producer, began using Kreativ when it opened up in May. Through the space, he has gained not only insight, but also jobs.
"It gives you a little more fun," he said. "A lot more fun—not everyone works well alone, it can be a bit crazy making. We talk, take breaks, share ideas and links. Fun is the main advantage besides the networking aspect."
Chipps has also scored jobs through NWC, she said and the work she doesn't want, she will gladly pass along to other members. She said the NWC work culture is simple, "don't be a jerk."
"If people come in that don't have good ethics, or are obnoxious or rude, they don't last long. It's not the environment we are looking for," she said. "It's where all of my friends are now, we look out for each other and funding isn't a priority.