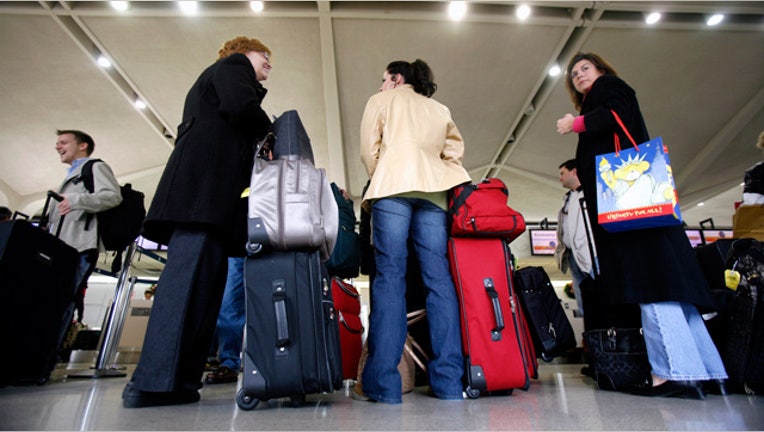 7 Travel Secrets of Experienced Fliers
When it comes to making a trip go more smoothly, experienced fliers have their own travel secrets -- from squeezing the most out of those affinity cards to packing bags to dealing with lost luggage.
And they don't mind sharing what they've learned.
Whether you're jetting across the pond to Europe, taking a short hop to your vacation destination or logging air miles for business, here are seven tips that could save you some time, money and hassle the next time you fly.
It's Not the Miles, it's the Perks
Face it: You might not ever cash in airline miles for a ticket. That's why some experienced fliers opt for affinity cards or programs with perks that make their trips easier right now, says Douglas Stallings, senior editor for cruises and resorts at Fodor's. He lists options such as:
Priority boarding.
Better seating.
Free checked bags.
Travelers who don't rack up a ton of seat time "can take or leave the miles," he says. "It really doesn't matter. The point is to get the credit card for the ancillary privileges -- to be first in line for boarding or to get a better seat."
Not all cards or airlines offer the same (or any) benefits, he says. Check them out before you sign up to see which one best suits you.
One example that can save you some cash: British Airways has an affinity card with no foreign transaction fees, Stallings says.
The Airline is Responsible for Checked Bags
If the airline loses your luggage, disregard those signs (and even any language in your contract) limiting the company's liability. According to the U.S. Department of Transportation, the airline owes you the actual value of your bag and its contents -- up to $3,300 per passenger.
One caveat: On domestic flights, an airline can refuse to reimburse fliers for certain items (such as electronics or jewelry), that it deems especially costly or breakable, according to Bill Mosley, spokesman for the Department of Transportation. (But the airline must post the list of these items in advance on its website.)
Here's another one of those travel secrets that even experienced fliers don't know: It's not true that the airline has 24 hours to return that missing bag before it has to compensate you. According to the DOT, if you reach your destination and your bag doesn't, the airline has to reimburse you on the spot for items you need immediately. If someone challenges your source, cite the Code of Federal Regulations, Title 14, Part 254.
And if the bag is truly "lost" (permanently gone), rather than "delayed" (temporarily gone), the airline must also refund any baggage fees you were charged for that suitcase.
Balance Dollars and Stress
Five-dollar bag of almonds? No. Ten bucks to board first -- and stake your claim on that overhead bin? Maybe.
That's the kind of economic math that experienced fliers do all the time, Stallings says. Look at the cost of the fee versus what that service or perk will save you in time and stress, he says.
Also, be absolutely clear on what you're getting for the money, Stallings says. One example: With some airlines, priority boarding doesn't get you on the plane that much sooner than the rest of the crowd, he says.
To ease stress, pad your airport schedule.
"Travel can be stressful," says Paul Brown, who travels both for his work with the Discovery Channel's hit "Auction Kings" and also as proprietor of Atlanta's Gallery 63. "Better to give yourself plenty of time and be sitting at the gate for 20 minutes than be freaking out worrying about it."
Another of his travel secrets: If you're navigating an unfamiliar airport, as opposed to home turf, build in a little extra time, he says.
Ditto dropping off a rental car. Allow an extra 30 minutes, says Brown. "You cannot control those shuttle buses. And some airports are more efficient than others."
Weigh Card Costs vs. Rewards
If you're interested in paying for airline tickets with a rewards card, shop for your card accordingly, says Maxine Sweet, vice president of public education for credit bureau Experian.
Two points to consider: Do you get a signing bonus? (Some issuers will give you a boatload of free miles, she says.) And will you earn more in travel than you spend for the annual fee?
With miles, "You use them a lot faster than you earn them," she says. Experienced fliers know that a card that gives a bonus to start can be a good way to get free or discounted airfare.
And, "Smart fliers know it can be worth it to pay for a rewards card if they use it enough to earn a trip that costs more than the annual fee," says Sweet.
But the convenience of a card and all those miles won't amount to much if you're carrying a balance and paying interest. Charge only what you can pay in full every month, Sweet says.
Twice the Cash, Half the Clothes
Experienced fliers travel light. Here are some travel-tested strategies.
"My favorite travel tip of all time: Bring twice the cash and half the clothes," Brown says. "I never get to the bottom of the suitcase, but I always have to go to the ATM."
Skip the hair dryer. "Every hotel has a hair dryer," Brown says. Ditto soap and shampoo. (Another plus: You don't have to pour products into those 3-ounce travel bottles.)
Travel with a tablet instead of a laptop, Brown says. "It's lighter, it's great, and it's better on the airplane."
"For me, traveling light means, ideally, that your bag will fit under the seat in front of you, instead of the overhead bin," Stallings says. "If you can do that, you'll be a lot happier. Everybody stuffs the bin overhead, and it's madness."
Ditch the wheel bags. Sometimes the only difference between a bag you can carry on and a bag you're required to check -- especially with regional airlines -- is wheels, Stallings says. Opt for something without wheels, preferably with a back strap, he recommends. "That can make a big difference if you want to keep your bag with you.
Phone Time + face Time = Better Odds
Sooner or later, it happens: A canceled or delayed flight forces a change in travel plans. Double your chances of getting successfully rebooked by getting on the phone with customer service as you stand in line, Stallings says.
"I've done that many times," he says. Stranded in London thanks to a snowstorm in New York, "I was able to rebook when, if I'd waited 10 more minutes, the flight would have been full."
Experienced fliers keep a phone handy while traveling, along with a list of customer service numbers for the airlines and a backup airline or two, just in case.
If getting stuck on the tarmac means you'll likely miss a connecting flight, this is the time to use your phone to rebook, Stallings says. In some cases, if the connecting flight is with the same airline, you may find you've been rebooked automatically.
No matter what, your carry-on always should contain a snack and a bottle of water, he says. For water, either buy a bottle or fill your own container after you've cleared security.
Negotiate
Is the airline trying to placate you or induce you to rebook to a later flight? Take it from an "auction king": Never accept the first offer.
While Brown himself has never been bumped, he credits this travel secret to his mother, an experienced flier and negotiator. "She tells me, 'Wait for the second offer -- don't take the first offer,'" he says.
"That's true in business," Brown says. "Nobody ever comes with their first offer right away." Just wait, he says, and they'll go "a little higher."