Seven Tips for Making the Most of Digital Gift Cards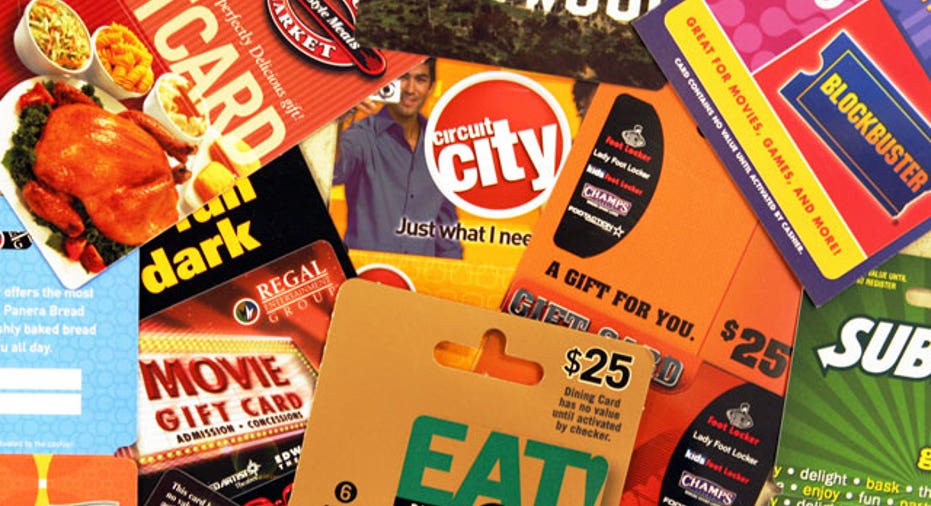 There's a new gift card in town and it's set to give its plastic counterpart a run for the money.
Spending on traditional gift cards reached $91 billion last holiday shopping season, but the market for digital gift cards has doubled in the past three years, according to Lexington,Mass.-based consulting firm Urban Wallace Associates, leaving consumers pondering the benefits of leaving the plastic behind.
"Simply put, digital gift cards are easy," says Leo Jakobson,senior editor for Incentive Magazine, which covers the use of gift cards as a promotional tool. "They are easy to distribute via email. And digital gift cards can be used online, at home, at work or from a smartphone, rather than requiring the user to trek to abrick-and-mortar store."
Digital gift cards come with many of the same rules as their plastic counterparts. For example, they adhere to CreditCARD Act of 2009 stipulations that require retailers to disclose information about fees and limitations. Yet there are some aspects that make them more desirable, says David Stone, chief executive officer of CashStar, the company behind the e-gift cards for companies such as Home Depot, Staples and Starbucks.
For example, it's typically easier to have a new e-gift card sent to you if you lose the original, since the retailer can void the old one and e-mail a new one instantly, Stone says. Likewise, digital gift cards are easier on the environment since many retailers can scan a barcode or key in the card number directly from a smartphone.  But before you give up the plastic, consider the following seven tips for a rewarding virtual gifting experience whether you're on the sending or receiving end.
Read the fine print. Before purchasing a digital gift card, take the time to read about what the recipient will be getting, such as whether he or she can print the card out and redeem it in a brick-and-mortar store or whether the card has to be used online. If an online storefront won't give you information about expiration dates, terms and conditions, look for another retailer that will.
Take advantage of personalization. Many digital gift cards let senders write messages, attach photos or upload video to give an e-gift card the personal touch. Some even let senders deliver the e-gift to the recipient's Facebook wall, a feature utilized by Monique Hayward, an iPhone application developer from Beaverton, Ore., who sends digital gift cards on birthdays and other occasions. The Facebook feature "has the added benefit of showing the recipient's friends that I'm a cool person for getting that gift and publicizing it 'out loud,'" Hayward says.
Look for a customer service number. Before making a digital gift card purchase, make sure there is an offline way to get in touch with the company in case something goes wrong. After all, "emails can end up in a spam folder and sometimes people can lose them, so make sure you can reach out and get in touch with somebody," says Stone.
Stick with retailers you trust. Avoid sending e-gift cards from online retailers that you have little to no knowledge about. "Look for somebody that's done a lot of volume and has a lot of experience in the industry," Stone says. Just as you would with plastic gift cards, you also want to steer away from retailers that you know are in danger of shutting down since a gift card would likely not be redeemable from  .
Give the recipient a head's up. Whenever Hayward sends a gift card worth a significant amount of money, she doesn't leave it to chance. In instances when the gift card is worth $100 or more, "I warn the recipient in advance," she says. Hayward also applies this rule with retailers she is unfamiliar with "like in the case of an e-gift card that I gave to a girlfriend to treat herself to a local spa."
Don't underestimate the power of email preview. Not all e-gift cards appear the same. "Sometimes they look like messages coming directly from the retailer and it's not clear that they came from a friend or family member," says Nikki Baird, managing partner of Miami-based Retail Systems Research, which evaluated the strengths and weaknesses of digital gift cards in a report last year. A preview pane lets a sender see the gift card just as it will appear to the recipient. If the e-card looks like it might not stand out in a crowded email box, let the recipient know to look out for it.
Seek out delivery notification. While many retailers will let you schedule a digital gift card to go out on a particular day, some give you no control over when the card will be delivered, Retail Systems Research found. Not only should you look for digital gift cards that will let you designate the date of delivery, but you can rest easier with a retailer that lets you know when the gift is received and opened. "Some even offer an opportunity for the recipient to reply back and say 'thank you,'" Baird says. If you don't get delivery notification or if too much time goes by and you haven't heard mention of the gift by the recipient, ask if it was received since it could have been overlooked or gotten lost in cyberspace.