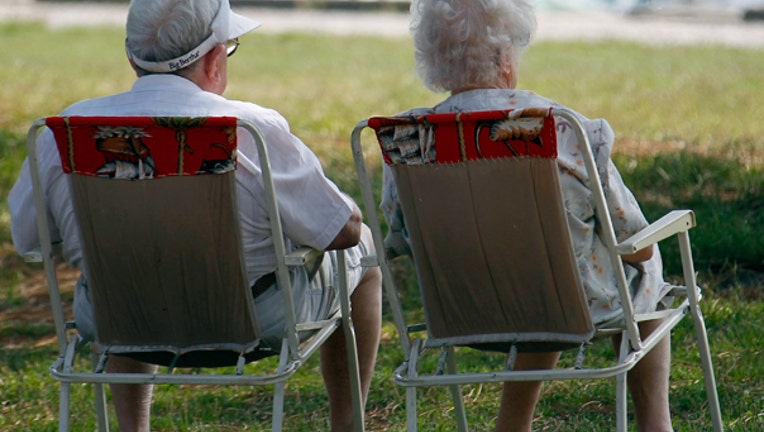 Good news, your aging parents -- and even elderly grandparents -- may be safer behind the wheel than you'd think.
The Insurance Institute for Highway Safety (IIHS) says that a downward shift in crash and death rates for older drivers, which started in the mid-1990s, has continued.
Though the number of drivers age 70 and older is increasing, the study (an update of ongoing research) found that these older drivers are less likely to be involved in crashes than prior generations.  Older drivers are also less likely to be seriously injured or killed if they are in an auto accident than generations past.
Drivers ages 80 and older had the highest fatality rate from auto accidents at the start of the study period in 1997 -- nearly twice the rate of drivers ages 35-54 and 70 to 74.  By the end of the study period, 2012, the rate of fatal crashes had improved to only 1.4 times the rate of the other two age groups.
"This should help ease fears that aging baby boomers are a safety threat.  Even crashes among the oldest drivers have been on a downswing," said Anne McCartt, a co-author of the study and IIHS' senior vice president for research.
Highlights from the IIHS:
In 2012, there were approximately 29.1 million people 70 and older in the U.S., representing about 9% of the total population.  
An estimated 23.1 million seniors were licensed in 2012, roughly 11% of drivers of all ages.
A total of 4,079 people ages 70 and older died in motor vehicle crashes in 2012.  This is 31% fewer fatalities than 1997, even though the population of people age 70 and older increased by 19% during this period.
The rate of fatalities per capita amount older people has decreased 46% since 1976 and is currently at its lowest point.
During the period of 1997 to 2012, fatal crash rates per licensed driver fell 42% for older drivers and 30% for middle-age motorists.
A breakdown of the results by age group reveals that fatal crash involvement per licensed driver fell 36% for drivers ages 70-74, 46% for drivers 75-59 and 49% for drivers 80 and older.
Per licensed driver, drivers ages 60 and older kill fewer pedestrians, bicyclists, motorcyclists and occupants of other vehicles than do drivers ages 30 - 59. 
Based on data from 2008, drivers 70 and older drove 45% fewer miles, on average, than motorists ages 35-54.
The IIHS research has discovered that the more physical mobility and memory issues individuals develop over time, the more they limit their driving.  This self-regulation by senior drivers has helped bring down crash rates.
Not to say accidents still don't happen
When they are in accidents, senior drivers are mostly a danger to themselves and their passengers, who typically are also older and more susceptible to injuries.
In 2012, 74% of people killed in crashes involving a driver 70 or older were either the older driver themselves (59%) or their older passenger (15%).
The type of accidents that older drivers are in differ than those of younger drivers.  The most common error among seniors is failure to yield the right-of-way.  (See "America's oldest drivers.") And senior drivers are more likely to be involved in certain types of accidents, such as:
Overtaking or merging crashes
Angle crashes
Intersection crashes
The IIHS speculates the downturn in fatal crashes is in part to vehicles having more safety features and seniors, in general, being healthier than generations past. (See "A label for senior-safe cars.")
A 2013 NHTSA study supports this, finding side air bags with head and torso protection reduced fatalities in nearside impacts by an estimated 45% for front seat occupants that ages 70 or older.  This is significantly larger than the mere 30% reduction for front-seat occupants ages 13-49.
Seniors and car insurance
Senior drivers aged 70 or older still have more insurance claims for damage to other vehicles per insured vehicle than middle-age drivers (those ages 30-59).
This data could point to more reported accidents, or to the fact that older drivers typically have a fixed income and make claims for minor damages that younger drivers with a discretionary fund would pay for personally.
Senior drivers who are financially able to pay out-of-pocket for minor damages without filing a claim can help keep car insurance rates down.
Another way for seniors to keep up their skills and grab a car insurance discount is to complete a safety course.  A discount of 5% is the national average for mature drivers who take an approved accident-prevention course.
The original article can be found at CarInsurance.com:Senior drivers having fewer crashes