Seeing Strongest Spring in Years, Toll Bros. Swings to 2Q Profit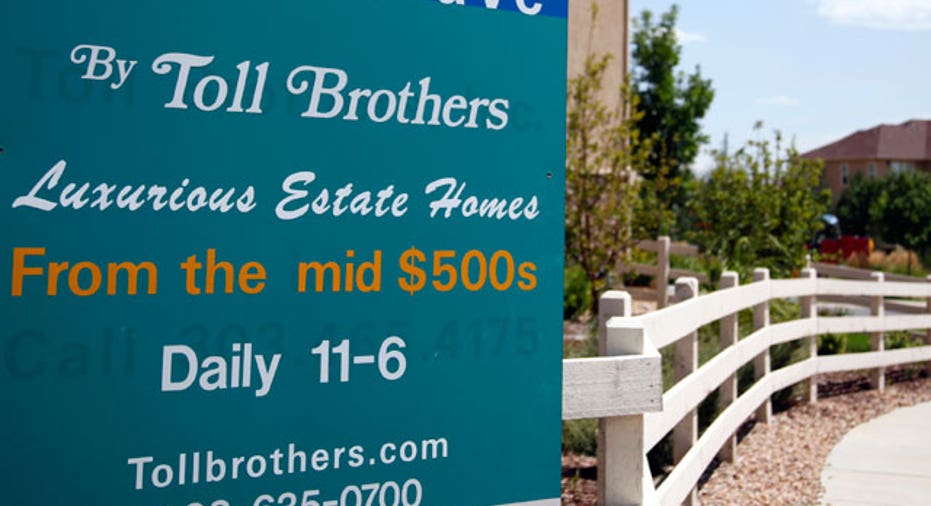 Toll Brothers (NYSE:TOL) swung to a stronger-than-expected fiscal second-quarter profit on Wednesday as the luxury-home builder enjoyed its strongest spring selling season since before the economy cratered.
The report marks the latest encouraging sign on the housing market, which some economists believe has finally bottomed out after six years of contraction, easing pressure on beaten-down homebuilders.
Toll Brothers said it earned $16.9 million, or 10 cents a share, last quarter, compared with a loss of $20.8 million, or 12 cents a share, a year earlier. Analysts had called for EPS of just 4 cents.
However, revenue jumped 17% to $373.7 million, trailing the Street's view of $382 million.
Horsham, Pa.-based Toll Brothers generated a 51% surge in net signed contracts to $754.7 million on 1,290 units. The average price of net signed contracts stood at $585,000. Deliveries leaped 14% to 671 units.
"It appears that the housing market has moved into a new and stronger phase of recovery as we have experienced broad-based improvement across most of our regions over the past six months," CEO Douglas Yearley, Jr., said in a statement.
The home builder said it ended the quarter with a backlog of 2,403 units worth $1.5 billion, up 49% in dollars and 37% in units from the year-earlier period.
"The spring selling season has been the most robust and sustained since the downturn began," Yearley said.
Toll Brothers said it anticipates delivering 2,700 to 3,200 units in fiscal 2012. The company also sees an average delivered price in the second half of $560,000 to $580,000.
Even though he acknowledged risks at home and abroad, Yearley said management is feeling "better than at any time in the past five years" due to historically-low mortgage rates and shrinking inventories.
Shares of Toll Brothers inched up just 0.3% to $27.12 in Wednesday's premarkets, but that still outperformed a 0.7% decline on the S&P 500 futures. The markets had raised the bar on Toll as its shares have surged more than 30% so far this year.